MLB Free-Agent News: What Can the Giants Do to Entice Matt Cain to Stay in SF?
March 29, 2012

Jamie Squire/Getty Images
The San Francisco Giants and starting pitcher Matt Cain have not come to an agreement over a contract extension. With the season just around the corner, both Cain and the Giants have stated that they want to get the deal done during spring training, so it is not a distraction once the regular season is underway.
What has to happen for this deal to get done?
The answer is very simple. The Giants need to step up and increase their offer. The Giants appear to be trying to low-ball Cain with a four-year deal, but Cain would prefer six years.  
Jared Weaver, a top quality pitcher, but not in the same class as Cain, signed with the Angels for five years and $85 million. This is the starting point for the Cain negotiations, but as I mentioned, Cain is better than Weaver.
The Giants would be amenable to a five-year deal but want to keep the price tag below $100 million. The problem is that Cain is worth a lot more on the open market, and he knows it. The Yankees have made noise about a five-year deal in the $150 million range.
The bottom line is if Cain hits free agency, his price will skyrocket, and the Giants may not be able to keep him. The time to sign Cain is now, immediately.
The Giants' ownership group is very cautious about giving out long-term contracts, after getting burned by the Barry Zito and Aaron Rowand deals. These were both Peter McGowan-led deals and a major reason why McGowan is no longer the managing partner of the team.
What the Giants' ownership group must realize is that Matt Cain has a proven track record, and unlike Zito, was not starting to already slip. Cain is only 27 years of age and is very reliable. He has thrown over 200 innings every year since 2007. He is a "horse" and has been extremely durable.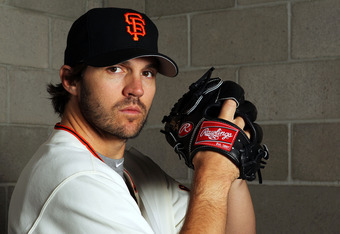 Jamie Squire/Getty Images
If the Giants sign Cain to a five-year contract extension, he will still be only 33 years old when that deal is completed in 2017.
Let's look at this in terms of the Giants' payroll obligations. In 2013, the Giants will be out from under the contracts of Aubrey Huff, Aaron Rowand and Freddy Sanchez. On those three contracts alone, the team will save $27.6 million.
In addition, Brian Wilson's deal is also up, and if he has more arm trouble this year, he also may not be back, even though he would be in his final arbitration year. If Wilson were to depart, that's another $8.5 million off the books.
In consideration of the $27.6 million the Giants are eliminating from their 2013 payroll in just the Huff, Rowand and Sanchez contracts, there's more than enough available money for Cain in 2013.
The Giants would still owe Barry Zito another $20 million for 2013, plus a $7 million buyout, which certainly will be paid in 2014. We can also consider the Zito money coming off the books, which will hopefully be the impetus for Tim Lincecum's return to San Francisco, following the 2013 season.
If the Giants want to make another legitimate run at the World Series in the upcoming seasons, it's imperative that they keep Cain.
Cain is a young family man, who likes the Bay Area and would ideally prefer to stay. Giants must step to the plate now and lock him in. Failure to do so will just cost them a lot more money in the long run, or they run the risk of losing him.
It will take a bump up in the Giants' offer, in order to complete a deal. I think something along the lines of five years and $105 million will get it done. At an average of $21 million, that amount is already covered by the savings we receive because we are no longer paying Huff, Rowand and Sanchez.
Let's get it done.