Colorado Avalanche Coach Joe Sacco's Job Safe...For Now
March 28, 2012

Adrian Dater of the Denver Post has just reported that the Colorado Avalanche will retain the services of General Manager/Executive Vice President & Alternate Governor Greg Sherman and Head Coach Joe Sacco heading into next season.
Since his promotion to General Manager in 2009, Greg Sherman's drafts have been impeccable.  He drafted Matt Duchene, Ryan O'Reilly, Stefan Elliott, Tyson Barrie, and Gabriel Landeskog, all of whom have seen time in an Avalanche uniform at a very young age.
The future also looks bright with prospects such as goaltenders Calvin Pickard, Sami Aittokallio, and defenseman Duncan Siemens in the pipeline.
Some of Sherman's early trades were criticized and even ridiculed.
The blockbuster trade that sent Chris Stewart, Kevin Shattenkirk, and a second-round pick to St. Louis for Erik Johnson, Jay McClement, and a first-round pick (Duncan Siemens), and the trade that sent the Avs' 2012 first-round pick and a conditional second-round pick to Washington in exchange for goaltender Semyon Varlamov, come to mind.
Neither one turned out to be as lopsided as people originally speculated.  In fact, the Avs can certainly come away from both trades as winners.  Time will tell.
Sherman has also made some key acquisitions via free agency and trades.  Jean-Sebastien Giguere, Shane O'Brien, Steve Downie, and Jamie McGinn have all been great pickups and the latter two have been the best players moved at the trade deadline last month.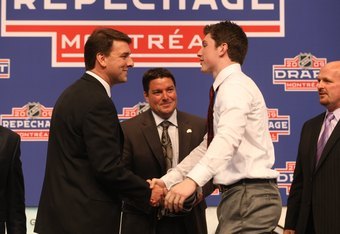 Bruce Bennett/Getty Images
Some other pieces like Jan Hejda's four-year contract and Chuck Kobasew's two-year deal have not benefited the team as much as one may have hoped.  Regardless, I do not have a problem with the Shermanator remaining in his capacity.
Joe Sacco's NHL head coaching career got off to a great start.  He led a team that was supposed to finish close to last in the NHL to the playoffs in his first year and he earned himself a nod for the Jack Adams Award.
However, since Sacco's sophomore year, in which the Avalanche had a massive second half collapse and finished in the penultimate spot in the NHL standings, fans have been calling for his job.
This year, with four games left on the schedule, is certainly an improvement from last year's dismal season, but the Avs will need a miracle to avoid missing the playoffs for consecutive years for the first time since moving to Denver.
To give Sacco credit where it's due, he has had one of, if not, the youngest teams in the NHL throughout his tenure and one of, if not, the lowest payrolls in the league.  You would certainly expect teams like that to be bottom feeders, but Sacco has made them competitive two out of his three years.
With that said, there are certainly decisions that Sacco has made over the past two years especially, that are highly questionable.
First off, former Avs Craig Anderson and Kyle Quincey were jettisoned out of town after having a falling out with Coach Sacco.  Now I certainly don't know the details of everything that transpired, but both players had some parting shots for the team who made them into legitimate NHL players once they were gone.
Sacco is infamous for his "Doghouse" tactics.  He punishes players whom he feels are not playing well by scratching them or just benching them.  He seems to reward hard work over talent and often times, it seems as if certain players are destined from the Doghouse while others are immune.
Nothing exemplifies this more than Matt Duchene.  Duchene is the Avs' most gifted forward and in his first two seasons, he earned himself a nomination for the Calder Trophy and an All-Star Game appearance.  Last year, he also became the youngest player in franchise history to lead the team in scoring.
Even with his all-star season last year, Duchene found himself in the doghouse.  While Duchene was never a healthy scratch, Sacco would bench the star forward for entire periods when he felt Dutchy was not playing well.
That trend has carried over to this season as well.  Duchene logged only 7:21 of ice time during last Thursday's loss in Phoenix.  Duchene has had a rough season this year after missing over eight weeks with a knee injury and another nine days with an ankle injury that he's currently playing through.
Peter Mueller is another offensively talented forward who has seen the inside of Sacco's Doghouse of late.  Mueller missed nearly a year and a half with concussion issues, so it stands to reason that his conditioning is not all there quite yet.  After producing well upon his return, the adrenaline has seemingly worn off and Mueller has been in a bit of an offensive slump.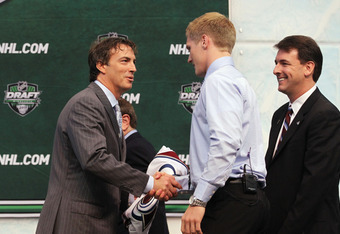 Bruce Bennett/Getty Images
He has been a healthy scratch the past two games in favor of Chuck Kobasew.  While Mueller certainly hasn't been producing at the rate he's capable of, the best players need to be playing this time of year.  Duchene and Mueller need to be playing.  Mueller will be back in the lineup tonight.
No word yet on the length of Joe Sacco's impending contract extension.  Details probably won't be discussed until after the Avs' season ends.  However, anyone who knows professional sports, especially the NHL, knows that a head coach's job is never truly safe.
I am not opposed to retaining Sacco behind the bench.  With that said, I do hope the extension is a short-term one in case things go sour and the organization feels it is time to go in a different direction.  You don't want to put yourself in a scenario where it's time to fire the coach, but you would still have to pay out a hefty portion of his salary while on the hook for the incoming coach as well.
We'll see what happens.  Hopefully the Avs will be able to make it into the playoffs to further justify Sacco's retention.  Hopefully he'll be able to develop the young budding stars of the Avalanche into full-fledged NHL superstars.  I worry a bit about his handling of Matt Duchene.  Hopefully their relationship will improve and Sacco can help Matty become the superstar he's destined to be.   
Duchene, O'Reilly, Johnson, Varlamov, and Landeskog have very bright NHL futures and Sacco's job as the current Avalanche head coach is to help them reach their potential and team success will be sure to follow.