Fiery Bartoli Takes out Tearful Victoria Azarenka
March 29, 2012

Mike Ehrmann/Getty Images
World No.1 in women's tennis, Victoria Azarenka, has finally met the person to take her down in the quarterfinals of the Sony Ericsson Open. Her streak was 26 matches in a row but was ended by Frenchwoman Marion Bartoli Wednesday night 6-3, 6-3.
It does not seem surprising, but the match was quite astonishing. Bartoli has always been known as the "robotic" woman with the unique technique created by her and her father. Bartoli was marked as the black sheep of the WTA and has been consistently excluded from the Fed Cup team for her country of France.
She is certainly a unique person but I find her to be very soft-spoken and sweet. She had to be tough as nails to battle against players in the Top 10 and has never come out on top like an Azarenka or Caroline Wozniacki.
I do not like predicting matches because, in my eyes, it is impossible to predict a tennis match, but I had a strong feeling that Bartoli was going to take this one or at least give Azarenka a run for her money. Marion Bartoli started taking the ball so early and flat that it gave no time for Azarenka to set up. Azarenka was off focus from the start. She seemed like she wasn't in the match mentally. I knew from her last match against Cibulkova that it was only a matter of time until her reign met its demise.
Bartoli battled by whipping her double-handed strokes so fast that by the time you saw what she was doing, it was a winner—anywhere. With every single stroke she would push all of her body weight forward to add even more to the shot. Belief and confidence were pulsating through her body, directly from her heart.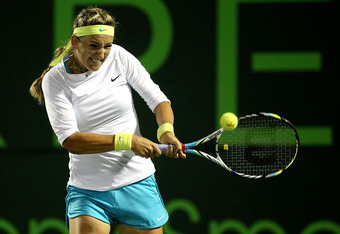 Matthew Stockman/Getty Images
After the first set, I was waiting for Azarenka to battle back and get herself out of her lag, but she just seemed to not be going anywhere. She was there, but she was not. Even when she found herself up 3-1, Bartoli was striking the ball so crisp and clean that winners flew off of her racket and the Belarusian could not reply.
Then the first sign of something bad came when Azarenka started missing her first serve in the net. She was collapsing her upper body too soon which meant that she was physically and mentally tired. You cannot keep a streak like hers and continue to stay mentally and physically fresh without a real break—Novak Djokovic being the exception to that rule.
Azarenka has always been an emotional creature, so when her shots started sailing long and balls started hitting the frame, the frustration built up inside of her more and more. She fell almost to her knees on one point after missing yet another easy forehand.
Then it wasn't soon till she was crying and hitting herself on the changeover with her towel covering her face. She continued to beat herself as streams of tears fell down her face. It's a hard reality when you finally lose your winning streak, but Azarenka was just mentally and physically drained. It was evident with every part of the game tonight.
All credit is due to Marion Bartoli. She hung in there with some amazing shot-making and even when Azarenka was gaining an inch of momentum at 3-1, she still didn't stop. Congratulations Marion!
She next plays Agnieszka Radwanska in the semifinals.