NFL Players Who Would Be Terrible Teammates for Tim Tebow
March 29, 2012

Mike Stobe/Getty Images
Sure, we've already heard multiple times that the Denver Broncos backup quarterback Brady Quinn took a couple verbal swats at former teammate Tim Tebow.
And there is no doubt that all of you out in NFL fan land have heard at least one member of the Jets bash on the idea of Tebow landing in New York.
It seems like for every player, coach, fan, what-have-you, that has something positive to say, there's another player, coach or fan looking to cut TRT down to size.
So how successful can a football player be when his teammates don't have his back?
Here's a look at a couple of NFL players who might give Tebow a hard time this upcoming season and a couple of hypothetical scenarios that would make for terrible teammate relations for him if he switched teams again:
THIS SEASON—SANTONIO HOLMES
During his visit to the ESPN studios in Bristol this week, Jets' cornerback Darrelle Revis was very open and honest when discussing the issues within the team's locker room at the end of last season. Revis noted that the locker room was "in disarray," and that it stemmed from problems between QB Mark Sanchez and wide receiver Santonio Holmes.
The chief complaint: Holmes didn't think that Sanchez passed him the ball enough.
If Holmes is already at odds with one quarterback, what would stop him from having a negative relationship with another?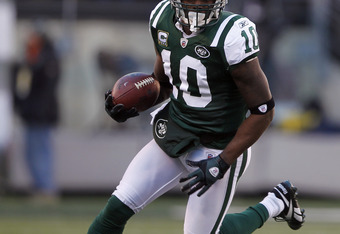 Rich Schultz/Getty Images
For now, the Jets have selected Sanchez as their starting quarterback, reserving Tebow for third-down situations and any time offensive coordinator Tony Sparano wants to run the wildcat.
But in the instance that Sanchez flubs horribly and Tebow begins starting games, is Holmes going to accuse Tebow of not passing him the ball?
HYPOTHETICAL—JAGUARS' QUARTERBACKS
Let's pretend for a couple seconds that Tebow had chosen to go to Jacksonville instead of New York.
Had that transaction occurred, he would not have been going there for a starting job, according to Jaguar owner Shad Khan. "We have two quarterbacks now that we're committed to. He would have to compete with them."
It's hard to imagine the newly-acquired Chad Henne wanting to stay on his new team after losing out on a potential starting job because of Tebow. (Not unlike Drew Stanton wanting out of his contract with the Jets after less than a week.)
Not saying that Henne is a bad guy, but there would definitely be animosity towards new arrival Tebow. Especially when it would come down to battling one of the most recognizable faces in the National Football League for a starting quarterback position.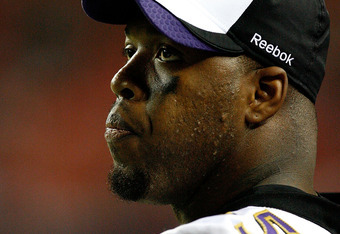 Kevin C. Cox/Getty Images
THIS SEASON—THE PLAYERS WHO ANONYMOUSLY REPORTED THAT MARK SANCHEZ WAS 'LAZY'
Sanchez's beef with Holmes isn't the only chemistry issue the Jets faced at the end of the 2011 season.
This past January, the New York Daily News reported that several unnamed players and player sources spoke poorly of Sanchez and his work ethic, one player going so far as to just call him "lazy."
Now, if any players are willing to anonymously bash Sanchez, just imagine the anonymous snips at Tim Tebow.
Tebow draws enough attention without his teammates speaking ill of him. The last thing that he—or that locker room even—needs is to be bashed by teammates that won't even name themselves.
HYPOTHETICAL—TERRELL SUGGS
Now just so we're clear: No, I don't actually think it would be likely that Tebow would go to Baltimore.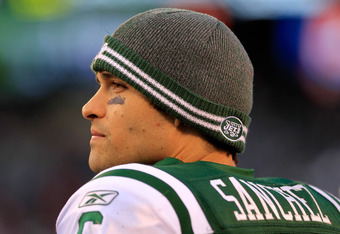 Chris Trotman/Getty Images
But in an alternate universe where he did become a Raven, there would probably be extreme unrest between him and linebacker Terrell Suggs.
Last season's Defensive Player of the Year has already made it well-known that he isn't a fan of the media-magnet QB. He was quoted in the same GQ article that featured Quinn, saying, "We were giving him a hard time because he was terrible."
Not one to sugar coat how he feels, T-Sizzle also says later in the article that "if I was on Denver's defense, I would feel a certain way. . . It's just crazy that we're calling him a phenomenon when basically he's mediocre."
Don't get me wrong, I'm definitely a Suggs supporter. The guy is an absolute beast. But it doesn't look like he and Tebow would be a good fit on the same team. And it doesn't sound like he would be giving Tebow the credit for any Baltimore wins.
THIS SEASON—MARK SANCHEZ
Okay, Tebow said multiple times during his Jets presser at the start of the week that he and Mark Sanchez have always had a good relationship.
Said relationship could turn sour with Tebow putting Sanchez's starting spot in jeopardy.
It might be too extreme to call Sanchez a "terrible" teammate for Tebow. But as a competitor, you can bet that he is going to work extra hard to make sure that he keeps his starting spot.
Whether that's improving his 56.7 completion percentage or simply winning back the support of some of his disgruntled teammates, it isn't likely that Sanchez will put a friendship with Tebow ahead of his need to keep his starting job.