2012 NFL Free Agents: Breaking Down Best Players Left on Market
March 30, 2012

Ezra Shaw/Getty Images
Don't think the quiet you hear means NFL teams are done picking the free-agent market clean, because there are still some solid players that are looking for work. 
The hype and buzz of the free-agent open may have died down, but there is still a ton of work to be done and good amount of guys yet to sign. 
Some may have to wait until after the NFL Draft for teams to fill their needs, and others are just working through what is now a slow process. 
Here is a breakdown of the unrestricted free agents of note that still remain on the open market. 
1. London Fletcher: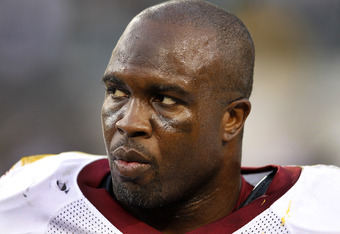 Rob Carr/Getty Images
It's hard to find a more seasoned vet left on the market. It seems like the 36-year-old veteran will head back to the Washington Redskins, a team which he collected 166 total tackles for in 2011. 
At least, that is what a Washington Post report signals. 
The Washington Redskins remain intent on re-signing veteran linebacker London Fletcher in free agency even though the two sides have not been able to work out a deal so far, Coach Mike Shanahan said Wednesday.
Shanahan would go on to say that Fletcher's leadership makes him crucial to the team and should make him a likely Redskin in 2012. 
2. Andre Carter: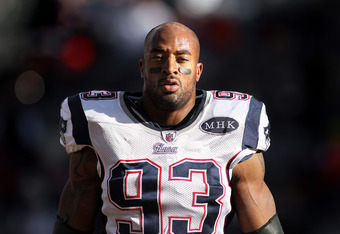 Marc Piscotty/Getty Images
There will be a market for defensive end Andre Carter who is still hobbled by a quadriceps injury. There is simply no way that a man who recorded 10 sacks in 14 games will go unsigned for long. 
The Boston Herald reports he is still limping and needs more time to come back from his severe tear to the quadriceps. 
In reality, Carter is just waiting. He's still limping heavily, and he's not yet ready to be evaluated by coach Bill Belichick or anybody else. He's not healthy yet (though indications are that he will be), so there is no hurry. He won't be signed until he can work out for teams, anyway.
3. Braylon Edwards: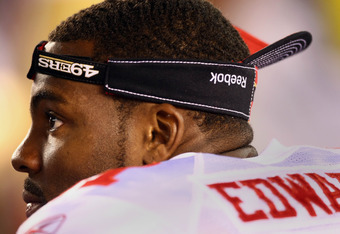 Donald Miralle/Getty Images
Don't look now but Braylon Edwards may return to the New York Jets. 
Bart Hubbuch of The New York Post reports the team may welcome back the receiver that left under less than amicable terms. 
Not only did coach Rex Ryan reveal Tuesday the team now intends to keep disgruntled linebacker Bart Scott, but Ryan also left open the possibility Braylon Edwards might be brought back to fill the vacant No. 2 receiver position.
After knee surgery, the 49ers found Edwards to be dispensable and gave him his release. He remains an interesting prospect in free agency. 
When healthy, Edwards can be a solid addition to any receiver core.