Jason Peters: Why Offensive Line Will Still Be Philadelphia Eagles' Strength
March 30, 2012

Thanks to a ruptured right Achilles tendon suffered by All-Pro left tackle Jason Peters, the Philadelphia Eagles suffered a major setback in their attempt to return an offensive line that ranked as one of 2011's best.
Peters suffered the injury while training earlier this week and will be out for a considerable portion of this upcoming season.
His loss might've coincided with the recent resigning of King Dunlap, who has spent the entirety of his four-year career filling in at both tackle spots for the Eagles.
To make things clear, I am in no way suggesting that Dunlap is capable of replacing the top left tackle in football.  However, his experiences with offensive line coach Howard Mudd give him an automatic advantage over any free agent or rookie that the team brings in.
Although Peters isn't responsible for protecting left-handed quarterback Michael Vick's blindside, he combined with Evan Mathis to form the most dominant left side in all of the NFL.
While his athleticism and agility will be missed with every toss and counter-draw play that Philadelphia runs in 2012, don't expect that side of the line to fall off very much.
There's a reason and a procedure as to why the offensive line was expected to be one of Philly's strengths entering the new season.
Right tackle Todd Herremans remains as a "jack-of-all-trades" and has done a good job of filling in at Peters' position in the past.
This predictable shift makes the drop-off in play more bearable for a team that leaned heavily on running back LeSean McCoy.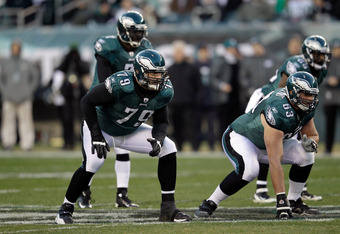 Rob Carr/Getty Images
Thanks to the restructuring of a few contracts, the Eagles find themselves with roughly $16.1 million in cap space.
This means that along with their three top-51 draft selections, they also have the financial flexibility to bring in any free agent they seem fit.
Also, keep in mind that they're no longer looking to replace their left tackle, but rather the one on the right side.
This opens the playing field and expands the number of candidates who can fill in at Herremans' spot.
I understand that there's been a perpetual attachment to Boston College's Luke Kuechly in this year's NFL Draft, but it's time to move on.
Last year, the Eagles addressed the offensive line with first and sixth-round picks.  All Mudd did was transform Jason Kelce into a starting center and Danny Watkins into a starting right guard.
While Mudd looks for linemen who fit an extremely specific mold, he has tremendous success when he gets his hands on his type of players.
There's absolutely no reason to believe this will change.
Instead of dealing with last season's challenge of a shortened training camp and dealing with four new starters along the line, the Eagles will be afforded the luxury of keeping the interior of that young group in tact.
When compared to last season, the task of getting solid offensive line play doesn't seem nearly as daunting.