Denver Broncos: How They Can Make Their Offense Lethally Dynamic
March 30, 2012

Andy Lyons/Getty Images
With Peyton Manning commanding their new-look offense, the Denver Broncos now have a chance to be the most dynamic attacking offense in NFL history.
Denver just signed two solid tight ends, Joel Dreessen and Jacob Tamme. They also landed Andre Caldwell. The Broncos only have a few steps left to league-wide offensive dominance.
Before we look into the steps, go back to last season. The Green Bay Packers, the NFC's No. 1 playoff seed, had the worst overall defense in 2011. The AFC Champion New England Patriots posted the 31st-ranked defense. The Super Bowl champion New York Giants were ranked 27th in overall defense.
In other words, the Broncos should fill their defensive holes, but honestly, they should flat-out stack their offense.
There are only three steps for the Broncos remaining. 
1. Draft a Wide Receiver in the First Round
Really? No first-round defensive tackle? The Broncos are reportedly interested in free-agent DL Amobi Okoye, and if they land him, they can put off drafting a first-round DT for yet another year.
Kendall Wright, Stephen Hill, Alshon Jeffry and Rueben Randle are great prospects that the Broncos can pair up with Caldwell, Demaryius Thomas and Eric Decker. Manning will also have a seventh starter-worthy target.
The Packers and Saints have great wideouts as well. Without the receivers, those teams wouldn't be nearly as dominant as they are now.
2. Draft a Running Back in the Second Round
Again, since the Broncos have the 36-year-old Manning on their roster, the time to win a Super Bowl is now. They need to continue bolstering their offense, so they need a fresh, young running back.
Whether it be David Wilson out of Virginia Tech or Boise State's Doug Martin, Denver is itching for a No. 2 back to play behind Willis McGahee. McGahee rushed for over 1,000 yards in 2012, but he only squeaked out four touchdowns.
Tim Tebow was pivotal in the run game last season, so the Broncos need to make up for his ground production. Both Wilson or Martin could replicate Tebow's stats and would add more points to the board. Either one would be the starter after McGahee hangs up his cleats, since former first-round pick Knowshon Moreno has been under-producing and was arrested this offseason. 
3. Solidify Offensive Line
If the Broncos let Manning get sacked and hit and let the backs get consistently stopped behind the line of scrimmage, their Super Bowl run will end before it begins.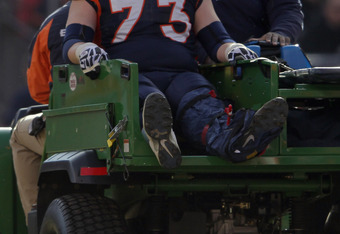 Doug Pensinger/Getty Images
The Broncos need a much more stable offensive line. They didn't have any depth last season, and OG Chris Kuper, a pivotal portion of the Broncos' O-Line, suffered a disgusting ankle in the latter part of the 2011 season. 
The Broncos also have a shaky interior line, as JD Walton struggled and Zane Beadles is still adjusting to the NFL. If they could land a veteran OG/OC and a young OT, their line will be much stabler.
Conclusion
The bottom line is that the Broncos need to build their offense and keep bolstering it. Even if the defense plays at the same level as it did last year, Denver will see itself in the Super Bowl very soon.