College Basketball: Final Philadelphia Rankings & Season Recaps
March 31, 2012

Jamie Squire/Getty Images
The Daskalakis Athletic Center's buzzer sounded, and then there were none. Drexel had lost to UMass, a team that beat up on Philadelphia teams all season. No teams were playing, and the 2011-2012 season was officially over for the City Six. All that is left is to relive the memories, the good and the bad:
1. Temple Owls (24-7):
The Temple Owls brought many exciting moments to the city this season. Remember beating Duke? Wichita State in OT? How about Khalif Wyatt's game winner against Delaware, or Anthony Lee's tip-in buzzer beater against Buffalo?
All these moments were forgotten. The Owls were a disappointment in postseason play, falling to UMass in their first game of the Atlantic Ten tournament and to USF in the first round of the NCAA Tournament. A great regular season but sub-par postseason.
Still, there are moments to cheer about if you bleed Cherry & White. Give them a break. The 24-7 Owls were the obvious powerhouse in Philadelphia this season, with its only City Six loss to Saint Joseph's on the road. Temple ruled the Atlantic 10, with a 13-3 regular season record to show for it.
Ramone Moore and Khalif Wyatt were the best duo in the A-10, let alone the city. Both averaged 17 Points Per Game.
Hey! Don't forget Juan Fernandez. The senior averaged 12 PPG, and was always there for a big shot.
Temple Loses:
Juan Fernandez (12 PPG)
Ramone Moore (17 PPG)
Michael Eric (9 PPG, 9 RBG)
Notable Wins:
Duke
Villanova
Wichita State
Saint Joe's
Grade: A-
The Owls made distinguished honor roll this season, but that A- could have been higher with a win over USF or UMass. Overall, this team was fantastic.
2. Drexel Dragons (29-7):
Drexel was picked to win the CAA. They were picked to be good. They weren't picked to be GREAT. But that's what this team was. They were great. Not just fun to watch, fun to cover, or fun to analyze, but a solid, steady team. It's unfortunate Drexel did not get an invite to this year's NCAA Tournament, but their low SOS, RPI, and conference haunted the Dragons.
They lost to UMass in the NIT Quarterfinals.
Look, I can spend this season recap discussing why DU did not get in, why their season was a little disappointing and why they need to schedule better teams.
But I won't.
This isn't Temple. They aren't a A10 powerhouse and city favorite. It's Drexel. They play in a small gym, in a small conference, against weak teams. However, their season was just like the Temple Owls.
Drexel dominated their conference in the regular season.
So did Temple.
Drexel fell short in their conference tournament.
So did Temple.
Drexel was a disappointment in the post season.
So was Temple.
Get my point?
This was the best Dragons team in years. The DAC was rocking, the players were rocking and I was rocking. Samme Givens controlled the boards. Frantz Massenat was solid to say the least. Damion Lee was the CAA Freshman of the Year. Even Chris Fouch had his breakout games once in a while!
Drexel's biggest wins came in-conference, at home, against VCU and George Mason. However, those were BIG wins! They have solidified their position as one of the CAA's best.
Ask anyone: Coach Flint, from someone who works for ESPN, to a local hot-dog vendor in Philadelphia.
Drexel was a great basketball team.
Drexel Loses:
Samme Givens (11.4 PPG, 8 RPG)
Notable Wins:
Grade: B+
A trip to the NCAA Tournament would have been nice, but advancing to the NIT Quarterfinals is a pretty solid consolation. The Dragons lose Samme Givens, one of the best players in program history.
3. Saint Joseph's Hawks (20-14):
If someone gave me one word to describe Saint Joseph's 2011-2012 season, this is what I would say:
Average.
That's OK, though. Why?
The Hawks have zero seniors.
Zero.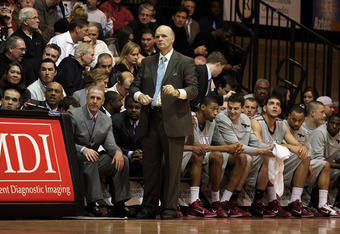 Chris Chambers/Getty Images
C.J. Aiken will be back. Langston Galloway will return. Even Carl Jones will be back at Hagan Arena.
Still, it's March. We cannot look forward to next season, but relive this season. The 20-14 Hawks had great moments, beating Creighton, Drexel and Villanova all at home. With only a 9-7 record in the Atlantic Ten, that is where the average(ness) came in.
Saint Joe's started off 2-3 in A10 play, and the season did not get any better with a road loss to the Penn Quakers. The victory over Dayton was relieving and even looked like the previous four losses in January were all flukes.
The loss to Temple was okay, knowing that the Cherry were in first place. Coach Martelli's troops kept marching, knocking off Richmond and La Salle. Then came another loss to Saint Louis, but hope was still there.
Hope was restored after a three game winning streak that lasted only a week, when the Richmond Spiders earned revenge. The Temple game was a must-win game for any chance of an at-large bid.
SJU won the must-win game.
Four days later the team was up in New York taking on Saint Bonaventure, when all havoc broke loose. A 98-93 2OT loss practically eliminated all at-large hopes, and a first-round defeat to (who Else, But...) Saint Bonaventure told Hawk Hill that their squad would not be in the NCAA Tournament.
The Hawks lost five days later the Northern Iowa in the first round of the NIT.
And that, my friends, is the story of average.
Saint Joe's Loses:
NONE
Notable Wins:
Creighton
Villanova
Temple
Drexel
Grade: B-
Saint Joe's had a B+ regular season, but a C post-season. That averages out to a B-, a grade the Hawks will improve in 2012-2013.
4. La Salle Explorers: (21-13):
If Temple was fantastic, Drexel was great, and Saint Joseph's was average, the La Salle Explorers have to be sub-par. There wasn't a bad team in the City Six this season (OK Maybe Villanova), but La Salle didn't finish the A10 season like it started it.
It was January 111th, and La Salle was 13-4. Fresh off a six-game winning streak and victory over Penn, the Explorers were looking like the favorites for the A10 trophy. Wins over Xavier, UMass, Penn, and Bucknell sympathized La Salle fans, players, and coaches. This team was going to be great.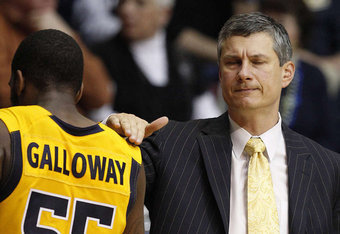 They then hit a bump in the road, with two straight losses to Dayton and Temple. Was that a fluke? Yes it was. La Salle won four straight after that, improving their record to an astonishing 6-2.
Where was that mediocre, average, and sub-par team? Earl Pettis and Ramon Galloway were stealing the show from other Atlantic Ten stars, and Explorer Nation was at an all-time high.
But then...
They lost to Saint Joseph's.
And Richmond.
And... Saint Louis.
A win over Massachusetts saved their strong start, but three straight losses totally blemished what La Salle had accomplished in the first three months of the 2011-2012 season. The loss to Temple at home, in overtime was a bummer, but the Fordham loss was the tipping point.
Still, the Explorers finished strong with three straight wins to finish the regular season.
Then Philadelphia teams went 0-3 on March 9th. That wasn't good. La Salle and Saint Joe's were practically eliminated from the at-large "race."
They lost to Minnesota in the first round of the NIT, which wasn't a disappointment. La Salle played strong, showed fight, and Jerrell Wright got to be on SportsCenter. Still, a bummer.
La Salle Loses: 
Notable Wins:
Xavier
UMass
Penn
Saint Bonaventure
Grade: C+
La Salle does lose their leading scorer, but Galloway and Wright will pick up the slack. A C+ is harsh, but an average regular season and dreadful postseason plagued La Salle's case to make the honor roll.
5. Penn Quakers (20-13):
The Quakers had an up and down season in the Ivy League and fell in the Quarterfinals of the College Basketball Invitational to Butler. They finished their 2012 campaign 19-12 and 11-3 in the Ivy. Led by Zack Rosen, Penn came within 2 wins of an NCAA tournament berth with a late season run. If they had beaten Princeton in the regular season finale and then won their playoff game with Harvard, they would have gone to the Big Dance.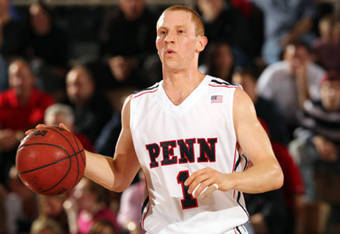 Rosen was the heart and soul of the team and scored 18.5 ppg in addition to going .407 from three. Everything revolved around him. When Rosen went cold, Penn lost or fell behind. When he got hot, the Quakers could not be stopped. Fellow senior Tyler Bernardini started off hot but struggled late in the season as he was hampered by slumps, injuries and personal matters. Another senior, Rob Belcore, was a clutch role player who gave solid production underneath. He was also one of the most underrated player in the Ivy League.
Penn Loses:

Zack Rosen (19 PPG)
Tyler Bernardini (12 PPG)
Rob Belcore (7 PPG)
Mike Howlett (3 PPG)
Notable Wins:
St. Joe's
Harvard
Princeton
Yale
Grade: C-
Sure, they play in the Ivy League, but this team was solid.
6. Villanova Wildcats (13-19):
The 2011-2012 season is a year that the Wildcat faithful would like to forget. Villanova went 13-19 on the season and 5-13 in the Big East as they missed the NCAA Tournament for the first time in seven years. This Wildcat squad was young, inexperienced and just bad. They had no talent on their team aside from Maalik Wayns. Wayns was the one bright spot by averaging 17.6 points per game in the Big East. Unfortunately, he had little help around him. Dominic Cheek was very average and streaky, and Mouphtaou Yarou struggled against most of the Big East. JayVaughn Pinkston, a freshman, seemed to be getting his legs under him late in the season but continued to make mistakes due to his inexperience. Maurice Sutton began to develop his game when he was inserted into the starting lineup but remains uncoordinated and slow.
This team just could not win close games either. They blew 18 point leads at home against Marquette, Notre Dame and Uconn. They challenged everyone down to the wire but could not win. In fact, in games decided by five points or less, the Cats went 2-7. Fortunately, they won their first round game in the Big East Tournament against Rutgers before getting slaughtered by South Florida for the third time.
The team will be getting some solid 4-star recruits next year, and everyone will be another year older, so there is something to look forward to. Ryan Arcidiacono of Neshaminy is a great shooter and can make plays by himself for the young Cats. Big man Daniel Ochefu of Westtown knows how to play with his back to the basket and will add to Villanova's surplus of forwards.
Villanova Loses:
NONE (Wayns & Cheek MAY enter NBA Draft)
Notable Wins:
Grade: D+
On to next season, folks.