Brock Lesnar Signs WWE Deal, Will He Interfere at WrestleMania with Rock, Cena?
April 1, 2012

Brock Lesnar is back in the WWE.
After a successful UFC career in which he won the heavyweight title, Lesnar will return to his roots.
According to Jamie Penick of MMATorch.com (via The Wrestling Observer), Lesnar has signed a one-year contract with the WWE and is set to return at WrestleMania 28.
The signing does not come as a huge surprise, as there have been rumors circulating that Lesnar will be in a match at next year's WrestleMania. What the news suggests, however, is that Lesnar might play a role in the outcome of a match in Miami on Sunday night.
But which one?
The Rock vs. John Cena match would appear to be the most obvious match for Lesnar to interfere in. The Rock has dodged questions about a possible rematch against Lesnar next year at WrestleMania 29, leading to speculation that a match might be in the works.
The contract for Lesnar and belief that he will appear in Miami only makes this seem like a more likely scenario. The Rock was a part of the promotion of WrestleMania 29 and is also scheduled to appear in East Rutherford, NJ.
For a year, one of the most asked question from WWE fans has been this: How will the main match at WrestleMania 28 be decided?
Will The Rock lose in his hometown of Miami in front of 80,000 fans? Will Cena lose and have to rebuild everything from the ground up? Or will Lesnar return to cost The Rock the match and set up next year's WrestleMania?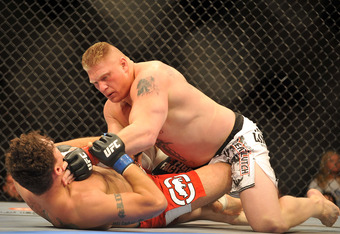 Jon Kopaloff/Getty Images
It is a dream scenario for the WWE to have two huge stars returning again next year to face each other. 
The other scenario that would be successful for the WWE would be a match next year against The Undertaker when 'Taker would likely be going for 21-0 at WrestleMania 29.
Although a match with 'Taker would still be a huge draw, a match against The Rock seems to be one that can sustain a story for an entire year. It will have the potential to bring back some WWE fans that have drifted away and could also attract a few UFC fans as well.
Lesnar's involvement in the WWE appears to be more than an appearance here and there. Lesnar is going to become a familiar face again for WWE fans—at least for the next year to come.