Arsene Wenger Gets Tactics Wrong in the QPR 2-1 Loss
April 1, 2012

Ian Walton/Getty Images
Arsenal's loss at QPR threw the race for the last two Premier League Champions League spots wide open. I have maintained on two occasions that there are yet enough points to push Arsenal out of a top-four finish this season. To make sure this doesn't happen would be down to Arsenal's form as the finish line appears.
Missing Element
At QPR, Arsenal let slip their advantage over Tottenham Hotspur and Chelsea, their closest challengers for these last two spots.Speaking after the match, Arsene Wenger, the Arsenal manager, identified one of the problems responsible for this defeat.
Any bad performance you can see coming. Each football game is a new start. It is not what you have made before that decides the game, it is what you produce on the day. And what we produced on the day was not good enough...Subconsciously something was missing today. In the Premier League, if you miss something on the commitment front you are beaten. That is what happened today.
Let me admit a habit that some dislike and quote from an article I had written earlier this season, it pertains to what Wenger calls "commitment."
A number of times I'm convinced that Arsenal are too full of themselves. This is especially true when they play lesser opposition—teams like Norwich or Wigan, for example. They seem to think that the mere name "Arsenal" is enough to win such matches.
I am not saying that the team didn't try to win the match, what I'm saying is that the kind of energy we've seen against Newcastle, Spurs and AC Milan was missing in this match.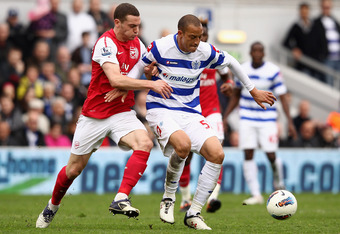 Ian Walton/Getty Images
On a good day, what was on display would have been enough to win the match, but as we know, the effort wasn't enough, not with the kind of individual errors that led to QPR's two goals.
Since I am adverse to blame games, I will leave the errors alone and focus instead on the subject of the article, the tactics at play, but even here, I won't dot every I or cross every T.
The False-11
The following diagram is an approximation of the lopsided formation to which I have made references in recent articles. The bold yellow lines represents where the approximate pyramid is.

The formation arises here because of Wenger's decision to use a false-11, that is, a false winger on the left. But although the term sounds novel, the idea itself isn't. Wenger has used this formation consistently in the last few seasons by playing Samir Nasri and Andrei Arshavin, both midfielders, in this position. 
Ian Walton/Getty Images
It is a sound idea tactically since this false winger, actually a midfielder, tends to drift inward instead of outward as traditional wingers do. The idea behind this is that when the false-11 drifts inward, he disorganizes the opposition's back four. 
As I have noted elsewhere, this movement tends to trigger scissor motion from the advanced striker and the attacking midfielder. 
Note the direction of the arrows, which indicates the direction of player's motion. The bold white lines illustrates how this scissor movement drags at least two of the opposition's back four out of position. The situation becomes more problematic for the opposition when the right winger employs decoy movement of his own. 
The point here is that employing this tactic isn't what went wrong at QPR. The tactic itself is sound, and we've seen it work enough times, especially when Nasri was still at Arsenal or when Andrei Arshavin has been on top of his game. 
In my most recent transfer/tactics article, I suggested that Wenger should try to buy a playmaker, who can play not only centrally but also in this false-11 position. I thought a player like Mario Götze would have been perfect for this position. 
Nasri and Cesc Fabregas used to cause havoc with the said scissor movement this formation triggers in the opposition's final third.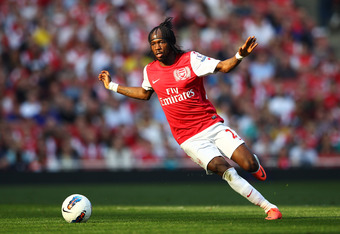 Julian Finney/Getty Images
Planning Ahead
Pragmatically, I believe Wenger is still looking for Nasri's replacement, a person who can own this position.
Andrei Arshavin failed to do so for one reason or the other. Yossi Benayoun is only on loan, and although he has done well the two times he has been played in this position, it isn't clear that Wenger will retain him when the term of his loan comes to an end.
This leaves Aaron Ramsey who has been displaced from the attacking midfield position by Tomas Rosicky.
The pragmatism here is that if you already possess a player with the promise of Aaron Ramsey, and if he can make this false-11 position his, why would you want to spend money to buy another player for this position, when you could spend it on a different position? 
So if my supposition is correct, I understand why Wenger has experimented with Ramsey in this position in the last few matches. He has, of course, done so by bringing  Ramsey on as a substitute. This is good as far as experiment is concerned.
The problem at QPR arose because Wenger handed Ramsey a start. It quickly became apparent that Arsenal were playing practically with 10 men.  Ramsey became a problem to Arsenal's formation in general and to their movement in the final third.
Aaron Ramsey
For  false-11 to work, the player must win the psychological battle against his markers—the opposition's right-back and right winger, by making them think that he may lose them any time by drifting inward. 
In order for this to work, the player must make the default position his starting point at all times. That is, he must play at being a winger, especially when off the ball.
This ensures that the player's markers are pinned to their positions. This is both a defensive and psychological strategic, where in the former case, the player discharges his defensive duties by marking out the opposition's right-back and by tracking back to help his own left-back neutralize the opposition's right winger.
In the latter case, the opposing defenders cannot determine with certainty who is to mark this player at what time. 
The highlighted condition above is where Ramsey went wrong.
Instead of staying in the default position off the ball, he inexplicably roamed the pitch, so that one was at loss as to what exactly Aaron Ramsey thought his role was.  
This led to a congested midfield, especially when Arsenal had the ball. Moreover Arsenal's formation skewed rightward and was devoid of width on the left as a result of this. It meant there wasn't an avenue on the left through which Arsenal could play out from the midfield. 
The extra body in the midfield, when Arsenal had the ball, instead of becoming an advantage, became a liability, as it hampered Arsenal's movement—normally crisp and purposeful—off the ball. It made Arsenal's movement in the final third ponderous and confusing. 
Furthermore, Ramsey's positional indiscipline hampered Kieran Gibbs who could not overlap to offer an attacking option on the left. Plus, it meant he often did not receive help dealing with QPR's attack on the left.
Where Wenger Went Wrong 
When I say Wenger got his tactics wrong in the QPR match, it's only insofar as it regards the particular player employed in this specific case. 
The tactics itself was sound, and there's no reason why it shouldn't have worked if Ramsey had performed his role well. He didn't. 
He is a fine player, with a lot of promise. He only just returned from a horrible injury. I have little doubt that he will yet blossom as a player, so my intention is not to condemn him. However, right now, he isn't doing well.
The fact that Wenger had two great players he could have used in this position casts the situation into greater relief. A few minutes into the match and I knew Ramsey, the person, not the idea, was wrong in this match. Wenger should have played either Gervinho or Alex Oxlade-Chamberlain on the left. 
I suspect Wenger must have realized this himself, and while he could have yanked Ramsey off before the break—ala Roberto Mancini—and probably salvaged the situation, doing so is never a good idea, not if you take player management seriously.
Wenger, I believe, cares about nurturing players not destroying them, which is why I think not yanking off Ramsey was the right thing to do even though the player wasn't doing well in this particular match.
Moreover, going into the break leveled at 1-1 mitigated the effect of Ramsey's disjointed performance.
I wouldn't have given him the extra 24 minutes of the second half though. Gervinho needed to have been brought on at the start of the second half.
Conclusion
While I believe that Ramsey may yet blossom into a great player, his present form isn't contributing anything meaningful to Arsenal. Wenger should give him time to develop by sitting him on the bench. It sounds ironic, but I think it may be the right thing to do. 
I sympathize with the player; I even like him, but I won't lament his absence in the rest of the campaign.  Wenger should think seriously about not playing him, at least not for a while.