Final Four 2012: How Kentucky Riot Will Affect Wildcats in Championship Game
April 1, 2012

Ronald Martinez/Getty Images
Sports and riots have had a direct correlation since the beginning of all things competition, but rarely do they positively affect a team that's still fighting for the biggest title in their sport.
University of Kentucky fans rioted after its basketball team knocked off in-state rival Louisville in the Final Four, stamping its ticket to the national championship game.
Cars were flipped, numerous beer bottles were broken and many items were lit on fire just hours after the Wildcats emerged victorious over the Cardinals, with one UK freshman telling the Louisville Courier-Journal that he didn't "blame people" for their actions.
The in-state Final Four matchup had plenty of hype around the nation, and especially in the Bluegrass State where the nation's two biggest college basketball programs made it to the semifinals. When dealing with big-time college sports, it's not surprising to hear alcohol-infused mischief after the games conclude, especially when it's a rivalry game.
That being said, riots are never a good thing. They didn't make Vancouver Canucks' fans look like respectful runner-ups in the Stanley Cup Finals last year, and it didn't do Penn State any good earlier this year when members of the school lashed out over Joe Paterno's firing.
Kentucky has the most talent and the better team heading into its national championship against Kansas, but momentum is hard to maintain when the nation is talking about the destructive actions of your student body almost, if not more than your team's talent level.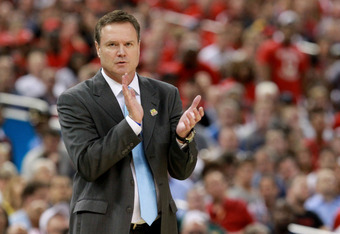 Jeff Gross/Getty Images
Kansas coach Bill Self even said, "It's a dream to play the best team in the country, up 'til now, hands down, the most consistent."
While many, including Self will see Kentucky as the favorite and better team than the Kansas, the Jayhawks are coming off a nail-biting victory and nobody is talking about riots on their campus.
At the end of the day, the final game in the NCAA tournament is going to come down to x's and o's more than anything, but it certainly doesn't help Kentucky's mindset when reporters want to know just as much about your school's new security measures as they do your basketball team's strategy.