Team Hoyt's Varinka Ensminger Runs 26.2 Miles from Kabul to Copley Square
April 1, 2012


Both marathon fans and fans simply of the human spirit are more than likely to know the story of Dick and Rick Hoyt.  The father/son team, who make their home in scenic Holland, MA, will be running in their 30th Boston Marathon on April 16th.
This, in itself, is a truly amazing accomplishment.
The milestone is made 26.2 times more amazing by the facts that the elder Hoyt, Dick, is 71 years old, and his son, Rick, who celebrated his 50th birthday in January, has spent his life in a wheelchair.  Rick lives each day as a spastic quadriplegic with cerebral palsy, the result of oxygen deprivation at birth.
Dick pushes Rick in a wheelchair for each step of the 26.2-mile event to the delight of the millions of adoring fans who know their inspiring lifelong adventure.  Their entire story of inspiration can be found on their website at www.teamhoyt.com or on the pages of their best-selling new book, Devoted—The Story of a Father's Love for His Son.
As they do each year, Dick and Rick Hoyt have assembled a team of runners from Australia, Canada and around the country who comprise The Hoyt Foundation 2012 Boston Marathon team.
The team will be running to raise money for the Hoyt Foundation, a 501(c)(3) charity whose purpose is to help integrate disabled people into everyday activities so they may live fruitful and productive lives.
Over the past several months,I have introduced many members of the 2012 Team Hoyt Boston Marathon Team and sharing their motivating stories and experiences as members of this inspirational group during the continuing series entitled, "Yes, You Can Meet the Team Hoyt 2012 Boston Marathon Team."
From the moment the Team Hoyt Marathon team was chosen last August, the 40 hand-selected members began exchanging emails in an attempt to bond across the thousands of miles they stretched across.
Team members hail from all over—New Orleans to Alberta, Somerville to Sydney—all joined together by the father and son legends known as Dick and Rick Hoyt.  Like any team, the group went through an unpredictable, yet expected, series of growing pains in order to morph from 40 individual athletes into one cohesive and unified team. 
I was blessed to be privy to many of those correspondences and read in amazement as these 40 strangers shared their inspirational stories of achievement with one another. They have grown to lean upon each other for support, strength and motivation.
It is evident that when the runners that make up this exclusive team finally get to meet during the upcoming marathon event, they will feel less like strangers and more like tightly knit teammates.
One member, however, will not be lacing them up in downtown Hopkinton this Patriots Day, but instead will be rising early and running her 26.2 as a member of a far more inspirational team than the Hoyts'. Her email correspondence below tells her story far better than I could ever hope to.
Dear Fellow Team Hoyt members

After a long day of work I did five on the treadmill tonight.  Depending on my training tomorrow, I hope to run ten.  If the sand storm holds out, I may get to do some outside!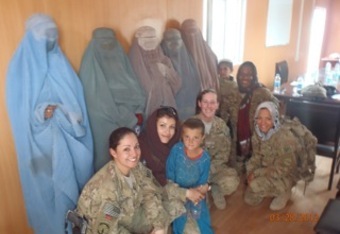 I have just return form Kandahar and I am back on my FOB.  I was so tired. My Chinook was cancelled due to dust storms. Standby is not your average standby.  I basically go and wait in line at several air stations to try and get on a "bird to my FOB."  I almost considered jumping on a convoy the other night just to get back.  Things are interesting here, in case you have not seen the news.  My missions will definitely be dictated on the Taliban activity.  On the bright side, I got away from my tent to go hit the treadmill. After four days of no running, I still managed to do nine miles. I'm sure I'll feel it tomorrow.

Hope you all have a wonderful week.  Feel free to email me anytime.  I will get back to you as soon as I can.  Sometimes we lose service due to blackouts on Internet for security and casualty notification.

Love, Varinka
These were the poignant and heartfelt words shared by Captain Varinka (Barbini) Ensminger, who will be running her 26.2 as a member of the Kentucky Air National Guard stationed in Afghanistan. Meanwhile, the rest of her running team members will be traversing the neighborhood streets from Hopkinton to Natick and Ashland to Heartbreak Hill. 
The 31-year-old Ensminger, who was born in Smithtown, NY, and raised in New Jersey, has been a member of the National Guard for nearly twelve years. 
"I enlisted in 2000 because I really wanted to go to basic training and serve my country," said Ensminger, who was deployed to Afghanistan this past January to support and impact sustainability and economic development of the Afghan people. Her unit expects to remain there through the end of this year. 
"I later wanted to be a leader and chose to commission as a Medical Service Corps Officer."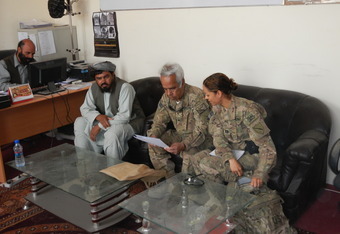 Though running for the first time in Afghanistan, Ensminger is actually on her second tour of duty as a member of Team Hoyt. The diminutive GI Jane accompanied the team to Boston in 2010 as a part of the Hoyts' 28th Boston Marathon team. 
"Running with the Hoyts was amazing. I really can't describe it in words," Ensminger declared during our long distance email interview.  "I'm motivated with the will of a lion, proud as I am to salute our nation's flag, and honored and humbled to call them friends. Sometimes the emotion makes me cry, in a positive way. I'm so captivated and inspired by them."
"Dick and Rick are wonderful, genuine, amazing people.  They remind me of the closeness that I have with my father. I am very fortunate to know them."
Ensminger posted a personal-best time of 3:07:26 in the 34th running of the Lincoln National Guard Marathon in Lincoln, NE, last May, where she finished sixth out of 429 female runners and 89th of 1191 overall. 
Varinka will clearly not be able to attend the many marathon weekend events that the team will participate in, which include a Team Pasta Dinner attended by three-time women's winner and coach of Team Hoyt Uta Pippig, an inspirational speech at the Marathon expo by Dick and Rick and a Sunday afternoon Red Sox game. However, Varinka has managed to stay in close touch with those team members who will be making the trek to Beantown.
"I receive emails and sometimes offer advice or support. On Patriot's Day, as long as a mission does not take precedence, I will be running on the FOB and on the treadmill to complete as much of the 26.2 miles that I can."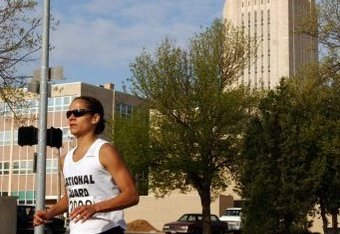 Though a member of the U.S. Army Marathon team and the KY National Guard Marathon Team, Cpt. Ensminger will be logging her Boston Marathon miles on a solo mission. 
"I have opted to do this on my own time and I will be the solo runner trying to complete this on Patriot's Day," she explains. "Maybe I'll be able to round up a few folks to do some miles with me.
"This is a pride and internal goal to just be able to complete that many miles and still be able to function here. I did 15 yesterday and then went on a long mission today. The weight of your gear takes a toll on you. 
"I'm so proud and excited for everyone! I love reading and seeing all the photos of my teammates following the real Boston Marathon.  It tears me up that I can be there in spirit to witness all the runners!" 
Friends, fans and supporters of Varinka can help her achieve her fundraising goal by clicking on her Team Hoyt Crowdrise page. Last year, members of the team combined to raise over $120,000 for the Hoyt Foundation and are currently on pace to raise over $200,000 for this year's event.
Todd Civin is a Senior Writer for Bleacher Report. Unless otherwise noted, all quotes and photos were obtained first-hand.