Andrew Luck and Robert Griffin III: Will the Pressure of the NFL Be Too Much?
April 1, 2012

Christian Petersen/Getty Images
Unless you have been living under a rock for the last six months, you will have heard of the names Andrew Luck and Robert Griffin III. Perhaps more than any other draft prospects in recent memory, their every move has been scrutinized. No aspect of the two quarterbacks' game, their arm strength, their footwork, their accuracy has escaped examination.
But for as much as we know about Luck and RG3, one thing remains uncertain. 
How will two of the most highly sought-after players to ever be drafted into the NFL cope with the pressure that accompanies that privilege?
Luck is widely considered to be the No. 1 pick in this years' draft, and looks set to be the starting quarterback for the Indianapolis Colts this season. He is also viewed as one of the best quarterbacks to come out of college for a long time, the type of player who might only come along every 10 years or so.
Any team that can secure the services of that type of player immediately upgrades its chances of winning.
That is if everything goes to plan. None of us have a crystal ball, and for the moment, judging on what we have seen, it would be fair to assume that Luck has the skills to compete in the NFL and lead his team to victory. 
But imagine a world where all the scrutiny that Luck has had to endure gets the better of him. Don't forget that if the Colts do draft him, he will be filling the shoes of none other than Peyton Manning. So, no pressure there, then.
And pressure can do funny things to people. Some positively thrive under it, while others curl up into a foetal position and beg for mercy. There is no reason to believe that Luck won't handle the stress of being an NFL quarterback, but it will be a big difference from anything he would have experienced at Stanford.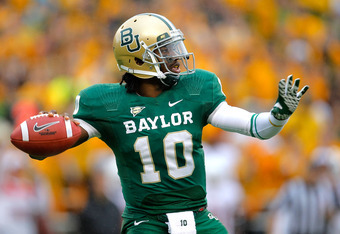 Sarah Glenn/Getty Images
The Colts were an awful football team last year. Even if Manning were healthy, I doubt they would have won many more games than they did. Luck will not be a panacea. The Colts have a lot of other areas that need addressing before they find themselves heading back to winning ways.
Lest we forget that in Manning's first season, Indianapolis ended with a 3-13 record. So Luck will hopefully be allowed at least one season to find his feet before he is expected to take the team back to the Super Bowl.
So, what of RG3?
The Washington Redskins are expected to select Griffin with the second pick, and there have been reports that fans are already seeking out the quarterback's signature on various sporting items. If he is the No. 2 pick, then he will inevitably find himself slightly outside the glare of the spotlight. But not by much. 
Just as Luck has been the name on everyone's lips, Griffin's has been quick to follow. Perhaps the only thing to place him a peg or two below Luck in terms of his evaluation is his durability. He missed a large part of the 2009 season with a torn ACL and also displayed symptoms of a concussion during the Texas Tech game in 2011. 
But he is a dynamic athlete, equally skilled at making plays with his arm or his feet. He should, again barring any mishaps, make an immediate impact on a Redskins team hoping to compete for the NFC East title. In a division filled with quarterbacks such as Tony Romo, Eli Manning and Michael Vick, Washington would now have an elite QB of its own if the choose RG3 to lead their team.
Griffin doesn't have the same huge shoes to fill in Washington. Last year, the Redskins alternated between John Beck and Rex Grossman, with neither player having great success. But he will be expected to have an immediate effect on a team that is also looking to get back to the big time.
So, will this all be just too much to handle for Luck and Griffin? What will be the story of their first season as NFL quarterbacks? 
While there can be no doubt that they have every ability, and will be given every chance to succeed and evolve into elite quarterbacks, it still remains to be seen whether they will fulfill this destiny and become as great as people expect them to.