WrestleMania 28: How HBK Will Decide the End of an Era with Triple H, Undertaker
April 1, 2012

The Undertaker will defend his undefeated WrestleMania run on Sunday night. Triple H will do his best to end his streak, but in the end The Undertaker will make it to 20-0.
The questions remain, though—how will he get there, and will he do it on his own?
Shawn Michaels is not the guest referee in this match just to look pretty. He will decide the match that is deemed as the "end of an era."
Shawn Michaels will be pivotal to the outcome of this match. He might keep a low profile for most of this match, but when the lights are shining the brightest and when the anticipation is the highest, Michaels will make his presence known.
Michaels has looked to be on the fence for the last couple months with Triple H and The Undertaker, making it very hard to predict which way he will sway this match. The most telling action that has been made throughout all of the promotions has been The Undertaker's kind words toward Michaels when he has spoken to Triple H.
Although The Undertaker has told HBK that he would "end him" if he interfered, 'Taker has only given Michaels compliments in the showdowns with Triple H.
While Triple H may think that he will have the support of HBK, in the end, Michaels will lead Triple H to his end at WrestleMania 28.
The compliments that 'Taker has given Michaels over the last month will ultimately earn HBK's respect and lead him to take his side on Sunday night.
How will it all play out?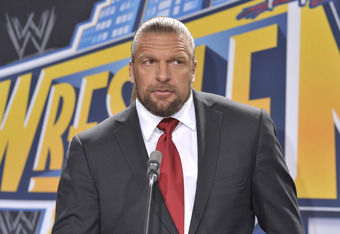 Michael N. Todaro/Getty Images
The match will end when Triple H turns to HBK for support and help in trying to end The Undertaker. Michaels will respond by turning to 'Taker briefly before turning back to Triple H.
The result will be Sweet Chin Music to Triple H's face. He will cap his performance off with a crotch-chop and leave Triple H wondering what happened.
When Triple H comes to, 'Taker will be standing over him, celebrating a 20-0 WrestleMania record.