Tim Tebow: Pros and Cons of Tebowmania in Gang Green
April 2, 2012

Rich Schultz/Getty Images
Last week, Denver traded quarterback Tim Tebow, who led the Broncos to the AFC West title last season, to the New York Jets. The trade included Denver getting a fourth- and sixth-round draft pick.
Although Tebow said he is really excited about going to New York, this trade comes with a lot of pros and cons.
Pro: Tim Tebow will push Mark Sanchez
After the Jets failed at their attempt at getting four-time MVP Peyton Manning, they signed Sanchez to a three-year, $40.5 million extension; although his current contract still had two years on it. The New York Jets stated, according to ESPN.com, that they wanted someone to "push" Sanchez. The Jets were 8-8 last year and Sanchez didn't have the greatest season.
Tebow is nowhere near a better quarterback than Sanchez. But, he is a better back quarterback than old backup QB Mark Brunell, who wasn't a threat to Sanchez at all.
This season, Tebow actively can be put in a game if Sanchez is not doing well. And the fact that Sanchez knows this might push him even harder during the off-season.
Con: Tim Tebow doesn't have a good arm
Tebow can't hit routine throws—that's just common knowledge. He had a 46 percent completion rate, completed 46.5 percent of his passes in the regular season, which fell to 40.5 percent in the postseason.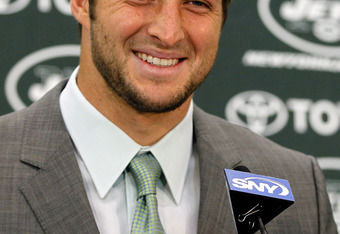 Mike Stobe/Getty Images
Sanchez averages 55.3 percent in completions, which leads to why Tebow would be good fit in another way.
Pro: Tim Tebow can run a Wildcat offense
Even though Tebow's arm is horrible, he can definitely run the ball. Rex Ryan, who has been with the Jets for three years, said that Tebow could play up to 20 plays per game.
The Jets are no strangers to the Wildcat offense, which they ran extensively in the 2009 and 2010 season with Brad Smith. The Jets will be more successful running the Wildcat because Tebow is a better runner than Smith.
Con: Tim Tebow going to New York will bring to much attention
Tebow came into the league with a lot of media attention and him going to Big Apple will shine the spotlight on the Jets that much more, which is not what they need after last season. They need to figure out what went wrong last year and quietly rebuild for this season.
We also might see a repeat of last season in Denver in New York. If Sanchez has one bad game, the fans might turn on him, which in turn might affect the team and the locker-room morale in general, which Ryan admitted losing control of last season.
The Jets have made it clear that Sanchez is No. 1 and Tebow is No. 2. Tim Tebow going to New York may or may not be the in the Jets' best interest, but you can't deny the fact that Tebow becoming a Jet has brought excitement to the game. So it's time to get over the hype, get to work and figure out how to win .