New England Patriots: Why Super Bowl Is a Must in 2012
April 2, 2012

Win McNamee/Getty Images
The New England Patriots came up short against the New York Giants, marking the second straight Super Bowl loss for Tom Brady and Bill Belichick.
Since the Pats' last Super Bowl win, the Boston Bruins, Celtics and Red Sox have all won championships.
In order to help the team regain its top spot among New England sports fans and maintain their legacy as the greatest quarterback-coach tandem in NFL history, Brady and Belichick need to win Super Bowl XLVII.
Brady, despite coming off a year in which he threw for over 5,000 yards, will be 35 years old when the 2012 regular season starts.
Only Johnny Unitas, Jim Plunkett and John Elway have won the Super Bowl after turning 35.
Though it looks like Brady can compete at an All-Pro level for two or three more years, you never know when he will lose a step.
On a team where offense is the sole reason for its success, if Brady's skill were to diminish, the Patriots could go from Super Bowl contenders to middle of the pack in the AFC playoff picture.
Aging receiving corps
Brandon Lloyd was the biggest free-agent signing made by the Patriots this offseason.
Lloyd is exactly what the Patriots' offense was missing in 2011. He provides an outside-the-numbers receiver who can get downfield and make the safeties guess.
Lloyd is also familiar with returning offensive coordinator Josh McDaniels' offense, all but eliminating the concern that he won't be able to operate in the complex read-and-react offense that Brady has mastered.
While Lloyd has bounced around since entering the league, his two best years as a pro have come under the tutelage of McDaniels.
When McDaniels was the Broncos head coach in 2010, Lloyd had a league-leading 1,448 yards receiving. Last year, he rejoined McDaniels in St. Louis and reeled in 51 receptions for 683 yards in just 11 games.
Lloyd has a definite connection with McDaniels, one that was made public the moment McDaniels returned to New England. The biggest obstacle Lloyd will need to overcome is connecting with Brady from day one.
Lloyd will connect with Brady because of McDaniels and because, aside from Wes Welker, he is the most talented receiver this team has had since Randy Moss left.
Perfect as Lloyd may be, he is now one of five receivers on the current roster who will be over 30 years old at the start of training camp, making 2012 an increasingly important year.
Questions on the offensive line
Matt Light and Brian Waters were both crucial to the success of the offensive line in 2011. Both are expected to return despite speculation that one or both may decide to retire.
If they do return in 2012 it will almost certainly be their last season in the NFL, making it important for Brady and company take advantage of the veteran group.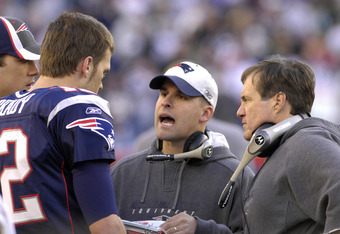 A. Messerschmidt/Getty Images
In addition to the impending retirements, Sebastian Vollmer has become a question mark. He enters the last year of his contract and has a hard time staying healthy.
Logan Mankins is still elite and should come back from offseason surgery to return to form.
Nevertheless, after 2012, a once reliable offensive line that has provided Brady with ample time in the pocket will go through a major overhaul.
The AFC East will provide little competition 2012
Even though the Buffalo Bills went out and upgraded their defensive line by signing the biggest name in free agency in DE Mario Williams and former Patriot DE Mark Anderson, they are still a step below the Patriots coming into 2012.
We will see reasons for optimism for Bills fans in 2012, but they won't be playoff contenders until 2013.
The New York Jets again made offseason headlines, this time trading for quarterback sensation Tim Tebow.
The move will give the New York media plenty to talk about, but it will only cause more problems in the locker room. The Jets are a talented team, but this year will be another mess for Rex Ryan and company.
After another disappointing season, Jets ownership will have to decide whether it's time to move on from the brash coach and bring in a more even-keeled personality.
The Dolphins are still rebuilding, and until they develop a top-five defense or find a good quarterback to stabilize the team, they won't contend with the Patriots.
Overall the AFC East is still a weak division in 2012, but this may be the last year that the Patriots can just show up and win the title.
Since the Spygate incident, the Patriots are 0-2 in the Super Bowl. Belichick and Brady want to prove that they can win post-Spygate and erase the question marks surrounding their legacies.
One thing the Patriots have going for them is a determined head coach and quarterback that want to cement their place in the conversation as the greatest of all time.
Both Belichick and Brady can do that by winning their fourth Super Bowl title together.