Florida Panthers: Still on the Edge of Breaking Playoff Drought
April 2, 2012

Bruce Bennett/Getty Images
Their marketing theme all season has been We See Red. At times this season they have been red hot and at times very cold, but the prospect of their first playoff berth in 11 seasons looks real. They're just stretching out the process.
The recent string of five overtime sessions (four losses) in six games, plus a regulation loss to lowly Columbus, made the season wind-down more nail-biting. On the positive side, they came away with points in 11 off their last 13 games, which slowly brought them closer to clinching the coveted berth.
Unfortunately, now they have to do what they were hoping to avoid just a few games ago—look at the out-of-town scoreboard. With three games remaining for both the Panthers and their closest pursuers, the Washington Capitals, the final week of the season promises to be memorable.
After a recent 4-0 home stand and 5-0 stretch, they opened up their lead in the Southeast Division and actually were within striking distance of second place in the Eastern Conference.
Timing is everything. 
With the team being about as healthy as they have been all year (334 man games have been lost to injury), scoring coming from more sources and the resurgent Jose Theodore playing his best goal of the season, things look good. 
Even with the line of Kris Versteeg, Tomas Fleischmann and Stephen Weiss cooled from their torrid early pace, Sean Bergenheim and Mikael Samuelsson then heated up. Fleischmann retooled and is now the team's hottest marksman with 26 goals.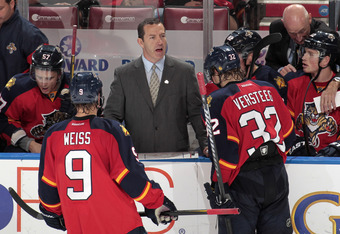 Joel Auerbach/Getty Images
Unfortunately, the win streak was followed by a 1-2-4 mark in their last seven—all but one against teams below them in the league standings.
This is not what first place teams are supposed to do.
Their last two regulation wins were against Philadelphia and Boston, so maybe they would prefer more games with superior teams. This wish came true with their last game against Detroit—a hard fought shootout loss but one more point.
With the way things are unfolding, their season may go down to the second to last game—a head to head match with the Capitals in Washington for the division lead.
The race may get even tighter before then because all three combatants for the unsettled spots (Florida, Washington and Buffalo) will be playing their next game against teams below them in the standings.
Fortunately, with the points salvaged from the extra session losses, the Cats only need two points or a Buffalo loss to assure at least the eighth and final playoff spot.
The hyping of the highest finish since 1999-2000 (as of today they have spent 122 days in first place in the Southeast Division this season) is a bit early. Washington hasn't yielded yet and still has a chance of closing the gap with the Panthers.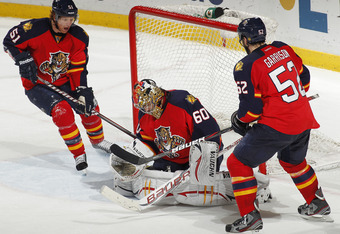 Joel Auerbach/Getty Images
Buffalo is just about out as far as catching Florida but stranger things have happened. In 2007-08, Carolina led the division with five remaining games and never made the playoffs.
Despite the arduous process and tough OT and SO losses, the team is displaying uncommon confidence for this time of year. After Friday's brutal loss to last-place Columbus, Dineen tried to look to the positive, while admitting his team was tired after back-to-back games and a 2 A.M. arrival in Columbus.
"We'll get some rest, recharge the batteries and move forward," Dineen said. "We've got a lot of hockey to play yet."
He was right. There was a different team in the 2-1 SO loss to the Wings Sunday. 
"There were a lot of positives to build upon tonight," Dineen said.
Center Stephen Weiss, has never been in a playoff game in his ten seasons with the Panthers. He's been through this drill before but usually looking up at the standings.
"It makes it easier when you're looking ahead instead of looking back at who's chasing you," Weiss said.

That might be a classic under-statement.
The popular Weiss is the face of the team, and the expanding fan base is rooting for him to break the dubious streak. It's just not coming easy. 
The snowbirds are starting to leave South Florida. For the hockey fans, hopefully the season will not be over soon.
Alan Greenberg is a Contributor for Bleacher Report. Unless otherwise noted, all quotes were obtained first-hand.