QPR vs. Arsenal: Putting the Aaron Ramsey Debate to Rest
April 2, 2012

Ian Walton/Getty Images
Following Arsenal's loss to QPR on Saturday, a number of fans have resorted to what they do best—blame game and scapegoating. 
The latest scapegoat is Aaron Ramsey.
I am prompted to write this article because of the disturbing development on B/R, whereby comments and a number of articles have joined the debate advancing ill-digested idea.
Digesting the False-11
I must first confess a regret, to wit, following the game, I wrote a quasi Aaron Ramsey article myself. Quasi, because the article was only ostensibly about Ramsey, it's fundamental point being a tactical digest of the match.
Accordingly, I observed that Ramsey liberality with the False-11 role, to which he had been assigned on Saturday, caused at least two problems to Arsenal's tactics on the day.
First, it forced Arsenal to attack through the middle mainly, since there wasn't width on the left, and owing to the fact that Arsenal's most potent attacks have come down the right flank (in the last 10 weeks, at least), the formation skewed to the right on Saturday, with one extra body—Ramsey's—congesting the middle.
This led to a lethargic offense when Arsenal had the ball, because the normal decoy runs that so potently disorganizes the opposition's defenders weren't available. As a result, possessing players lacked options through which to execute defense-splitting passes.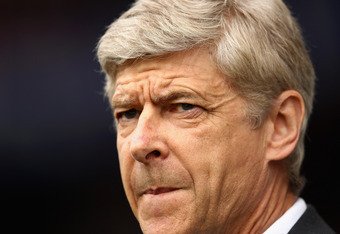 Richard Heathcote/Getty Images
Second, Arsenal could not attack through the left, because Ramsey was often nowhere to be found. Moreover, this clipped the offensive wings of Kieran Gibbs who could not overlap since he lacked cover down the left flank.
Furthermore, Ramsey penchant to drift incessantly infield meant Gibbs was left defensively exposed.
Having noted all these, I struck two important points: I emphasized the fact that there was nothing wrong with the tactics at hand.
Secondly, I stressed that my observation was neither a negative criticism of Aaron Ramsey nor of Arsene Wenger.
I am tempted to think that a few writers on this subject after my own article, either read and failed to digest it properly, or if unaware of my article, haven't digested their own ideas properly, if their conclusion is anything to go by.
Two Sentiments
The first sentiment is that Aaron Ramsey isn't good, and that Wenger erred in playing such a player, who ostensibly isn't proficient at anything.
This isn't true.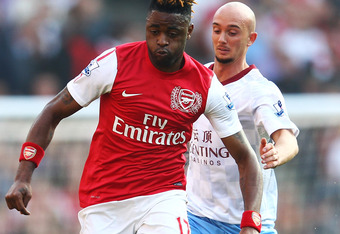 Julian Finney/Getty Images
To say Aaron Ramsey isn't good at anything is to betray inability to see promise when it stares one in the face or to betray an inability to read the game.
Furthermore, to appeal to the blanket "he drifted infield" exposes the latter flaw: Drifting infield is the point of this tactics. So this, per se, wasn't the problem here; it was Ramsey liberality in doing so. As I noted in my analysis article, the False-11 must make the winger position default at most times, especially off the ball.
This was the error, not drifting infield.
To insist on this is either that a person doesn't understand how football works vis-a-vis players' role, or that a person is shown to be disturbingly amnesic.
Bar the early season below par performances—expected, since Ramsey was only playing his first few games after a career-threatening injury—Ramsey came back with a number of solid performances that helped Arsenal recover from the infamous early season blight.
Aaron Ramsey, it must be said, has been integral to this season's success, whatever that is.
The second sentiment isn't less disturbing.
According to this view, Wenger is hampering the team's attacking potency by employing a False-11 or by playing Ramsey in this position. 
This view isn't less infuriating than the first, not just in the fact that it curiously concludes that False-11 or Aaron Ramsey on the left is a defensive maneuver.
To this, I must say, I can't for the life of me see how this is so, as, fundamentally, False-11 is an offensive strategy with two immediate advantages. 
First, it causes confusion in the opposition's ranks when decoy scissor movements are triggered.
Secondly, when executed well, it provides an extra body in the midfield when the aim of a team is to press high in the opposition's half. This, in fact, was a major factor in the Tottenham victory at the Emirates.
As to the meat of this view, the substance is no less nonsensical than that of the first.
Andrei Arshavin has played the False-11 role a very many times and this has hardly clipped Arsenal's offensive wings. In fact, it is what gave us the victory over Barcelona last year.
The only complaint a person could advance is that Arshavin isn't always willing to track back to help the left-back defend. So fundamentally, the liability isn't offensive but defensive; that curious conclusion then is just that.
In the second place, the False-11 role is what Samir Nasri played most of the time at Arsenal, and it worked splendidly.
Therefore, this wasn't new tactics at QPR; it has been part and parcel of Arsenal in the last few seasons. Therefore, I fail to see how Wenger erred in this particular case.
A person can, of course, fault Wenger for playing Ramsey in this particular position in this particular match, but —duh—coaches experiment with players. Every coach on the emerald planet does.
Total Football is not total if this isn't possible, which is not to say Arsenal play Total Football. Moreover, it is a mark of a complete team or of depth if,or when, a number of players can play in a number of positions.
Thirdly, False-11 works just fine at Barcelona. So tactically, it isn't just Wenger who is using it, and as I have noted above, this isn't new tactics at Arsenal nor is Wenger even copying Barcelona, as though he has ever needed to.
Another curious view is that to play Aaron Ramsey on the left is to expose him to ridicule. How exactly is that so? Does this mean a player—a modern player—can only be played in one position, in a modern game?
This kind of sentiment is the reason I used the "ill-digested" qualification.
For example, note that Alex Oxlade-Chamberlain (one of the youngest in the first XI) has been used in more than one position since his debut for the first team, the same is true of Francis Coquelin, Alex Song, and even Robin van Persie.
Moreover, if a player couldn't be played out-of-position (and I must question the idea of single positioning in the first place), then we wouldn't have had any options when our full-backs were all out with injury.
I, in fact, question and reject this sentiment from players themselves.
Modern players should be able to play in more than one position. This gives teams worth their salt an extra dimension. It is one of the factors that have set Barcelona apart.
Song into the Mix.
It is for this reason I must reject the notion that, somehow, asking Alex Song to debutize at center-back— when the formation must be tinkered with in order to achieve a particular aim—is an error.
How is it so, when Alex Song has done so on a number of occasions, and admirably so? One could as well question the formation against AC Milan at the Emirates, a formation that was heavy on strikers, but which nevertheless overran Milan.
Alex Song's ability to shift to this new position is a testimony to  his dexterity and of the manager's flexibility. To lack tactical flexibility is to be out of touch with the modern game. The foregoing notion, therefore, must summarily be dismissed.
Consequently, if Coquelin, Vermaelen, Djourou, Oxlade-Chamberlain or Song can played in more than one position and rightly so, why is this a problem in the case of Aaron Ramsey?
The Problem at QPR
There was only one thing wrong at QPR on Saturday, and it was neither tactical ineptitude nor incapability of a player to play in a given position.
Ramsey is well capable of playing on the left, and I back Wenger for trying to find Nasri's replacement for this role.
What was wrong was, again, lack of discipline in interpreting this particular role on this particular day. This is where the story should end, not in blaming Ramsey for the defeat or Wenger for using a tried-and-tested tactics.
In the very least, what we must note is the need for adjustment on the part of the player whenever called upon to play this role again.
Conclusion
I regret my tactics articles, since I have the impression that a few may see it as a blame piece. It wasn't, nor was it meant to be.
Again, I reject the notion (and I urge the reader to do so also) that Wenger was wrong in using the formation that called for the role of the False-11. When I said in my article that Wenger got his tactics wrong, I meant insofar as the execution of the tactics on this particular day was concerned.
I believe I made that clear even in that article.
I reject the attempt by writers or readers to cast blame for the Saturday defeat on Aaron Ramsey. My point in my earlier article was that his undisciplined interpretation of the False-11 role hampered Arsenal's offense, not that he caused our defeat.
If the reader or writer must blame someone, then he or he should have a go at Thomas Vermaelen, whose individual errors caused both our conceded goals.