Fantasy Baseball Sleepers 2012: Neil Walker and More Late Round Depth Picks
April 2, 2012

Scott Boehm/Getty Images
It's easy to pick the best fantasy baseball players early in the first couple of rounds of your baseball draft. However, to really craft a baseball championship team you will have to make some depth moves in the later rounds. 
Taking someone like second baseman, Neil Walker, can help you claim that fantasy championship that you desire. 
Neil Walker
Walker is projected to have a solid 2012 season after finishing 2011 with 243 total bases, 83 RBIs and a daily point average of four points per game. Those stats were good enough to land Walker in the top-10 among second basemen. 
This year, Walker should have another great year being the Pittsburgh Pirates everyday second baseman. 
He is slated to finish with 628 overall points, good enough to average 4.1 points per game. Walker is projected to have 249 total bases with 85 RBIs, both an increase from last year's stats. 
If Walker can get some help in the lineup from Garrett Jones, or Pedro Alvarez, then those numbers could skyrocket propelling Walker into the top-five of fantasy second basemen. 
Ryan Zimmerman
Hunter Martin/Getty Images
Zimmerman had an injury-plagued 2011 only getting 395 at-bats. That limited at-bats resulted in Zimmerman only driving in 41 runs and totaling only 175 bases. The Nationals' third baseman only gained 438 points and averaged 4.3 points per game, when he was healthy. 
This year, Zimmerman is projected to have a comeback year, if he can stay healthy. 
He's slated to have 557 at-bats with 263 total bases and 80 RBIs. If Zimmerman can hit all of those numbers, then he will total 653 points, which should yield about 4.5 points per game, if he's playing.
Zimmerman may drop in your draft because of those injuries last year. If that happens, then snatch him up in the later rounds. 
Michael Young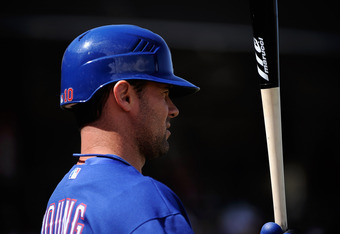 Kevork Djansezian/Getty Images
Young had a great 2011 with the Texas Rangers, however, he's overlooked on his team from a fantasy perspective because of Adrian Beltre and Ian Kinsler. 
However, last year, Young drove in 106 runs and totaled 299 bases good enough to for an average point total of 4.8 points per game totaling 759 overall points. This year, Young is projected to have down year, but still a top-10 year in his position. 
He will still get you 90 RBIs and 275 total bases with a daily point average of 4.5 points per game. 
But, what makes Young such a great fantasy player is that you can play him either at first or third base. 
These three players may slip in your draft to the mid-to-late rounds. You should pick them when you need to add depth to your roster, as they can be everyday players on your roster.