WWE News: The Rock's Vision to Be WWE Champion Would Take WWE by Storm
April 3, 2012

After an exhilarating win against John Cena at WrestleMania 28, The Rock took the ring once again in Miami to ignite his home crowd.
The elephant in the room coming into Monday was the future of The Rock after WrestleMania 28. He gave us a glimpse into the future of his WWE career as he spoke on Raw.
As he took the ring, The Rock told the fans in attendance, "I stand before you, your people's champion." As the night went on however, we would learn that The Rock has more aspirations than to simply being the people's champion.
The Rock spoke kind words to Cena, at one point thanking him for the match that took place at WrestleMania one night prior. He said, "There is one man The Rock has to thank, that man is John Cena. At the end of the day it was an honor that The Rock competed with you at the biggest match of all time...John Cena brought it to The Rock like never before."
After thanks were given to Cena, it was back to business for The Rock. His purpose was not to simply thank Cena and receive applause from the fans, but to address the aforementioned elephant in the room. 
What Is Next for The Rock and Is It the WWE?
The Rock made it clear on Monday what his intentions are in the WWE. He told the crowd that "this is just the beginning" and went on to speak of a vision that he had while celebrating his WrestleMania victory.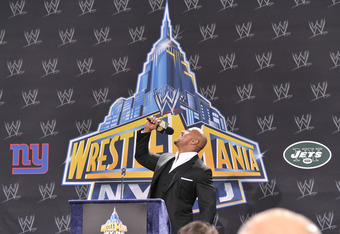 Michael N. Todaro/Getty Images
He explained that his vision is to be WWE champion. It is a vision that could drastically change the landscape of the WWE if he is going to fully pursue it. 
The Rock seems to be making a viable attempt to be a part of the WWE once again and appear on a more consistent basis. The Rock's presence in the WWE turns the WWE into must-watch television again to many casual fans who might have drifted away. 
The Rock can bring back fans in a heartbeat if he is going to be around for a while. A run to a title will make compelling storylines for months to come. 
The Rock can be the face of the WWE if he chooses to be.
A climb to become the champion will require time and devotion from The Rock. This is his chance to make the WWE his top priority and give the fans what they want.
The Rock's vision might be one step closer to returning the WWE to the glory days.