Arsene Wenger's Top 10 Signings as Arsenal Manager
April 3, 2012

Ian Walton/Getty Images
With the summer transfer window looming, Arsenal speculation is again rampant. 
Gooners are calling for a number of big buys—the likes of Lukas Podolski and Jan Vertonghen—while also worried about the uncertain futures of star captain Robin van Persie and Theo Walcott. 
Over his 15 years, Arsene Wenger is known for his shrewd transfer dealings, unearthing countless gems. 
So, with that in mind, taking a break from the current transfer speculation, I wanted to look at the best transfers during Wenger's reign at the club.
Below are the top-10 buys by Arsene Wenger, in no particular order. These are not exclusively the "most talented" players Wenger has brought in, but players that fit well for one reason or another. 
Some are clubs legends, others are just players that came out of nowhere to establish themselves as key cogs in the Arsenal machine. 
Theirry Henry is possibly Wenger's greatest and most inspired transfer over the past 15 years. Wenger first managed Henry during his Monaco tenure, nurturing a young, speedy winger. 
Henry eventually headed to Juventus in 1999. However, his short spell with the Italian giants was rather unsuccessful as he struggled out wide. So, Wenger saw an opportunity and pounced.
In 2002 Wenger brought Henry to Highbury—and the rest is history. 
Henry flourished in his role as main striker, racking up over 220 goals (and counting) and leading the Arsenal line during the "Invincibles" year.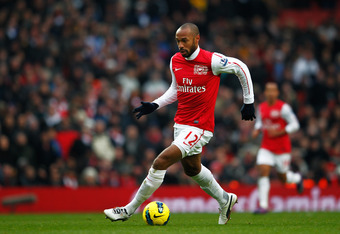 Paul Gilham/Getty Images
Henry is a living legend—further cementing his status during his return earlier this year.  Without his transfer, Wenger's tenure at Arsenal may have been completely different.  It was his goalscoring ability that single-handedly carried the team through some of its toughest matches in the last 10 years. 
For Henry's transfer alone, Wenger illustrated his worth in the transfer market.
Kolo Toure
Although he now plies his trade at Manchester City, with his younger brother and one-time Arsenal trialist Yaya, Kolo Toure remains one of Wenger's most inspired purchases.
He was bought in 2002 for a nominal fee from ASEC Mimosas and began his Arsenal career as a utility player, often deployed in midfield or as right-back. 
The 2003-2004 season was his breakout campaign, however.  Moving to the center of the defense, Toure partnered with Sol Campbell.
Together the two formed a fantastic partnership and he became a fixture of the Arsenal defense for many years.
Toure eventually departed to Manchester City, but at this point he was on the decline. Moreover, his exit allowed for the arrival of Thomas Vermaelen—another inspired Wenger transfer.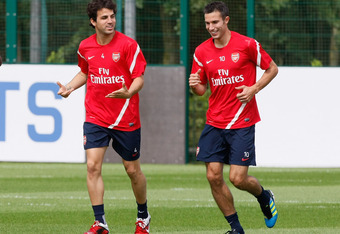 Tom Dulat/Getty Images
As Wenger has shown time and again, sometimes you need to sell high. And with Toure, as he did with Anelka, the Professor sent the classy defender away for a large sum.
Alex Song
This choice might be more controversial when compared to the others on this list. Alex Song, however, is quickly repaying Wenger's faith in him. 
Song came unconventionally to Wenger and the Gunners. Following a trial during Arsenal's Austria preseason camp, Song came on loan from Bastia for the 2005-2006 season. Then in the summer of 2006, the Cameroonian enforcer's move was made permanent.
The defensive midfielder has enjoyed an often rocky time at Arsenal. He has, however, emerged from these challenges a star within the Arsenal squad. 
Still only 24 years old, Song is now a fixture in the team—and will be for years to come.
Fabregas is the captain who broke Gooner hearts with his departure last summer. 
Wenger recruited him to the Arsenal academy in 2003.  Although he was only 16 years old at his arrival, Fabregas quickly established himself in the Arsenal team. 
Known for his amazing vision, creativity and ability to make any pass imaginable, Fabregas is one of the finest players to come through Wenger's reign. And although he flourished until his departure last summer, Cesc's story is seen as bittersweet.
He was probably burdened with too much, too soon. Fabregas took over as captain midway through the 2007-2008 season.  From that moment on, at only 20 years old, he was asked to be everything for the club. He was the creator, the talisman and the club's leader.
Years of losing wore on Fabregas, as his boyhood club Barcelona became world beaters. It was probably too much for such a young player and so he moved on. 
Who knows what could have been?  If Arsenal had won a couple of trophies while he was at the club, Fabregas might have stayed. He is still developing as a player, but unfortunately it is with another club.
However, Cesc was an amazing talent and another example of the magic Wenger works with young players.
Robin Van Persie
Van Persie, along with Alex Song, are the only current Arsenal players on this list. 
A couple years ago it would have seemed ridiculous to laud van Persie as one of Wenger's best buys, as his injuries stalled a potentially blossoming career.
This year, however, has seen him establish himself as a fully fledged Arsenal star with a staggering goal return. 
Moreover, he has grown into his role as captain and is now the unquestioned leader of an improving Arsenal side.
Van Persie was bought from Dutch side Feyenoord in 2004. At the time, the Dutchman was a skillful winger known more for his footwork than his goalscoring prowess. Wenger, though, slowly molded him into the prolific central striker that he is today. 
The big concern for Gooners now is whether van Persie decides to stay this summer. It is the lingering worry as the season comes to a close. Still, he has shown enough over the last two years to be considered one of Wenger's best buys.
Sol Campbell
Campbell arrived on a free transfer from hated rivals Tottenham. So it is fair to say Gooners needed to warm up to him—and it didn't take long.
He established himself as one of the best defenders to come through Arsenal in club history, putting himself in the conversation with players like Keown and Adams. 
Campbell was a no-nonsense central defender—exactly the type that has been missed in recent years. 
He formed a fantastic partnership with Kolo Toure and was in the center of the defense for Arsenal's undefeated season.
Overall, Campbell won two Premier League titles and three FA Cups during his time at the club.
Although his second, short-term stint at Arsenal was not as successful, Campbell remains one of the best buys during Wenger's time. 
He was an assured and passionate leader during the club's dominant years. It is a testament to his talent that Gooners are still calling our for a Campbell replacement all these years later.
Nicolas Anelka
Nicolas Anelka is one of Wenger's most inspired buys, both from a financial and performance standpoint. 
Bought in 1997 from Paris Saint-German, Anelka made an impression quickly. 
The 18-year-old stormed into the Premier League with a remarkable blend of pace, power and precision.  And, in only 65 appearances for Arsenal, Anelka netted 23 goals.
Moreover, Anelka represents one of the most financially lucrative buys in the Wenger era. Though only with the club for two years, Anelka was sold to Real Madrid in 1999 at a profit of £22 million. 
Anelka was sold when his value was high after two stellar years at the club. Although, like Fabregas, he never fulfilled his potential at Arsenal, Anelka still made valuable contributions to the team with his goalscoring record and Wenger was able to reinvest in the squad.
Fredrik Ljunberg
Fredrik Ljunberg is a perfect example of Wenger's wisdom in the transfer market.  Although he was never the team's main star, the midfielder/winger played a key role in Arsenal's most dominant days.
The attacker was bought for a nominal fee and added an important quality missing from the current Gunner squad—a goalpoacher's instinct.  In just over 216 appearances, he scored 46 goals for the club. 
Moreover, the Swede played an integral role in developing Arsenal's free-flowing attack style.  He provided versatility and class coming out of the midfield, and allowed Wenger numerous tactical options.
Overall, Ljunberg won five trophies at Arsenal during his tenure, rewarding faith in Wenger's decision to bring him to the club.
Marc Overmars
Marc Overmars came to Highbury in 1997 from Ajax and slotted into the Arsenal team seamlessly.  He was a fleet-footed winger who impressed Gooners with his ability to slide past defenders with ease.
Although Overmars only spent three seasons under Wenger, the winger was another example of a player growing under his tutelage. And, like Anelka, he was a player whose value grew exponentially during his years at Arsenal. 
Bought for only £5.5 million, Overmars was sold to Barcelona for £25 million. 
For this reason, as well as his goalscoring record, Overmars was an important buy for Wenger. He bolstered the offense when at Arsenal, and the club's coffers when he exited.
Robert Pires
There isn't much that needs to be said about Robert Pires. 
He was classy, brilliant and an inspired purchase by Wenger. His presence on the field always allowed for the spectacular, and it is hard to imagine the Gunners without him.
Pires played for Arsenal for five years, including the "Invincibles" squad, notching 62 goals in 189 appearances.
Gooners are still looking for someone to adequately replace Pires on the Arsenal wing.  He had a perfect combination of playmaking ability and an eye for goal. 
Wenger's offensive juggernaut ticked through the graceful feet of the Frenchman, and fans remember fondly his time at the club.
That is why Pires is one of Wenger's best buys in the past 15 years.
In conclusion, Wenger has proven time and again that he has an eye for talent, and the ability to turn a tidy profit in the transfer market. 
With a difficult season, and uncertainty ahead, Wenger will need to demonstrate his shrewdness once more. 
Still, the above players provide evidence that the Frenchman knows what he is doing—let's hope he can repay our trust in him again.