Rory McIlroy: What He Learned from Last Year's Masters Meltdown
April 4, 2012

Harry How/Getty Images
Any doubt that Rory McIlroy would go on to recover from his collapse at the 2011 was shattered at the U.S. Open, which he won in record fashion. If you still think he won't come back, then you have some high standards. 
Anyway, watching that round again, there's some things that I couldn't help but notice. Judging by the success we've seen in the last year, I don't doubt for a second that he's learned a few things. 
Confidence is a good thing
Heck, be downright arrogant out there. When I watch McIlroy play, I see something that I don't see in other young players, with the exception of fellow major winner Keegan Bradley and Jason Day, though he hasn't won.
These guys are not willing to wait around for a few years before they win their tournaments. They are bold golfers and ready to win right now. The confidence they show reflects that.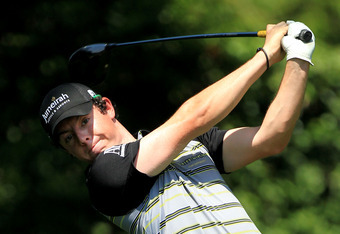 David Cannon/Getty Images
The one round I can remember watching with McIlroy where that went away was the final round of the 2011 Masters. He just did not look like a confident player. In many ways, he seemed like a high school kid playing against professionals. 
It was most obvious on the par-five 13th hole after his tee shot went in the water. When the camera went back to him, his face was buried in his arm. It's not hard to see that he knew the tournament was lost at that point. That was true, but that's not something that should show. If there wasn't doubt before that, that reaction would not have happened, even with an identical shot. 
Obviously, McIlroy hasn't won every tournament since then, but his frustrations haven't shown in the same way. He's been much more confident looking, and it's shown in some incredibly impressive finishes, notably at Congressional's U.S. Open. 
He's resilient
You don't come back and win the very next major in the way that he won the U.S. Open without being resilient.
While McIlroy hasn't won another major since the U.S. Open, he did reach the game's pinnacle of being the top ranked golfer in the world before Luke Donald won the spot back. 
It's hard to know exactly where this resilience comes from, but we can get a good glimpse from this tweet from Jeff Schultz of the Atlanta Journal-Constitution.
Rory McIlroy's on last year's #Masters collapse:"It wasn't the end of the world. It's only golf. It's not like anybody died out there."

— Jeff Schultz (@JeffSchultzAJC) April 3, 2012
That's obviously accurate, but while some say it, not many people actually put that into practice. McIlroy has done just that.
In a way, we've learned how resilient he is, but McIlroy has to have learned that about himself. Even if it just affirmed a belief he already had, coming back this strong is a sign that he does have a good perspective on things.  
The Masters is never over until it's over
Okay, this is not exactly the most original of lessons in sports, but it's painfully true. In 1996, we saw Greg Norman lose a six-shot lead during the final round at Augusta. Just in case you forgot that, McIlroy reminded everyone, notably himself, that anything can happen at this tournament. 
Heck, you can even play relatively well and blow a four-shot lead on Sunday. That's just the way the course sets up. There are plenty of holes that offer such high-risk, high-reward options that birdie/bogey exchanges aren't that common. 
Obviously, McIlroy just had a disastrous round, but Charl Schwartzel shot a 66, Luke Donald, Geoff Ogilvy and Tiger Woods all had 67s, while Jason Day shot a 68. 
Clearly, this is not the place to lose concentration. Maybe that's what happened to McIlroy ,or perhaps it was just a bad round. Whatever it is, this is a tournament that isn't decided until the final putt is dropped. 
It can be in the form of a bad round from the leader, or great rounds from followers. That is the nature of Augusta. McIlroy learned that the hard way, but judging by how he's responded, there can't be much doubt that he'll bounce back.