5 Second-Year Players Who Could Find Success with the Green Bay Packers
April 4, 2012

Scott Boehm/Getty Images
It's impossible to judge the success or failure of a draft after the first year, but the Green Bay Packers did not get a lot of production out of their rookies last season. Rookie contributions to the Packers were made almost entirely on special teams and in backup rolls.
Obviously the Packers are hoping to get increased production out of their higher draft picks like Randall Cobb and Alex Green, but they also have some lower-round draft picks and undrafted free agents who could make an impact this season. 
Tori Gurley, Wide Receiver
For a player who never made it off the practice squad, Gurley has become quite popular with Packer fans.  His size ( 6'4") and his great hands (he had no drops his last year in college) make him quite an intriguing prospect.
Undrafted out of South Carolina, Gurley left school after his sophomore year—when he caught 44 passes for 465 yards and four TDs.
When the Vikings offered to sign Gurley to their active roster, the Packers gave him a substantial raise to stay on their practice squad, which would lead you to believe Gurley is in the Packer's future plans.
The biggest challenge the Packers may have is finding a roster spot for Gurley. If the Packers decide to bring back Donald Driver—who still may have some good football left in him—the Packers would most likely need to keep six receivers to fit Gurley on the roster. 
D.J. Williams, Tight End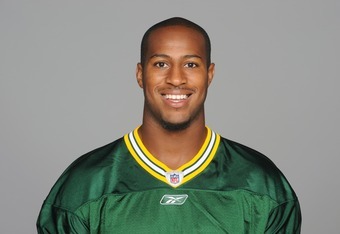 Handout/Getty Images
Williams had a great college career at Arkansas, catching 152 passes and winning the John Mackey award, which is given to the country's top tight end.
At 6'2", Williams does not have prototypical size for a tight end, like a Jermichael Finley or Rob Gronkowski, but he is comparable in size to the Patriots Aaron Hernandez and the Jets Dustin Keller, both who have become very effective pass catchers.
Williams started out strong in training camp, but was less impressive once pads were put on. He was the last tight end on the depth chart in 2011.  But with Andrew Quarless likely to start the season on the PUP list—or possibly miss the season because a knee injury—the Packers may have an open competition for the roster spot behind Finley. 
Brandon Saine, Running Back
Saine went undrafted out of Ohio State and was on the practice squad before being called up to the active roster when Alex Green was placed on injured reserve.
Saine was never a featured back at Ohio State, but he excelled at catching the ball out of the backfield (his last two seasons at Ohio State, he caught 40 balls out of the backfield and had seven touchdowns). And his combination of size (5'11", 220 lbs) and speed (he ran a 4.4 40 at the combine), make him a great fit as a third down back.
If the Packers draft another running back or resign Ryan Grant, Saine may have a tough job just making the roster. But with his skill set, the Packers may be wise to find a way to keep him on the team.
Nick Laham/Getty Images
Lawrence Guy, Defensive End
A mostly forgotten pick by the Packers last year, Guy may be a diamond in the rough.  Considered by many draft experts to be a third or fourth-round selection, Guy, who declared for the draft after his junior year at Arizona State, fell all the way to the seventh round, where the Packers selected him with pick No. 233.
After suffering a concussion in preseason, Guy was placed on injured reserve on September 3rd, ending his rookie season.
Questions about his maturity and toughness may have caused his draft stock to fall, but at 6'4" and 305 lbs, Guy is the ideal size for a five technique in the Packer's 3-4 defense
With a full offseason under his belt, Guy could challenge for a spot along the Packer's defensive line. 
Vic So'oto, Outside Linebacker
An undrafted defensive end from BYU, So'oto was only a starter for his senior season, where he notched five sacks and 11.5 tackles for a loss.
So'oto had an eye-opening preseason that culminated with a performance against the Kansas City Chiefs that was so impressive, there was talk that he could eventually be a contender for the starting outside linebacker spot opposite Clay Matthews.
Unfortunately, So'oto suffered an injury early in the season, which combined with the shortened off season, really hampered his development.
Assuming the Packers select an outside linebacker sometime in the upcoming draft, there will be a lot of competition at the position, but So'oto's pass rush ability and upside should give him a good shot at making the roster and potentially becoming an impact player.
You can follow me on Twitter @IanHanley75