NBA Teams Tanking: An Open Letter to a Front Office
April 4, 2012

Ronald Martinez/Getty Images
Dear NBA front office,
There's been much talk lately about tanking, a nefarious practice that compromises the integrity of the league and certainly wastes the hard-earned money of season-ticket holders. No one can prove for sure that teams are doing it, but there's every reason to believe that some are.
It could very well be you. After all, your team is so bad that it verges on comical, and it has made several moves that clearly weakened the roster. 
It could be that you're just stupid, but let's say—for argument's sake—that your lousy franchise has decided to make itself even worse. You may have gotten away with the perfect, undetectable basketball crime; there will be no "Say it ain't so!" kids at promotional appearances. What exactly have you accomplished?
Well, the pundits are saying you have gained an unfair advantage over more honest teams when it comes to the summer's draft. Under the current system, when lottery determines the draft order, the teams with the poorest records have the best chance of moving up into the top three. The lottery was instituted in the first place to counter tanking; the weighted lottery, which came along in 1991, sort of made it more attractive again. 
Ronald Martinez/Getty Images
In 2007, every team mired at the bottom of the standings wanted a piece of Greg Oden or Kevin Durant. Right now, I'm sure you and every other lottery-bound team would love to see Kentucky's Anthony Davis holding up your jersey.
Based on the current system, direct or indirect tanking—instructing a coach to lose games or making it harder for him to win them, respectively—should get you better odds of landing that first pick. Suppose you end up with the first pick and are put in a position to draft a sure-fire star who can carry your team for years to come. Then what do you do?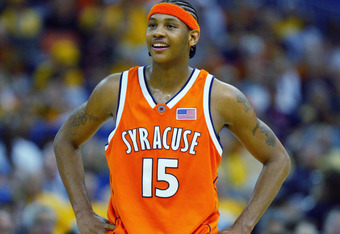 Craig Jones/Getty Images
Well, pat yourself on the back, for one. Tanking has taken you as far as it can. Even if you only end up with the second or third pick, in a strong draft class like this year's, you've secured more long-term good through making a bad season worse than you would have by fighting the good, if futile, fight.
Then it's draft night. That's when things get tricky and when no amount of tanking can save you. This is when luck and, more importantly, skill take over.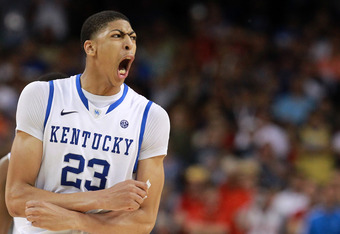 Ronald Martinez/Getty Images
Assessing NBA prospects isn't an exact science. We've seen plenty of can't-miss players do just that, as well as superstars coming out of the middle of the lottery. Darko Milicic and Sam Bowie are household names for going bust, and really, are the Denver Nuggets happy they took Carmelo Anthony over Dwyane Wade in 2003?
The Oklahoma City Thunder ended up with Durant, but they could have just as easily gotten Oden, in which case Sam Presti would have had to work a lot harder. Davis could be the next Kevin Garnett, or it could be teammate Michael Kidd-Gilchrist who turns out to be this draft's prize. Maybe brand-obsessed Harrison Barnes, expected to fall outside of the coveted top three, will end up the perennial All-Star. You can just never be sure. 
That's the thing with tanking: It undoubtedly helps, some—but then what? 
Furthering the scenario, suppose you get the No. 1 pick, draft Anthony Davis and immediately realize he's going to be even better than projected. He dominates defensively, provides a versatile piece on offense and runs away with Rookie of the Year. Davis is still only one player.
There are other decisions to be made and tanking can't solve those. Quite the opposite, in fact. Tanking may make sense, but it's really just bad decisions cast in a different context. Anyone can tank; it's about having opportunity and motive for it to be a good idea, which the NBA provides. 
Rebuilding takes time, and while it needs a cornerstone, it requires more than a single superstar. The next lottery pick won't be as easy as the ill-gotten spoils of tanking—that is, unless you plan to instruct Davis to throw away games, or make personnel decisions that will convince him the team is moving in the wrong direction. Remember, you have to keep him around past his rookie contract.
Scouting well, bringing in valuable free agents, maybe even identifying an up-and-coming assistant to hire as the head coach—these require skill and intelligence. And don't even think about getting upper-tier free agents to join up until you prove there's some semblance of a plan. If you're a small-market team, it's even tougher. 
In basketball, there are many things you can't tank your way out of, or into. 
The moral of the story is that, at the end of the day, tanking in the wrong hands can just end up trapping a great player in a bad situation. We shouldn't be worried about the travesty that tanking represents, but about the rest of the story; many times, front offices are so addle-brained that they're screwed even if tanking works out perfectly for them.
Fans of bad teams should want better, not that season, but for the long term (although one wonders what anyone with season tickets to a lottery-bound team is expecting to see other than loss after loss). And as fans of the NBA, we should lament not that teams might lose on purpose, but that stupid people run teams—whether or not those teams are tanking.
Sincerely,
Bethlehem Shoals