WWE: Awesome Thoughts on Rock, CM Punk's Title Reign and More!
April 6, 2012

Welcome to my latest installment of Awesome Thoughts. Topics will range from the Rock's victory over John Cena to CM Punk's fantastic title reign. I will also cover why the Raw and Smackdown rosters should just formally merge.
Rock's victory over John Cena was the right move
Prior to WrestleMania, I posted an article detailing why John Cena should not win. This article covered why John Cena should lose to the Rock.
However, I did not take into account the fan reaction in the event John Cena won.
The Miami crowd would have been furious if the giant lime defeated the People's Champion. I would not have been surprised if the booking of the match depended solely on expected crowd reaction.
WWE was attempting to get John Cena to get 50 percent of the cheers. Unfortunately he was lucky to have received 20 percent of the cheers from the hostile Miami crowd.
Rock got a massive pop as he entered the ring. John Cena received loud boos.
I am just stating the facts, people.
Therefore, the reason why the Rock should have won was the simple fact that it would have made WWE look bad if WrestleMania ended in a chorus of boos without a heel turn.
The only way which would have been logical for John Cena to win was if Cena turned heel. Of course, the new bright green shirt was an indicator that wouldn't happen.
I loved the match ending. It was poetic justice for John Cena to try to mock the Rock but ultimately get beat because of it.
Now, I will delve into what plans are in store for the Rock.
Rock should fulfill his promise of a title shot by winning the Royal Rumble
If you did not catch Raw last Monday, then the Rock basically promised that he will become WWE Champion again.
What does this mean?
Obviously, the Rock is not done wrestling. It appears that his next match will either be at Summerslam or WrestleMania 29.
If he gets a title shot at Summerslam, a match with CM Punk would be absolutely brilliant.
However, if there were an actual feud between the two, Punk's main argument against the Rock is the same as John Cena's. Call me crazy, but the fans are simply not buying that argument.
Punk would get mostly negative reactions if he faced the Rock, even if Rock came back as a heel.
Also, it does not make a whole lot of sense for Rock to wrestle at Summerslam given his ring rust. Keep in mind, he is shooting three movies this summer. 
Therefore, the Rock should win the Royal Rumble for the second time.
But why?
It is simple. The Royal Rumble as an event has lost its prestige. It has lost its shining luster that it once had when the winner actually got to main event the show.
Now. The winner is lucky if he gets 20 seconds in the opening part of WrestleMania.
Zing!
Rock winning the Royal Rumble will truly be a shocker. They should not advertise his return at the Rumble. He comes out of nowhere to win the Rumble.
On Raw, he says he is going to face whoever comes out of the Elimination Chamber the WWE Champion.
Perhaps in Elimination Chamber he can shake off some ring rust by having a brief feud. Perhaps a Rock vs. Miz match to determine the true Rumble winner makes a lot of sense.
At WrestleMania he can face whoever the WWE Champion is. It should be someone not named Cena.
With Punk likely busy with Austin at Metlife Stadium, possible opponents include Dolph Ziggler, Miz, or any young heel WWE wants to push to the moon.
A Rock vs. Brock Lesnar match is also a possibility. However Lesnar will likely face John Cena at the event.
After a long and valiant effort, the Rock loses. He puts over the man who he loses to. This does two things.
1. Gives the person who Rock loses to a massive rub.
2. Restores the prestige of the WWE Championship by giving the title holder a signature victory at the grandest stage of them all.
The Rock facing a younger star at WrestleMania will elevate the future product when the past Attitude and Ruthless Aggression legends are finished wrestling.
Speaking of future turned present stars...
CM Punk's title reign: how long will it last?
CM Punk has enjoyed a lengthy reign as WWE Champion, defeating the likes of Dolph Ziggler, Alberto Del Rio and that Fozzy guy to maintain his title run.
My expectation is Punk will face Chris Jericho at Extreme Rules in a hardcore stipulation. Expect Punk to retain as Jericho does not necessarily need a title reign at this stage of his career.
Of course, I could be wrong.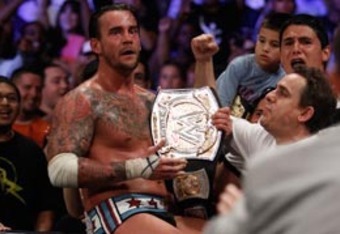 CM Punk will likely go on to feud with Mark Henry after his feud with Jericho ends. Henry will be John Laurinaitis' designated man to try to get the belt off of CM Punk.
I would not be surprised if Punk lost the title to Mark Henry. But, Punk will likely retain through Over the Limit and No Way Out.
If Punk miraculously gets to Summerslam still the WWE Champion, there are some challengers he could face.
Choice 1: Rock
If Rock decides to challenge for the WWE Championship at Summerslam, Punk will be more than ready to shoot on the Rock as much as Kobe Bryant and Kevin Durant on the same court. 
Punk will likely retain under that scenario. I just don't see WWE giving Rock another title reign.
Choice 2: John Cena
If Cena is not busy with Brock Lesnar, then the lime-flavored fruity pebble might go after that shiny belt.
Choice 3: Lord Tensai
Here is a dark-horse candidate to take the belt away from Punk. It will fulfill his monster heel persona to become the WWE Champion.
Choice #4: Emerging heel ready to break out
Dolph Ziggler, Miz, Cody Rhodes, or even Daniel Bryan could be challenging the best wrestler in the world at Summerslam.
To answer the question, I envision Punk steamrolling through all the way until Summerslam, where he drops the belt to one of those aforementioned heels on choice No. 4.
If that is the case, then CM Punk has had a long title reign in spite of the disapproval of that tool box. Speaking of tool boxes.
John Laurinaitis should fully merge rosters
Yes. I know this is not actually his decision.
But, given the heavy involvement of Smackdown stars on Raw, it only makes sense for Raw stars to appear on Smackdown.
Merging the rosters does not mean the titles should unify right away. It just safeguards any potential for a severely depleted roster caused by injuries and unexpected departures.
Besides, I feel like John Cena appearing on Smackdown can actually boost ratings. There needs to be some type of continuation from Raw to Smackdown now that there is only one GM.
Merged rosters will also cause wrestlers to step up their game in fear of being fired. This only improves the homegrown product.
Smackdown can be the home of the younger guys while the legends take Raw, especially during WrestleMania season.
Conclusion
I am looking forward to the post-WrestleMania season. It should be absolutely electric with Brock Lesnar terrorizing WWE for a year.
Follow me on twitter and become a fan.
Thanks for reading!