2012 NFL Draft: The San Diego Chargers Need to Draft LaMichael James
April 4, 2012

Harry How/Getty Images
The San Diego Chargers are in need of a Darren Sproles clone as the NFL Draft approaches. Oregon Duck LaMichael James and San Diego are a match made in heaven.
San Diego's offense, while somehow highly rank, left something to be desired in 2011, evidenced by an underwhelming 8-8 record and missing the postseason. Philip Rivers did not seem to be himself in first half of 2011; whether it had to do with the lockout or not is unclear.
What was clear, though, was Rivers had a shortage of weapons at his disposal. Vincent Jackson may have been his healthiest receiver and he only caught four-plus receptions six times. The Chargers did not have much speed to work with in the middle of the field, rendered Rivers and his receivers to run go-routes on too many pass plays.
When the Chargers lost Sproles last offseason, San Diego General Manager A.J. Smith quieted the notion that he was the cog that made the Chargers offense go. Smith ignored a replacement for Sproles, suggesting an increased workload for Ryan Matthews and Mike Tolbert would fill the void.
While Matthews had a breakout season of sorts, Tolbert is now a Carolina Panther after a middling 2011 campaign full of injuries. Still, the Chargers lack that home run spark that Sproles once provided.
Enter LaMichael James. The Oregon running back leaves college after a successful three years as any for a running back. He burst on the scene during his sophomore season, leading the NCAA in all-purpose yards and finishing third in the Heisman voting.
The entire country has seen James' big play ability and his blistering quickness. His receiving skills, though, were not on display in a spread rushing attack at Oregon. Since the NFL Combine and his pro day, James has been drawing rave reviews for his soft hands and route-running ability.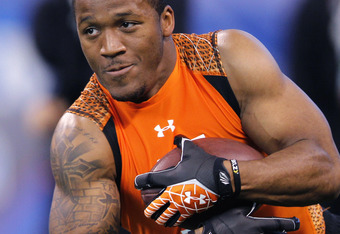 Joe Robbins/Getty Images
In addition, James was a willing teammate at Oregon. He split carries with multiple backs even when he was having career numbers and chasing a Heisman trophy. He would be satisfied carrying the load with Ryan Matthews, mainly being a 3rd down option. The last thing San Diego needs to return to the playoffs is a 'me first' player. 
James will be available for San Diego to snag in the first two rounds.  The Chargers select at No. 18 and No. 39 picks, prime position to upgrade at running back. While, the No. 18 pick is too high for James, their second round selection is right where he could go. He's predicted to go as high as the early second round to the beginning of the third round. 
In San Diego, James would do wonders to make up for Vincent Jackson's absence in the passing game. Also, he would be adding to San Diego's team speed, which has already been elevated by signing wide receivers Robert Meachem and Eddie Royal in free agency. 
Although Norv Turner may have underwhelmed as San Diego's head coach thus far, this guy knows how to run an offense. With such a quick-twitch talent like James in the fold, Turner will find ways to utilize him all over the field. I wouldn't be surprised if James would be running plays in the slot by the end of training camp.
Philip Rivers will be throwing to a whole new cast of pass-catchers in 2012.  LaMichael James would give their offense a big play element that would complete one of the NFL's most dangerous attacks in San Diego.