Vontaze Burfict and Other Epic NFL Draft Stock Collapses in Recent History
April 5, 2012

Christian Petersen/Getty Images
Over the past six months, no 2012 NFL draft prospect's stock has fallen more drastically than that of Arizona State inside linebacker Vontaze Burfict. Not only is Burfict's draft stock collapse the worst of this year, it is one of the worst in the history of the draft as well.
Burfict got this season off to a hot start and ranked among my top five overall prospects for the 2012 NFL draft early in the year. At the time, Burfict had much going for him as a prospect: He's a big, powerful, athletic middle linebacker with the ability to wreak havoc on any play, rush into the backfield and be a consistently disruptive force.
Unfortunately, as everything started to fall apart for Arizona State last season, so did Vontaze Burfict's career and draft stock.
The Sun Devils won five of their first six games but lost six of their last seven. Burfict did not record a single tackle for loss in the final four games of the season, and his playing time dropped sharply.
The Las Vegas Bowl against Boise State should have been Burfict's opportunity to make one last big impression for scouts before declaring for the 2012 NFL draft. Instead, Burfict was taken out of the starting lineup and played sparingly. When he did play, his impact was only negative, as he made only one tackle and picked up an unsportsmanlike conduct penalty, the latter of which was a staple of his collegiate career.
Burfict desperately needed strong performances at the NFL Scouting Combine and at his pro day for his stock to improve. Instead, he performed as horrendously in his workouts as any draft prospect.
He started out on the wrong foot with a very misguided press conference at the combine, in which he had no qualms about blaming the media and his coaches.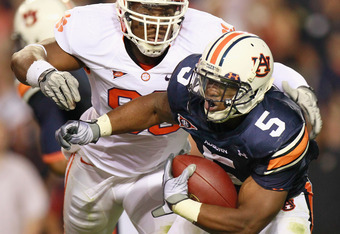 Kevin C. Cox/Getty Images
On the field, Burfict continued to be the combine's biggest disappointment. He looked very out of shape, running the slowest 40-yard dash of any linebacker at 5.09 seconds. According to reports, Burfict's pro day was no better, as he only managed 16 repetitions of 225 pounds on the bench press and performed poorly in positional drills.
Six months ago, Burfict was in great position to be a top-10 overall draft selection. With where his stock currently lies following his debacle of a senior season and pre-draft workouts, Burfict should be selected no earlier than Round 4 and could end up falling into Round 6.
While Burfict's draft stock collapse is the worst in 2012, there have been many other examples of draft prospects whose stocks have plummeted over the course of their senior seasons in recent years. With the rest of this article, I highlight some of the most drastic examples of the past 10 years.
Da'Quan Bowers, DE, Clemson: 51st overall pick in 2011 NFL draft
Bowers led the nation with 15.5 sacks as a junior, after which he declared for the 2011 NFL draft. Coming off a season in which he was a truly dominant pass-rusher, many ranked Bowers as the No. 1 overall prospect in the draft class.
Bowers never reached the top spot in my overall rankings for the 2011 draft, but he was ranked at No. 9 overall prior to the NFL Scouting Combine. Unfortunately for Bowers, injury concerns really damaged his draft stock.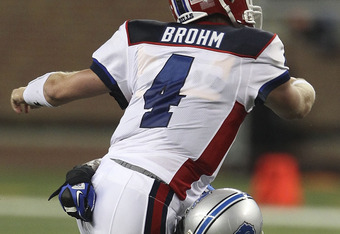 Leon Halip/Getty Images
Bowers had knee surgery following his junior season, and his recovery took longer than expected. As a result, Bowers really struggled in his pre-draft workouts, and concerns arose that he might need microfracture surgery.
When the dust was settled, Bowers went from being a near-certain, top-10 selection to a late second-round pick. The Tampa Bay Buccaneers finally decided that the potential reward was worth the risk and drafted him at No. 51 overall.
Bowers started six games and had 1.5 sacks in his rookie season.
Derek Pegues, FS, Mississippi State: Undrafted in 2009 NFL draft
The 2009 draft class was full of players whose draft stocks plummeted from the beginning of the season. Three players who came into the season with solid first-round grades (Clemson quarterback Cullen Harper, Penn State defensive end Maurice Evans and Ohio State offensive tackle Alex Boone) went completely undrafted. However, Mississippi State safety Derek Pegues had the worst draft stock collapse of all.
Pegues actually went into the draft ranked among my top 32 overall prospects. Admittedly, my scouting was not nearly as precise or accurate back in 2009 as it is now. That said, Pegues was a very productive safety throughout his career in the SEC, but after running a very poor 4.69-second 40-yard dash at the combine, everything fell apart from there.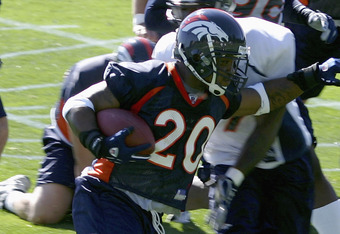 Doug Pensinger/Getty Images
That said, there may have been more to Pegues' story than could be seen from a scouting perspective. Not only did Pegues go undrafted, but he never even made an NFL roster.
Andre' Woodson, QB, Kentucky: 198th overall pick in 2008 NFL draft
Almost every draft class has an example of an overhyped quarterback who becomes heavily scrutinized and sees his draft stock plummet as a result. Few examples have been more extreme, however, than Kentucky's Andre' Woodson in the 2008 NFL draft.
Going into his senior year, Woodson was coming off a terrific junior season as Kentucky's quarterback and was in the hunt to be the top quarterback taken early in the draft process. However, as Woodson's play became more scrutinized, his passing became more inconsistent, and his stock collapsed prior to the draft.
Another quarterback taken in the sixth round of the 2008 draft, Hawaii's Colt Brennan, had a similar stock collapse that season. A record-setting passer who led the Warriors to their first-ever BCS bowl appearance, he was also once considered a first-round prospect by some, but concerns over his maturity and arm strength really hurt his draft stock.
Both of these quarterbacks fell off the draft radar, and both are out of the NFL, but another quarterback's collapse that year may have been even more high-profile.
Brian Brohm, QB, Louisville: 56th overall pick in 2008 NFL draft
Had Brian Brohm declared as a junior for the 2007 NFL draft, he would have had a chance to be the No. 1 overall pick that year over LSU's JaMarcus Russell. Instead, he waited until his senior season, and his draft stock took a heavy hit.
After fantastic sophomore and junior seasons, Brohm struggled in his senior season, with his Louisville Cardinals finishing at a 6-6 record. Brohm came into the year expected to be the No. 1 overall pick but ended up falling well behind the top quarterbacks in the class—Boston College's Matt Ryan and Delaware's Joe Flacco.
Brohm was eventually selected late in the second round by the Green Bay Packers to be a backup for Aaron Rodgers. However, he lost out on the backup quarterback position to fellow rookie and seventh-round pick Matt Flynn and was eventually released by the Packers.
Brohm had a short stint as a backup quarterback with the Buffalo Bills but is now out of the NFL.
Maurice Clarett, RB, Ohio State: 101st overall pick in 2005 NFL draft
A story as unconventional, controversial and tragic as Maurice Clarett's involvement with the NFL draft could not be left off this list.
As a true freshman, Clarett emerged as a star running back for the Ohio State Buckeyes and helped lead them to the BCS national championship that year.
Unfortunately for Clarett, a plethora of off-field incidents, including academic misconduct and receiving improper benefits, resulted in his suspension for the entire 2003 college football season. Clarett then took the NFL to court with an antitrust lawsuit, citing that underclassmen should be able to enter the draft.
Clarett won the initial ruling and declared for the 2004 NFL draft, ending his collegiate eligibility, but the NFL then won an appeal to overturn the ruling. As a result, Clarett was unable to enter the draft until 2005 and went two years without playing organized football.
When Clarett arrived at the 2005 NFL Scouting Combine, he was slow and clearly out of football shape, not looking to be anything close to the back he was in his freshman season for the Buckeyes. A player who once looked like he could eventually be a first-round draft pick, Clarett was not expected to be selected until the late rounds of the 2005 draft.
Clarett was actually drafted much higher than expected as the last pick of the third round, but considering that he was once a first-round talent, this was still a major draft stock collapse.
He never played a down in the National Football League, and multiple arrests in 2006 sent him to prison. Clarett has since played in the United Football League, but his NFL career likely came to an end before it ever began.
Anttaj Hawthorne, DT, Wisconsin: 175th overall pick in 2005 NFL draft
Going into the 2004 college football season, and over the course of much of the year, Wisconsin defensive tackle Anttaj Hawthorne was considered a first-round draft prospect. Hawthorne was a dominant defensive tackle in the Big Ten, with a combination of size and athleticism that meant big upside.
Unfortunately for Hawthorne, his performance dropped off late in his senior season, and things really fell apart at the 2005 NFL Scouting Combine, where he tested poorly and also tested positive for marijuana.
Due to character and work ethic concerns, Hawthorne went from a first-round prospect to the first pick of Round 6 in a collapse that very much resembled Vontaze Burfict's slide this year.
Hawthorne spent two seasons with the Oakland Raiders, the team that drafted him, but has since been out of the National Football League.
Michael Munoz, OT, Tennessee: Undrafted in 2005 NFL draft
Michael Munoz was an All-American offensive tackle who had a terrific career at Tennessee. He also has terrific bloodlines as the son of arguably the greatest offensive tackle to ever play in the National Football League—Anthony Munoz.
Munoz was a very talented offensive lineman who was expected to be a second-round draft pick, but unfortunately, serious concerns regarding knee and shoulder injuries scared all 32 NFL teams away from drafting him at all.
After shockingly going completely undrafted, Munoz made the decision to retire from football.
As a young draft follower, I only went as far back as I could where I had a knowledge of how players' draft stock fluctuated over the course of the season. I would love to hear from you all about collapses I may have missed or those further back in history. Comment if you have any!
Thanks for reading!
For more coverage of the 2012 NFL draft, follow me on Twitter @Dan_Hope.