New Orleans Saints Must Fire Sean Payton in Order to Move Past Bounty Scandal
April 5, 2012

Scott Halleran/Getty Images
There is bad, there is despicable and then there is this.
We've got to do everything in the world to make sure we kill Frank Gore's head.
Recent audio has surfaced detailing a Gregg Williams speech to the New Orleans Saints defense in a meeting prior to their playoff matchup against the San Francisco 49ers on January 13.
We want him running sideways. We want his head sideways.
Williams' damning statements are every shade of awful and advocate for just about every form of violence imaginable. Even in a violent game like football, there are limits. There are still boundaries, lines you do not cross.
Every single one of you, before you get off the pile, affect the head.
This is awful, folks. Barbaric, savage...the list of descriptors runs endlessly.
This is Roger Goodell's worst nightmare. The NFL's worst nightmare, in fact.
Early, affect the head. Continue to touch and hit the head.
This is the end of the line for Williams, for sure. He will never set foot on another NFL sideline. He will never again take center stage at a defensive meeting, showering the audience with verbal profanities and promises of an illicit payroll, with cash shelled out one cracked vertebrae at a time.
[Michael Crabtree] becomes human when we f--kin' take out that outside ACL.
This is enough evidence to bury Sean Payton and to terminate his status as Saints head coach.
And it should. It absolutely should. At this point, it's hard to see how the Saints have any other option.
Fact is, one of two scenarios are in play here: Either Payton knew and did nothing, or he is so oblivious as to be totally unaware of what goes on in defensive meetings.
Was he bumbling along Bourbon Street aimlessly as a malicious locker room culture built on criminal behavior manifested, took hold and spread like a cancer with every cash reward claimed by a defensive player who so savagely buried his helmet in an opponent's earhole?
Either way, whether Payton was a silent enabler or just asleep at the wheel, you have to figure the Saints' head coach screwed up. Royally. To a degree few head coaches have ever screwed up before.
But even if you don't see it that way, even if you want to curl up in the storybook version of the Louisiana Superdome and pretend the turf is made of spearmint and gumdrops and player introductions melodically hummed by Willy Wonka himself, you must admit a basic truth.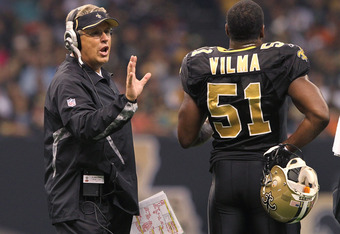 Matthew Sharpe/Getty Images
The Saints need to move past this scandal. Not in time, not down the road, not in increments. Now. They need to distance themselves from this darkness, put some space between their 2012 roster and every team or player who previously took part in these despicable acts of limb-twisting, injury-seeking and head-hunting.
The best way to do that, to truly turn the page, is to say goodbye to Payton.
Of course, the full extent of Payton's involvement continues to be questioned. This will be the case for quite some time, because there will be civil cases launched here, and there will be follow-up inquiries by the NFL, by anyone who has a vested interest in player safety and the integrity of the game.
What the Saints did and what Williams' audio demonstrates flies in the face of all those facets—integrity, safety, basic sportsmanship and human morality—like a roadside bomb. And there is only one way to put the crater in the rear view.
Fire Payton. Consider firing general manager Mickey Loomis too.
If the Saints don't, if they refuse to act and just place themselves in a holding pattern, they risk sabotaging their franchise entirely.
Because right now, the New Orleans Saints are a lowly insect crawling helplessly on a very open concrete block—nobody within miles willing to associate with them—and Goodell is almighty Thor, waiting to smash the almighty hammer of NFL justice on that pitiful thing dragging its innards along the otherwise deserted slab below.
Better to cut their losses now. Move on. Show that they are willing to take responsibility and dish out punishments before the NFL has to.
Because if they don't, you had better believe it will be infinitely worse for the franchise. This is no longer about "making an example" or "sending a message." This is about protecting the game itself, about ridding it of the cancer of Bountygate and everyone involved.
Payton's supporters and some diehard Saints fans will surely flock to his side and claim that it's a violent game, that this vile locker room culture exists everywhere, that New Orleans is just being punished because it was the last one standing when the DJ cut the music and everyone else found their way to the nearest chair.
But there is no way you can justify this. Not now.  
Not after audio that has Williams openly advocating for his players to inflict the kind of injury that can cost men use of limbs and confine them to wheelchairs for the rest of their lives.
Not after it has become abundantly clear that nobody made any effort to stop Williams, that the bounty program was allowed to continue because it was viewed as the best means to a bigger number in the "W" column.
Not after this audio has leaked, with just the tip of an iceberg so cold and ugly that we'd almost rather not see what's below the waterline at this point.
For better or worse, Payton presided over this mess. He received the credit when his team triumphed over the Indianapolis Colts in Super Bowl XLIV. Now, he must receive the blame for the monster he either helped create or was too daft to hear scratching through the basement door.
Saints owner Tom Benson is going to have to make some incredibly difficult decisions in the coming days, but whatever they are, they must result in New Orleans moving forward. They must result in the franchise acknowledging the gravity of this situation—something it really has not yet done—and acting in accordance.
The Saints must fire Payton. They must at least entertain the possibility of packing Loomis' bags alongside him. And they must take these drastic measures for the long-term health of their franchise, in order to give themselves a prayer of moving past one of the more hideous scandals in American sports history.
The Saints have no options left at this point. They must take a page from the book that landed them in the limbo that currently has them tap-dancing on hot coals.
They must cut off their own head.
A fitting, yet completely avoidable and unfortunate, end to an era best buried in the past along with every man who did nothing to stop it.