Wayne Simmonds Is Willing to Do Whatever It Takes for the Philadephia Flyers
April 5, 2012

Rob Carr/Getty Images
Philadelphia's recent win over state rival Pittsburgh featured skillful plays, big saves, bad blood and several high-spirited scrums. It was just the kind of game Wayne Simmonds can't get enough of.
The Battle of Pennsylvania was indeed just that on April 1, a hard-fought 6-4 victory for the Flyers in Pittsburgh that had plenty of penalty minutes, head coaches screaming at one another and loads of drama heading into the playoffs.
For his part, Simmonds, in his first season with Philadelphia, scored his 27th goal of the season and dropped the gloves for a spirited tilt with a just over a minute remaining, all in 13:24 of ice time.
"It's going to be fun," laughed Simmonds, who spoke with NHLPA.com just one day after the emotional victory. "We'll likely play them in the first round of the playoffs, and this game, it kind of sets the stage for a pretty intense matchup."
The type of matchup Simmonds, the 61st overall selection of the Los Angeles Kings in the 2007 NHL entry draft, simply loves to be part of.
"I'm really looking forward to it," said the forward, who was born in Scarborough, Ontario, a suburb city located just east of Toronto. "Those are the type of games you love to play in. The physical and mental battles are just so intense."
Simmonds has been a force since coming to the Flyers from the Kings in one of the game's most high-profile trades in recent years, coming to Philadelphia along with Brayden Schenn and a 2012 second-round pick for Mike Richards and Rob Bordson on June 23, 2011.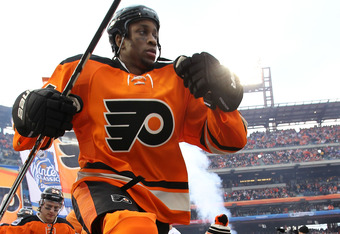 Bruce Bennett/Getty Images
His bruising style and offensive touch have made him an ideal fit in Philadelphia, a player that can hurt the opposition in any number of ways, from netting a big goal to wreaking havoc on the forecheck.
After a sophomore season in 2009-10 that yielded 40 points, Simmonds recorded 30 points in 2010-11. 
The drop in output didn't sit well with Simmonds.
"That was a huge disappointment to me," offered the 23-year-old, who scored his first career NHL goal on Oct. 14, 2008, in his third career game, a rebound tally against the Anaheim Ducks. "I knew that I could be better than that, and when the huge trade was made to bring me to Philly, I wanted to show that I could hold up my end of the bargain."
Simmonds was on a mission from the first time he hit the ice as a Flyer.
"It all started in training camp for me," said the 6'2", 210-pound right winger. "I was told I was going to see time on the power play and have some great opportunities. They were going to give me some chances and I was going to do my best and try and run with that."
The numbers certainly speak for themselves.
He's already topped his previous career-best mark for points and has also contributed four game-winning goals to date.
Most importantly, however, Simmonds feels right at home in orange, black and white.
"It was awesome," he said, of the response he received from his new teammates upon his arrival in Philadelphia. "The guys were great to me. We're a close-knit group and everyone likes one another."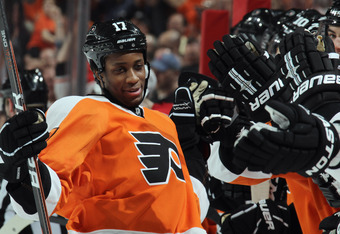 Bruce Bennett/Getty Images
For Simmonds, it's just what you want heading into the Stanley Cup Playoffs.
"Everyone supports one another, we stick up for each other and we all have that will to want to win," said Simmonds, who recently scored a unique goal when teammate Brayden Schenn shot a puck that glanced off of Simmonds' forehead and into the net. "We're all looking forward to the playoffs."
Simmonds is looking forward to doing whatever he has to in order to have an impact on the outcome.
"I want to be physically involved," said the player with 12 games of NHL postseason experience, six games in 2009-10 and 2010-11. "I want to help control the flow on the forecheck and put up some points, too. That would be an ideal game for me."
And if the game gets rough-and-tumble, just like the most recent clash in the Battle of Pennsylvania?
"That's the way playoff hockey is," he said. "If I have to fight, I'll fight. But really, I just want to win. That's what we're all here to play for, that chance to win it all."
Related Content
All-Star Draft: Players' View with Hartnell
Hartnell Pre-Game Meal
Hartnell In The Locker Room