Masters 2012: Fred Couples and Others Who Will Fade Away During Weekend
April 6, 2012

Streeter Lecka/Getty Images
The Masters leaderboard has started to bunch up with no golfers gaining enough momentum to pull away from the pack. While that should lead to an interesting weekend of golf, certain contenders are sure to falter before the stretch run on Sunday.
Here are three stars who have played well so far, but won't be able to maintain a high level of play long enough to take home the green jacket.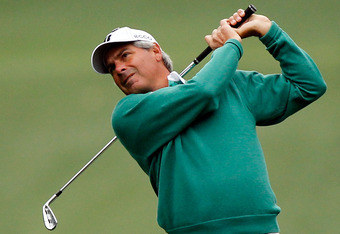 Streeter Lecka/Getty Images
Fred Couples
Couples won the Masters 20 years ago and has spent the first two days at Augusta attempting to turn back the clock. Even though he's still had a lot of success on the Champions Tour, beating the toughest fields in golf has become too much to ask.
He has made a habit of starting strong, which proves he can still hold his own, but his body tends to catch up with him over the final few rounds. That trend will likely continue this time around as those with less mileage on their legs take control on moving day.
He's never lost his competitive fire, so he probably won't be happy unless he makes a late charge, but he'll look back on these tournaments and cherish them anyway.
Ben Crane
Following a strong start to the season, Crane hasn't finished higher than 29th in any event since early February. In all of the tournaments in which he's made the cut during that span his weekend scores have been worse than the first two rounds.
He would need a lot more consistency than that in order to claim a green. Golf relies on form more than any other spot, and Crane's hasn't been at its peak for awhile. So despite his strong start, it's hard to image him keeping it up for two more rounds.
Crane has also never finished better than ninth in any major tournament, further illustrating that things aren't likely to fall his way moving forward.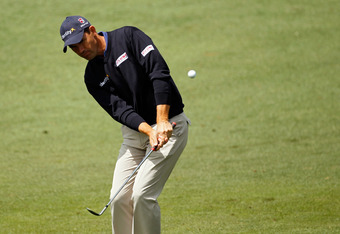 Streeter Lecka/Getty Images
Any time Harrington would apparently build momentum, he would bogey a hole. The three-time major champion has never been able to master Augusta, which isn't a surprise because his game doesn't match what it takes to win a green jacket.
The famous course rewards precision off the tee. That's never been one of Harrington's strong suits, and it's extremely difficult to scramble around Augusta without getting into trouble. It only takes one or two bad holes to sink a player's chances.
Harrington still has enough game left to make some noise at the other majors, but don't expect him to make a run toward the title this weekend.