Carolina Hurricanes: Offseason Changes Needed to Contend in 2012-2013
April 7, 2012

Grant Halverson/Getty Images
It's taken four months of travel on a bumpy, heartbreak-laden road, but Kirk Muller finally has the Carolina Hurricanes facing the right direction as the offseason approaches.
Just one more game remains on the schedule—Saturday night's visit with the Florida Panthers—and it's a matchup that many will write off as completely meaningless.
In terms of playoff implications, it indeed is.
But really, although the 'Canes weren't officially eliminated from postseason contention until March 30, most of this past season could also be labeled that way. With a record of 14-23-7 before the All-Star Break even began, the Hurricanes were never realistically in the playoff hunt.
Nevertheless, the Hurricanes didn't stop working just because their fate wasn't going to extend past April 7th. They continued to fight for victories, for their fans and for a better outlook when the 2012-2013 season arrives.
Eventually, Carolina put together a 19-9-9 record from January 12th on—a mark that would equate to a 104-point season over the span of 82 games.
And while that hot finish certainly didn't improve their impending draft position come June, it proved for once that this Hurricanes team is truly capable of competing at an elite level.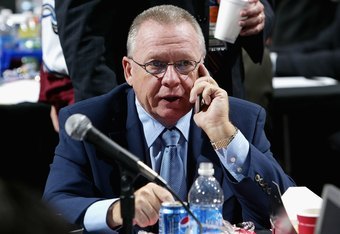 Dave Sandford/Getty Images
A laissez-faire summer of few changes and little improvements will still not suffice, however.
The Hurricanes and GM Jim Rutherford have trusted their faith in that fantasy before, only to be slaughtered the following autumn. It is a plan that's always just too good—and easy—to be true.
No, the 'Canes cannot survive the heat of playoff contention next year without the addition of a top-end player or two this offseason.
The fear of another Tomas Kaberle-esque disaster must be suppressed by hope for the opposite outcome, for Carolina desperately needs the influx of experience, respect and firepower that such an acquisition would bring.
And thankfully, the conditions at last appear suited for Rutherford to make such a move.
The 'Canes possess at least a little more financial support than in past years and have spent this most recent campaign on an even cheaper payroll than usual. After all, they'll likely need to spend $6 to $8 million this summer just to reach next season's salary floor.
So where could the Hurricanes use that extra cash?
Well, in addition to the up-in-the-air re-signings of upcoming free agents Jaroslav Spacek and Bryan Allen, there will be few more sought-after items in this July's UFA market than New Jersey forward Zach Parise and Nashville defenseman Ryan Suter.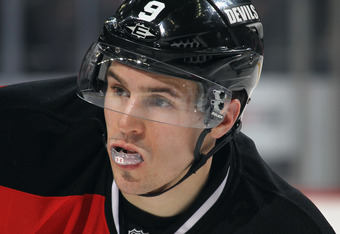 Bruce Bennett/Getty Images
Calling Carolina a likely destination for either of those stars is quite farfetched for now, but the 'Canes could easily become a dark horse in the bidding war for at least one of them. As TSN's Darren Dreger noted in a March 21st broadcast, the possibility is definitely there:
The [Hurricanes] organization is ready to make...that jump...to become a Stanley Cup contender. So they're going to go hard after Zach Parise, assuming he's available as an unrestricted free agent on July 1, and it wouldn't be a stretch to say that they also show considerable interest in Ryan Suter, again assuming that he's an unrestricted free agent.

Maybe there's the friend package there, because we know that Parise and Suter are good buddies, but it'll be surprising to Hurricanes fans that that organization, known as being a budget team, could weigh in in that field."
Parise, 27, has responded from a 2010-2011 campaign that saw the former Olympian play just 13 games with a 31-goal, 68-point performance this year. As a former 45-goal scorer and five-time 30-goal scorer, Parise has the skills, and character, that would make him an excellent fit alongside Eric Staal.
Suter, moreover, could be an ideal partner for ultra-aggressive blueliner Joni Pitkanen on the top defensive pairing. The 27-year-old conservative rearguard has compiled 111 assists, 311 blocked shots and a plus-37 rating over the past three seasons while averaging almost 26 minutes of ice time per game.
Outside of Parise and Suter, other impending big-fish free agents like defenseman Matt Carle or wingers Shane Doan, Alexander Semin and even former 'Cane Ray Whitney could interest Rutherford. If excessive contract-happy GMs drive the asking prices on those "secondary" top-end UFAs into the stratosphere, however, Carolina's best option would probably be to re-think their options.
And fortunately, if the need arises, the franchise has the assets in place to pull off a major trade instead.
Former first-round pick Ryan Murphy's probable entrance into the team's six-man defensive corps means that the 'Canes have seven (and, depending on the outlook for Derek Joslin, perhaps even eight) 'D'-men prepared to take the ice next season.
That opens up the possibility for a trade involving Jamie McBain, who, with two and a half impressive NHL campaigns under his belt at only age 24, would be an extremely high-value offering. Coupled with a B-grade forward prospect such as Zach Boychuk or Riley Nash, the 'Canes have an easily expendable tandem that could draw as much as a first-line playmaker or top-pairing 'D'-man in return.
No matter which route the Hurricanes take, though, they'll need to remember that they got into this position with an "accountability"-first attitude and hard-working roster, not a pricey lineup of selfish puck carriers and lethargic, money-driven individuals.
Adding a couple of top players will be both worthwhile and sensible this summer; after all, the 'Canes won't be able to survive next year's playoff push without them. Overspending and overhauling the team, conversely, is a surefire path to a fourth consecutive season without a playoff berth.
And there's no doubt that the Carolina Hurricanes' simply cannot survive that.
Mark Jones is currently a Bleacher Report featured columnist for the Carolina Hurricanes and the NHL as a whole. In his three and a half years so far with the site, he has written more than 360 articles and received over 450,000 total reads.