Newcastle United: Why They Are the EPL Team of the Season
April 7, 2012

Michael Steele/Getty Images
Mike Ashley's grin must be visible from space.
After comprehensively beating Swansea 2-0 on Friday afternoon, Newcastle United have moved to just two points outside of the top four, with those above them facing difficult fixtures later this weekend.
Indeed, Newcastle's next three fixtures—Bolton and Stoke at home, and a trip to Wigan—seem infinitely winnable with the Toon in such form.
It would be fair to say, however, that it has been Swansea that has been attracting the biggest share of plaudits and praise from every pundit and football fan under the sun this season.
They have been praised for their slick passing and cultured build-up play, the quick movement off the ball of Leon Britton and Joe Allen, the attacking flair of Scott Sinclair and Nathan Dyer, and the sheer brilliance of the on-loan Gylfi Sigurdsson.
It is common in the Premier League to honour promoted teams and their managers who manage to "stick it out," consequently finishing in a mid-to-lower table position, earning respect for merely "surviving."
It is Brendan Rogers and Norwich's Paul Lambert who have both been tipped for the Manager of the Year award for their team's ability to mix it with the league's usual suspects.
But it is Newcastle United—and their manager Alan Pardew—who should be honoured for their excellent season.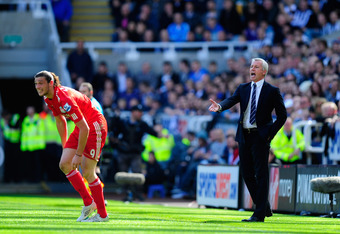 Stu Forster/Getty Images
Pardew is, admittedly, Mike Ashley's man—Ashley being an owner reviled and despised by his team's fans unlike any other owner in the league.
Last season, Ashley moved to replace the the popular Chris Hughton—a man who had guided the club back to the Premier League and who had the team sitting relatively safe in mid-table—with Pardew, a man who had previously only had mixed success managing in the EPL.
Ashley faced a torrent of abuse for this seemingly harsh firing of Hughton. The Newcastle owner is already unpopular with the fans for the breakdown in his relationship with club heroes such as Kevin Keegan and Alan Shearer, his poor financial management of the club and for his repeatedly putting the club up for sale during difficult periods.
For once, the expectations of Newcastle fans were too modest, content as they were with Hughton's performance and the club's reasonable league position. Geordie fans are known for their high expectations in the past—expecting to see their club not just challenging for a European place, but for the title itself.
But even they could not, in their wildest dreams, have imagined the immediate success Pardew has had. His most significant achievement has surely been in the integration of new signings with the more established club stalwarts.
Alex Livesey/Getty Images
Newcastle have turned to the business of buying relatively cheap players in their mid-twenties—such as Cheick Tiote and Yohan Cabaye—players who were seen as talented but expendable by their respective clubs and seeing their value grow tenfold as they seamlessly fit into the Premier League mold.
In January 2011, they managed to conclude perhaps the best piece of business ever in the Premier League, selling striker Andy Carroll to Liverpool for a staggering £35 million in January 2011.
They were smart enough to see the value of Demba Ba, a man who had impressed for West Ham despite the club's relegation the previous season and to have gambled on the immense potential of Hatem Ben Arfa, despite past injury problems and concerns with attitude.
Even their most extravagant spend—the recent acquisition of striker Papiss Cisse for £9 million—looks to have been a steal—Cisse having scored nine goals in only eight league appearances so far.
Pardew has also brought the best out of the previously erratic Fabricio Coloccini and Ryan Taylor, whilst successfully promoting the talented youngster Tim Krul to the number one position.
It is the consistency of Pardew's team that sees them sit so high in the league, a consistency that has seen them develop a knack of grinding out wins in tough matches as they did on Friday.
Newcastle may not have played the most attractive football in England but when push comes to shove, they have found a way to put the points up on the board. Just as Ashley has turned to the business of "player commerce" off the field, on the field Newcastle have turned to the business of 'winning'.
Try wiping that grin off Ashley's face now!