Masters Leaderboard 2012: Tiger Woods and 4 Favorites Bound for Failure
April 7, 2012

Streeter Lecka/Getty Images
The green grasses and fairways of Augusta are not only the places where childhood dreams become adult realities. The dirty truth of the Masters is that the greens are paved with the failure of hundreds of men.
Only one man leaves Georgia with an everlasting smile upon his face. A few others grit their teeth and grin for the cameras, knowing that their best shot just wasn't good enough. Still others will look in the clubhouse mirrors on Sunday evening and see nothing by failure.
For Tiger Woods and some other big name players falling behind the pack in the middle rounds, it will be tough to face the cameras when they can hardly face themselves.
Luke Donald
Before the 2012 Masters began there were few players who needed a good showing and major win more than Luke Donald. The No. 1 ranked player in the world for 43 of the past 45 weeks found himself at a plus-four entering round three of the tournament.
Donald was a favorite in this year's field after two top-10 finishes in 2011 majors, including a fourth place finish at Augusta. He was also coming off a win in the Transitions Championship on March 18th. Donald's No. 1 ranking looks a bit paper tiger-esque as he appears to be finishing the 2012 Masters the way he started them, winless in major championships.
Keegan Bradley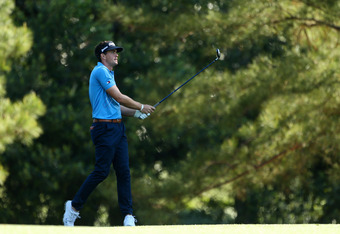 Andrew Redington/Getty Images
Bradley shocked the golf world with a huge win in his first major at last year's PGA Championship. Outside of that there had been little success for the 25-year-old. His performance at the Masters thus far has led fans to believe that the 2011 Championship victory was nothing more than a case of "beginner's luck."
After a satisfactory 71 in the opening round, Bradley followed it up with an appalling plus-five on Friday. Entering round three a full nine strokes behind the leaders could lead some to believe his PGA Championship was a fluke. 
Steve Stricker
Stricker is the second highest ranked American in the 2012 field, (No. 5 overall). The 45-year-old has plenty of Augusta experience with six Masters starts and two top-10 finishes. However the elder statesman is looking a lot like the young Bradley as after a first-round minus-one, Stricker joined him with a second-round 77.
Stricker was another player desperately seeking his first major win, but at the time of print, he stood at plus-three, eight strokes back of the leaders.  
Charl Schwartzel
The man who left Augusta almost a full year ago wearing a sharp green jacket will once again find himself at the winner's podium. However this time it will be to help the 2012 champion slide into his new threads. It is looking like there will be no repeat for Schwartzel who stood at plus-five through 10 holes Saturday.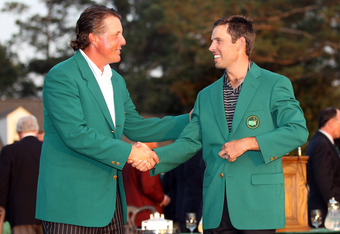 Ross Kinnaird/Getty Images
The 2011 champion bogied eight holes in the first two rounds, heading to the clubhouse with a plus-three. Saturday has been no reprieve for the South African, who has bogied the seventh and ninth holes in Round 3. 
Tiger Woods
At the start of play on Saturday, Woods stood eight strokes behind the tournament leader. After playing Augusta to an even 72 on Thursday, Tiger bogied five holes in Round 2, hitting the clubhouse Friday afternoon with a plus-three overall. At the time of print, he was fighting back and is at plus-two heading into the back nine, still trailing Fred Couples and Jason Dufner by seven strokes.
If there is anyone who can make a run in the final 27 holes, it is Tiger Woods, but if he doesn't turn it on soon there will be more disappointment for the maligned superstar.
These five men were feeling great less than 72 hours ago. The media and fans could not stop talking about their chances entering the Masters. However, come Sunday night, I'll wager they will give anything to avoid being talked about.