Masters Standings 2012: Tiger Woods and Struggling Stars Who Will Finish Strong
April 8, 2012

Jamie Squire/Getty Images
No matter who is in the hunt, the final round of The Masters is sure to be intriguing as there are so many players within a few shots of each other. With that said, though, things would be a lot more interesting if there were more superstars in the mix, but plenty of the world's top players just couldn't get in gear.
While there are some elite golfers who are simply too far out of it to get into contention on Sunday, all is not lost. A strong final round can help them gain some confidence and some momentum for the US Open and the other ensuing majors. It isn't an ideal position to be in, but this isn't the time for players to just pack it in.
Here are three struggling stars who will close out The Masters in strong fashion.
After winning the Arnold Palmer Invitational, it looked as if Tiger Woods was finally back to the form that so many golf fans had grown accustomed to. He was hitting the ball with great distance and accuracy off the tee, and his short game was getting much better as putts were starting to fall. All of that has fallen apart at The Masters, however, as he has failed to shoot under par in any of the first three rounds and sits at three-over.
Woods' performance is quite surprising as he has normally elevated his game at The Masters, even over the past few years when he hasn't been at his best. He admitted that he has allowed old habits to creep back into his swing and that has obviously had an adverse effect. Woods has tended to make some false runs at majors over the past couple years and I expect more of the same on Sunday, as he has no real chance of getting back into contention.
Martin Kaymer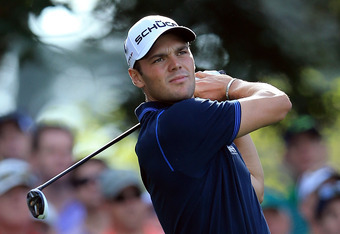 David Cannon/Getty Images
As the sixth-ranked player in the world and a former major champion, there were high expectations for Martin Kaymer heading into The Masters. It looked like Kaymer was going to be a contender very early on as he was among the leaders over the front nine on Thursday, but his day didn't finish up well and he has been unable to rebound. Kaymer is six-over par after a three-over performance on Saturday, so his hopes of winning the green jacket are dashed for this year.
That doesn't mean that Kaymer is going to go home with his tail between his legs, though. He has a good ranking to try to uphold, and with no pressure on Sunday, I believe he will fare much better. If Kaymer could find a way to get somewhere close to even par for the tournament on Sunday, it won't likely put him near the leaders, but it would help his psyche in a big way.
Luke Donald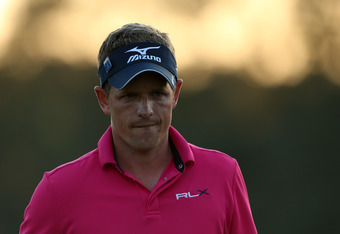 Andrew Redington/Getty Images
Luke Donald entered The Masters as the No. 1 player in the world, but he isn't likely to leave the tournament with that ranking intact. Things have gone sour for Donald since the very start as he has been unable to get into a rhythm. With a score of seven-over par, Donald will continue to carry the label of a player who can't get the job done in majors. Fair or not, his results at this point support that notion.
It's difficult to say the reasoning behind Donald's struggles at majors, but if it's due to pressure, then that won't be an issue on Sunday. In terms of talent, Donald is definitely one of the best in the world, and his performances in regular tournaments prove that he is deserving of his ranking. He needs something positive to happen for him in a major, though, and shooting under par on Sunday would fit the bill.