NHL Playoffs 2012: Martin Brodeur and Goalies Who Must Shine in Postseason
April 8, 2012

Bruce Bennett/Getty Images
With high-powered offenses such as Pittsburgh and Boston among the leading contenders heading into the NHL playoffs, the postseason won't lack for scoring. Of course, that just means the goaltenders who do step up on the road to the Stanley Cup will deserve even more accolades than usual.
This trio of netminders will be facing extra pressure to succeed if their teams are to avoid a quick postseason exit:
Martin Brodeur, New Jersey
Has there been a season in Brodeur's career when he hasn't belonged on a list like this one? The perennially offensively-challenged Devils are at it again, racking up a solid 102 points in the standings despite a goal total (228) surpassed even by the woeful Maple Leafs.
Brodeur is on the short list for the best goalies ever to play the game, but he's also 39, and he's played 59 of his team's 82 games. His goals-against average was a decidedly mortal 2.41 for the year, but for all that, it wouldn't be a surprise to see the many-time playoff hero bounce back to lead a New Jersey postseason run one more time.
Jose Theodore, Florida
One of the weirder accomplishments of the 2011-12 season has been the Panthers managing to win the Southeast Division (as they're set to do if they get any points Saturday against Carolina) despite a negative goal differential. Florida has allowed 27 more goals than it's scored through 81 games, and while Jose Theodore has made his share of mistakes in the net, the bulk of the blame goes to an atrocious offense that mustered just 199 goals.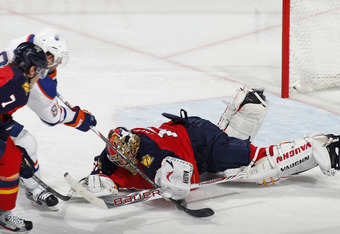 Joel Auerbach/Getty Images
With the defensive intensity turned up in the playoffs, Theodore will need to be almost perfect to give his team a fighting chance. Expect Florida to be the first higher seed to exit the playoffs…courtesy of Brodeur and his Devils.
Jonathan Quick, Los Angeles
Few goalies have meant more to their teams than Jonathan Quick, who's tied for second in the NHL with a 1.93 goals-against average. Not only has Quick played brilliantly (he's also fifth in save percentage at .929), he's done it for a team that wouldn't have come anywhere near the postseason without him.
Los Angeles has the worst offense of the 16 playoff teams, having scored a paltry 192 goals (pending tonight's total). Whether Quick and company face the Canucks or the Blues to open the postseason, they'll be hard-pressed to score enough goals to compete, even with the magnificent goaltending play they've counted on all season.