Masters 2012: Peter Hanson and Potential First-Time Winners with Best Chances
April 8, 2012

Jamie Squire/Getty Images
Phil Mickelson's sensational Saturday run has put the three-time Masters champion in excellent position to add to his collection of green jackets. Aside from Lefty, though, the top of the Augusta leaderboard is filled with golfers who have yet to break through for a victory at this (or in many cases, any) major tournament.
These three contenders are all very real threats to become the 47th different man to win the Masters by the end of the day:
Peter Hanson
Alone in the lead entering the final round, Peter Hanson shot a dazzling 65 to move to 9-under for the tournament. All in all, not a bad showing for a golfer who hadn't even made the cut at August before this year.
Hanson has just one top-10 finish at a major (last year's U.S. Open), so it's entirely possible that the pressure will get to him in the final round. Still, it's hard to discount the advantages of entering with a lead, even if it's only one stroke.
Bubba Watson
The hard-hitting Watson hasn't always been known for precision, as exemplified by his previous finishes at Augusta: 20th, 38th and 42nd. This year, though, he's played with tremendous consistency, recording just seven bogeys in three rounds and finishing under par every day.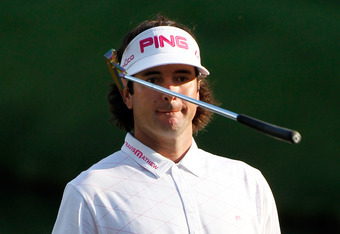 Streeter Lecka/Getty Images
Watson came painfully close to a major title in 2010, losing a three-hole playoff to Martin Kaymer at the PGA Championship. That experience could serve him well if he can make up his current three-stroke deficit to force another photo finish today.
Louis Oosthuizen
An anomaly among the leaders entering today, Oosthuizen actually has a major title on his resume. He won the 2010 British Open in a blowout, finishing seven shots ahead of Lee Westwood.
Oosthuizen isn't likely to run away from anyone today, as he starts off two shots behind Hanson. Still, it can't hurt his confidence to know that he's proven himself against elite competition before (even if he didn't have much pressure to worry about).