Frozen Four 2012: 3 Players from the National Champion Eagles Destined for NHL
April 8, 2012

J. Meric/Getty Images
The Boston College Eagles, complete with nine NHL draft picks, repressed the upset-minded Ferris State Bulldogs, 4-1, to wrest away their third NCAA championship in five years Saturday night at the Tampa Bay Times Forum.
Over the three-day festivities in the home of the Lightning, two first-time Frozen Four participants lacking NHL draftees—Ferris State and Union—made an imprint on the national radar. Meanwhile, BC bumped a Minnesota club laden with 17 players already on a professional franchise's prospects list.
One lifelong free agent, Union's leading scorer Jeremy Welsh, opted out of his senior season and signed with the Carolina Hurricanes literally within hours of his team's semifinal loss to Ferris State.
Meanwhile, Ferris State had radiant contributions from the likes of Kyle Bonis and Chad Billins, just to name two. It might be enough to garner some decisive, better-late-than-never attention from one or more NHL general managers.
The Gophers are a relatively young team, but the certainty that 11 of their freshmen and sophomores will register for more classes next autumn is nonexistent.
But among the men of the hour from Chestnut Hill are three jutting gems whose all but inevitable pathway to The Show was amplified over the weekend.
Chris Kreider: Although he did not appear on the scoresheet Saturday, Kreider did thrust a team-high six shots on net and blocked two of Ferris State's bids. Earlier in the tournament, he logged a goal and an assist as part of Thursday's 6-1 semifinal lashing of Minnesota and single-handedly beat Air Force with two strikes in the tournament opener.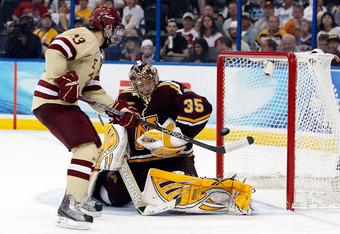 J. Meric/Getty Images
At 6'3" and 225 pounds, Kreider has the innate structure of an NHL power forward. He might forgo his senior campaign on the heels of his second national title and seek to break in with the New York Rangers.
Johnny Gaudreau: Gaudreau is a budding Calgary Flame who has already accomplished the task of following the umpteen footsteps of phenomenal freshmen and prolific pint-sizers at Boston College. He placed second behind Kreider with 44 points this season, a precise average of one per game and tied Kreider for the team lead with five game-winning goals.
During his post-championship game address to the Frozen Four press corps, BC head coach Jerry York said that Gaudreau is "really almost a magician out there with the puck."
York added, in praise of his crafty rookie, "He's got great vision, great skills and he's just going to be a dynamite player. He is now, and he's going to be even better as he gets a little older, a little stronger."
Gaudreau, who executed and roofed a highlight-reel insurance goal Saturday night, needs at least one more season in college, first and foremost to pad on some muscle. But there is no reason why he should not ultimately be a slick scorer and playmaker in The Show.
Brian Dumoulin: Ranked No. 4 among prospective Carolina Hurricanes, Dumoulin has finished his junior season with more career assists than any other active BC Eagle, including four seniors and all forwards. The playmaking point patroller has tallied 72 helpers in 123 career games, including 21 in 44 games this season.
Although he did not match his career high of 30 assists from last season, Dumoulin has enhanced his firsthand productivity. His eight goals this year doubled his cumulative total from his freshman and sophomore campaigns.
In addition, Dumoulin was named a first-team East All-American on Friday and to the Frozen Four All-Tournament team after Saturday's triumph.
Quotes for this story were obtained firsthand at the postgame press conference