Barcelona vs. Getafe: Preview, Live Stream, Start Time and More
April 9, 2012

David Ramos/Getty Images
Getafe pulled off one of the biggest upsets in La Liga play this year when they defeated Barcelona 1-0 at the Coliseum Alfonso Perez. The Catalan giants have only suffered two losses in La Liga play this year, and their loss to Getafe in November could end up costing them a Liga BBVA championship.
Barcelona currently finds themselves four points behind Real Madrid with only seven games left to play. The two will meet in yet another Clasico match before the end of the season at Camp Nou.
Barca has won nine straight La Liga matches and will have to make it 10 in order to have any chance at the league title. 
Barcelona have yet to lose a match at Camp Nou this year, and they will certainly have revenge on their minds when they take the field. 
Where: Camp Nou 
When: Tuesday, April 10th at 3 p.m. ET
Live Stream: ESPN
Key Question: Can Getafe repeat their November performance at the Camp?
Barcelona is not a team that you want to infuriate. And you can bet that's exactly what Getafe did when they upset the Catalan giants earlier in the season.
It's not that Barca didn't have their chances to tie or even win the game. Barcelona have no problem inflicting their style of play on the road, but Barca players can sometimes have a hard time finishing when they are outside of the Camp.
The first leg of the quarterfinals of the Champions League against AC Milan was a perfect example. Barca dominated possession and had no problem playing to their tempo and pace. But despite their dominance in possession, they weren't able to score. The match ended in a scoreless draw.
Luckily for the Barcelona, they don't have that same problem at the Camp. The second leg against AC Milan was a different story, as Barca were playing at Camp Nou and was able to win, 3-1.
While Getafe hasn't been much of a powerhouse in La Liga as of late, Barca hasn't proved their dominance against Getafe at Camp Nou. In their last two matches at home against Getafe, Barca has only managed a 2-1 victory each time.
While it is hard to argue with two victories, one would expect a little more dominance from Barcelona. 
Three Key Numbers
8: Barcelona have only conceded eight La Liga goals at Camp Nou in 15 games. Goals against Barca at home are few and far between, and it will be very difficult for Getafe to find the back of the net. 
Eight is also the number of goals that Barcelona scored against Osasuna at Camp Nou this year. Osasuna was the only other team to beat Barcelona in La Liga play.
60: Barcelona have scored 60 goals at Camp Nou this season in La Liga play. Sixty is also the number of goals that Lionel Messi has on the season, and 38 of them have come in La Liga play.
Messi loves to score at home, and if Getafe are going to have any shot at beating the Catalan giants, they are going to have to make sure that No. 10 doesn't find the back of the net.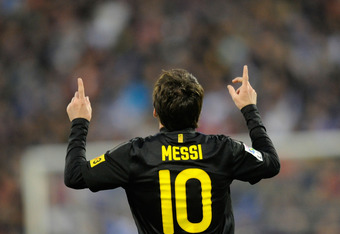 Denis Doyle/Getty Images
33: That's how many goals Getafe have scored in the entire season in La Liga play. This is the 14th-most in the league, as opposed to Barcelona, who has scored 90.
The numbers don't seem to be in Getafe's favor.
Prediction: Barcelona Win, 2-0
Barcelona has been on a role as of late, and they shouldn't have too much trouble getting their revenge on Getafe. The Catalan giants truly are a different team when they play at the Camp. When they play in front of their home crowd, they are practically unbeatable. 
Getafe were able to prevent Barca from scoring at the Coliseum Alfonso Perez, but this simply won't be the case, and Getafe don't have the firepower to hang with Barca at Camp Nou.