Arkansas Razorbacks: Bobby Petrino's Family Falls Victim to Coach's Actions
April 10, 2012

Wesley Hitt/Getty Images
UPDATE: The University of Arkansas has dismissed Bobby Petrino, as per ESPN's Joe Schad. 
It's one thing to betray a football team—it's another to betray one's own family. 
Bobby Petrino, head coach of the Arkansas Razorbacks, has been condemned of the former on more than one occasion. And now that he's been found guilty of the latter, his lack of character should never again be questioned.  
Following a motorcycle accident involving Petrino and passenger Jessica Dorrell—a woman who happens to be engaged—it became public knowledge that the two had been involved in an "inappropriate relationship" despite the fact that Petrino is married with four children.
Petrino personally hired Dorrell four days prior to the one-vehicle crash, naming her as the team's "development coordinator." And as if cheating on his wife wasn't bad enough, he lied about his affair for several days until the police report revealed the truth. 
"My concern was to protect my family and a previous inappropriate relationship from becoming public," Petrino said last Thursday (via USA Today). "In hindsight, I showed a serious mistake in judgment when I chose not to be more specific about those details. Today, I've acknowledged this previous inappropriate relationship with my family and those within the athletic department administration."
For those that know of the 51-year-old's shady past, none of this should come as a surprise. 
For those that are unaware or have forgotten, this isn't the first time the oft-maligned coach has shown a blatant disregard for loyalty.
Petrino left the University of Louisville back in 2007 for the NFL's Atlanta Falcons with nine years remaining on his contract with the UL Cardinals. He then promptly quit his post with the Falcons mere months into his tenure to take over the Arkansas Razorbacks program.
Lacking the chops to confront his team, he abandoned Atlanta in the middle of the season without telling any of his players, leaving an already disemboweled franchise in complete and utter shambles. 
As a lifetime supporter of the Falcons, I consider the name Bobby Petrino synonymous with many three-, four- and five-letter words that aren't fit to print. And given my longstanding allegiance, I can't help but take satisfaction in his demise.
That being said, the joy that I and many of Petrino's detractors received from this incident doesn't remotely compare to the pain he's caused his loved ones. Amidst all the controversy he's stirred up recently, the well-being of his wife and kids has been constantly overlooked. 
Becky Petrino, who has been with Bobby since they attended college together, has stuck with her husband through years of constant criticism, only to be publicly humiliated by him in the form of adultery. His children now have to live out their lives burdened with a crook for a father, and more importantly a poor role model. 
Football is just a sport. Family, as everyone should be aware, matters so much more. And when the dust settles from this fiasco, Petrino may be left without those he (supposedly) cares for most. 
And while much remains to be determined, he should be left without a job as well. 
Soon we'll find out what Arkansas' true values are. For all intents and purposes, athletic director Jeff Long stole Petrino from the Falcons, baggage and all. Hindsight is always 20/20, but given Petrino's past, Long should have seen something like this coming.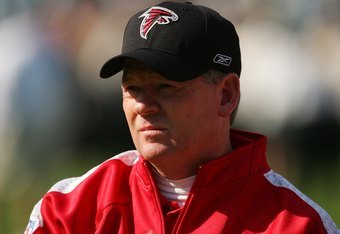 Streeter Lecka/Getty Images
Success and character don't always go hand in hand in sports, and the disconnect between the two has never been greater than it is today. Petrino would likely continue to make the Razorbacks a successful program if he isn't fired, but the wins would come at the cost of the school's dignity. 
While the disclosure of Petrino's actions has brought pain upon his family and hurt the reputation of his employer, it's for the best that the facts have surfaced. Now that he's been fully exposed, hopefully no one will fall victim to his false promises ever again. 
Truth is, Petrino deserves to be fired. He deserves it for what he did to Louisville and Atlanta, and for stabbing the few that always stayed by his side square in the back. 
The one thing he does not deserve, however, is our respect. 
Andrew Hirsh is a Featured Columnist at Bleacher Report. Follow him on Twitter: @andrewhirsh