NHL Playoff Predictions 2012: Western Conference Round One Preview
April 9, 2012

Rich Lam/Getty Images
The Stanley Cup playoffs are finally here so let us breakdown the first round of the Western Conference.
Vancouver Canucks (1) vs. Los Angeles Kings (8)
The Canucks won their second straight President's Trophy, finishing as the top team in the NHL this season.  However, this year, the team did it with a more balanced attack as their top offensive players saw dramatic decreases in their scoring totals.
The prize for finishing first overall is a series against a goalie that has a strong chance of winning the Vezina trophy. Jonathan Quick posted 35 wins, 10 shutouts and a very low 1.95 GAA. Vancouver will need scoring from all four lines if they plan to make quick work of Los Angeles.
This season, it seemed like most of the Canucks were going through the motions, feeling they were a lock to make playoffs because they play in the worst division in the NHL. A player like Ryan Kesler will be a monster come playoff time but saw his production go from 70+ points to just 49 points this season.
After coming so close to winning it all, players can't wait to get back to the postseason to try again, so count on several Vancouver players to see an increase in their production now that playoffs are on.
Roberto Luongo is the x-factor for the Canucks. 
Luongo carried his team to Game 7 of the Stanley Cup finals last year. Expect the starting goalie to be even better this postseason. Vancouver started Luongo in just 54 games this season, his lowest since the 2000-2001 season (excluding his injured filled season), so he is well rested for a playoff run.
Vancouver wins in five.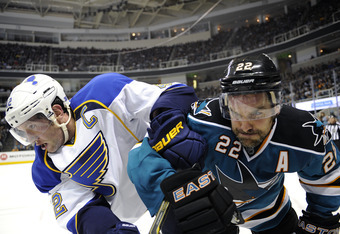 Thearon W. Henderson/Getty Images
St. Louis Blues (2) vs. San Jose Sharks (7)
What a complete turn around the Blues have gone through this season. A slow start resulted in a coaching change and new coach Ken Hitchcock took this team right to the top.
The Blues aren't going to blow you away with their offense as their top scorer only had 54 points, and no one in the top 70 in the league.
St. Louis can put out three decent scoring lines but their real strength is their top young defensemen and their goaltending. Alex Pietrangelo and Kevin Shattenkirk are two of the best young defensemen in the NHL and both are very gifted offensively. 
The Blues absolutely dominated the Sharks this season, winning all four meetings. The team outscored the Sharks 11-3 and shut them out twice. 
On a fantasy note, it's impossible to pick a St. Louis goalie to ride for your playoff pool as they both are fantastic and Hitch will run with both.  This will be a short, low-scoring series with the Blues moving on so don't waste a selection on a Shark.
St. Louis has one of the games best two-way players in David Backes, who will be the x-factor in this series. Even though his goal and point totals dropped this season, he has developed into a more complete player. He is a player built for playoffs and you will see him shine this postseason. 
If you can only grab one St. Louis forward, make sure its Backes.
St. Louis wins in five.
Phoenix Coyotes (3) vs. Chicago Blackhawks (6)
Brendan Shanahan did the Blackhawks a huge favor by only suspending Duncan Keith for five games as it meant he would not miss any playoff games and would be rested.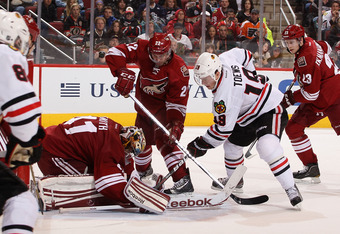 Christian Petersen/Getty Images
Despite seeing his totals drop in just about every offensive category for the second-straight year, Patrick Kane could be the difference in this series. 
Kane scored a career-low 66 points and registered a career low 0.80 point-per-game ,but he elevates his game come playoff time. Kane is a career 1.07 points-per-playoff game player and lives for the big moments.
Don't tell Ray Whitney that he is too old and his game is on the down swing. 
After posting back-to-back seasons of 58 and 57 points, Whitney exploded for 24 goals and 77 points this season to lead the Coyotes to a Pacific division title. The Coyotes have never won a playoff series in their seven postseason appearances, but that could all change this season.
The x-factor for this series will be Mike Smith as he gone from an average back-up goalie to putting up great numbers this season. 
Smith posted 38 wins and eight shutouts, riding a hot streak into the playoffs as he is 5-0 in last five starts, with three shutouts and posted a ridiculous 0.40 goals against and .990 save percentage. 
Phoenix wins in six. 
Nashville Predators (4) vs. Detroit Red Wings (5)
This is my hardest series to predict. 
I am a die-hard Red Wings fan so my heart says pick them to move on, but the Predators are a very good hockey team and my head says to pick them.  
Tough choice as either way a strong contender will be gone in the first round.
Nashville is an extremely good team that's well coached, with great defense and one of the league's best goaltenders. Their biggest weakness was their forward depth as they never had an elite point producer.
That all changed when Alexander Radulov came back from the KHL. 
Radulov has been exactly what the Preds need, scoring three goals and seven points in nine games.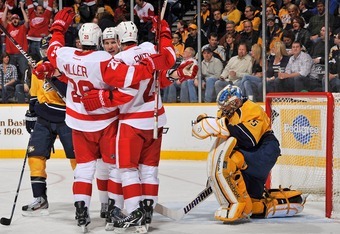 Frederick Breedon/Getty Images
The Preds are in a win-now scenario as Radulov, Shea Weber and Ryan Suter are all free agents at the end of the season. Not to mention Nashville has at least seven other regulars who will be free agents this July.
No matter how good the Preds are, how can anyone count out the Red Wings?
Henrik Zetterberg and Pavel Datsyuk are two of the leagues elite two-way players. Valterri Filppula finally broke out for a career year and don't forget about the playoff goal-scoring machine Johan Franzen. 
The Wings know how to win and this forward group is as good and as deep as any team in the NHL. There is much speculation that Darren Helm will be ready for the start of playoffs and that is a huge bonus for Detroit.
Nicklas Lidstrom finally showed signs of aging this season scoring just 34 points but the x-factor for this series is the other Niklas. 
Niklas Kronwall is one of the more exciting defensemen to watch in the NHL. Not only can he score goals—he had 15 this year (four game winners)—but he can put up points and run the power play. 
What makes him so exciting to watch is the big time HIT!  Every Nashville player will need to keep their heads up whenever Kronwall is on the ice as he will step up and lay them out.
Detroit wins in seven.
Based on my predictions we would see a Vancouver (1) vs. Detroit (5) and St. Louis (2) vs. Phoenix (3) series in the second round.
----------------------------------------------------------------------------------------------------------
Aaron Brouwer is the co-creator of www.fantasyhockeycoach.com.  FHC is a free fantasy hockey service that developed a ranking system combining post-lockout statistics, current factors and hockey knowledge. Email: brouwer@fantasyhockeycoach.com.