Masters 2012: What We Learned About Tiger Woods at Augusta
April 10, 2012

Andrew Redington/Getty Images
Tiger Woods is feeling the heat.
Following a Masters tournament disappointment of gargantuan proportions, Tiger explained how he managed to craft a T40 finish with rounds of 72-75-72-74:
I didn't hit the ball very good this week. And what's frustrating is I know what to do and I just don't do it. I get out there and I just don't trust it at all. I fall back into the same old patterns again, and I just need to do more reps.
More reps? That's the answer? I made that face people make when they don't believe what they're hearing.
Of course, what is he supposed to say—that the pressure of winning five more major championships got to him? That he has lost the confidence that allowed him to win 14 majors already?
I don't know Tiger personally, but I'd say he is dealing with a mental problem more than a physical problem—at least in terms of explaining what happened at the Masters this past week. He can only hit so many golf balls. And I can't imagine anyone hitting more of them, with a clear purpose, than Tiger Woods does.
That's not a knock on any other player. There is no official practice ball count being kept, so I really don't know who puts in more training time on the PGA Tour.
But Tiger talks about reps a lot—that he needs more of them, more practice.
I guess I was believing it up until now because he was consistently improving. It did seem like a natural progression once he was healthy—third place at the Australian Open, his win over Aaron Baddeley in the Presidents Cup matches and his victory at the Chevron World Challenge late last year.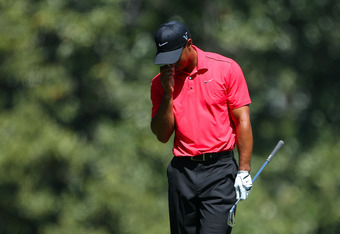 Andrew Redington/Getty Images
Sure, there have been ups and downs this season at Abu Dhabi, Pebble Beach, the WGC-Accenture Match Play event and at the Honda Classic. But overall, his golf game seemed to be moving in the right direction, save for some errant tee shots and the inconsistent putting. It seemed like things were coming together nicely for Tiger.
Then his runaway victory at Bay Hill clearly confirmed that he had come full circle—with the Masters just a couple weeks away.
Look at the numbers. The guy was first in All-Around Ranking, Total Driving and Ball Striking, third in Scoring Average and fourth in Greens in Regulation Percentage on the PGA Tour heading into the Masters.
So I'm not only trying to figure out what happened between Bay Hill and Augusta; I'm also trying to figure out what happened between the beginning of his 2012 season and Augusta.
His five-over-par performance was way out of character. Tiger managed to putt pretty well, but he hit just 40 of 72 greens in regulation and only 32 of 56 fairways. It was the worst 72-hole major championship finish of his career. How does that happen?
Tiger's life was in complete disarray when he finished T4 here two years ago. And he was still out of whack last year when he pulled another T4.
So what gives?
Tiger has spoken before about muscle memory and ridding himself of old habits, but I ask this: If his swing is so unbelievably complex that it takes almost two years to grasp, is it ever going to be where he wants it to be? Are more reps really the answer?
Tiger's prescription of choice for any problem with his golf game is more practice. While I admire his dedication and determination in taking that route, I'm not sure I'm buying what he's selling—that he needs to hit more golf balls.
Tiger went on to explain he isn't going to play as well as he did at Bay Hill every week, and I can certainly understand that. He's human. Nobody's perfect. But he wasn't even in contention at Augusta. Not even close.
So what's my point? What did we learn about Tiger Woods at the Masters?
Well, aside from learning that the CBS Sports television ratings plummeted 22 percent without Tiger in contention on Sunday, we learned that we don't know what to expect from Woods. He's not the same player we used to know.
The physical ability is still there; that's pretty obvious from his 2012 statistics. But mentally being able to execute his golf swing under the microscope, under the intensity and pressure of a major championship, is something he will need to conquer.
Can Tiger break Jack Nicklaus' record of 18 majors? My opinion is still the same—absolutely. But he will need to overcome the mental hurdles he faces if he's going to have a chance.