Nerlens Noel: What Would It Mean for the Hoyas If He Were to Pick Georgetown?
April 10, 2012

When Nerlens Noel reclassified from 2013 into the recruiting class of 2012, he immediately became the top-rated prospect in the country according to both ESPN and Scout.com. The 6'10" center is set to make his college selection tomorrow from a list that's been whittled down to three candidates: Georgetown, Kentucky and Syracuse.
With the paint still wet on Kentucky's national championship, it's hard not to see the Wildcats (behind master recruiter John Calipari) as favorites for Noel's services. Should Noel pick Georgetown instead, though—and it's a distinct possibility—he'd give John Thompson III his best chance yet to raise the Hoya program back to the heights attained by the coach's legendary father.
The first John Thompson era at Georgetown was, of course, built on world-class centers such as Alonzo Mourning and national champion Patrick Ewing. Noel may not be a full seven-footer, but he has the potential to blossom into a big man at that level of dominance (depending on how long he stays on campus).
The mere fact that Georgetown is among Noel's finalists also suggests that he's interested in being more than just a physical specimen who can overpower opponents with his size and athleticism. JTIII's variant on the Princeton offense demands passing, teamwork and decision-making from its centers, and if Noel is willing to put that kind of work in, he'll be a special player indeed.
The Hoyas couldn't have asked for a better time to grab a top-tier pivot because their last mammoth center (6'10", 245-pound Henry Sims) is graduating without a clear heir-apparent. The 6'10", 205-pound Noel isn't quite as bulky at this stage, but that will come with time, and he certainly has the mobility and defensive acumen to start from day one.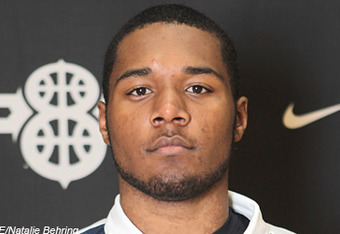 Lastly, adding Noel would turn what's already a very good Hoya recruiting class into a sensational one. Brandon Bolden, another 6'10" center, will help with depth in the post, but the prize of Georgetown's current signees is D'Vauntes Smith-Rivera, a slick-passing combo guard from Oak Hill Academy, the same high school that produced Brandon Jennings and Rajon Rondo.
Smith-Rivera outside and Noel inside would give Thompson III a foundation that would (arguably) be even better than the pairing of Jonathan Wallace and Roy Hibbert that carried the coach's only Final Four team to date.
If Noel does join the Hoyas, they'd become instant Big East favorites with a real chance to challenge for the program's first post-Ewing national title.