Justin Verlander: Is His Hammer Curveball the Best in Baseball?
April 10, 2012

Leon Halip/Getty Images
Last Thursday afternoon, Justin Verlander opened his 2012 campaign much in the same fashion as he closed his 2011 one—as the best pitcher in baseball.
Beyond just that, Verlander showed why he is a dominant bulldog on the mound, mowing down some of baseball's best hitters while defeating one of its most storied franchises with relative ease.
He did this with superb command of the wicked arsenal of pitches he has at his disposal, including now a fourth pitch—a slider that promises to be every bit as effective as his other dominating offerings. With a fastball that tops out around 100 MPH and the secondary pitches to put both left-handed and right-handed hitters away, Verlander has the stuff to be one of the best, perhaps the best, of his time.
What stood out most last Thursday, though—what was most glaring in the holes of the many swings Red Sox hitters brought to the plate—was the dominance of Verlander's freakishly good curveball. His curveball is so good that several Boston players found themselves chuckling as they returned to the dugout having just played the fool to another highlight reel moment in Verlander's already illustrious K-department career.
In his last start, the guys that at least made an attempt to swing at Verlander's nearly impossible to hit curveball probably did so because they knew it was coming or guessed correctly, not because there was any chance of making solid contact. With Verlander's curveball, there really is no such thing as solid contact.
Then, there's the hammer curveball (hammer is just another term for wickedly dangerous). This is the beauty where space and time collide with such force that Verlander's ball rotation is like rolling the ball off the edge of a table and having it fall straight to the floor—at over 90 MPH. Good luck!
Last Thursday, Boston's best hitter Adrian Gonzalez was rung up by Verlander and looked to take exception to the umpire's call on his return to the dugout. After further review of the pitch it is more likely that Gonzalez was simply asking the umpire how he was actually supposed to hit that pitch, not a matter of whether or not it was a strike. 
David Ortiz, one of baseball's best designated hitters, was also left digging himself out of the corkscrew hole he dug himself into following a vicious Verlander curveball, and Ortiz was really the only one to even get after a Verlander pitch the whole day, knocking a double in his first at-bat.
His luck ran out in a hurry the next time around, as it most often does with Verlander's challengers.
It's the slow-motion replay opportunities that leave baseball fans and players alike in wonderment as to how he does it. How is it he can make the ball do what it does? He does it because he can. Few others can say it with the same authority and conviction, however. Verlander's variety is special—the once-in-a-lifetime kind.
The effectiveness of his curveball without exception comes from bringing a heater that touches above 100 MPH when he's really jacked up and needs that little bit extra. It is, however, the curveball that complements the heater and make his stuff the best best in the game. Add a changeup that drops speeds 25-plus miles per hour, and you are simply the best around.
Kevin Youkilis, another tough Boston slugger, was left almost laughing at the plate when he paid witness to a called third strike. A little shake of the head and a smirk of the cheeks was a tell-tale sign that he had just been had by the best of the best.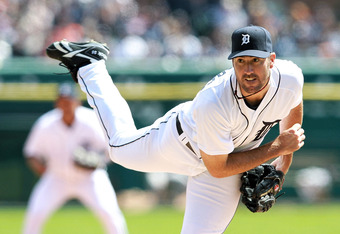 Leon Halip/Getty Images
A hitter later, Ryan Sweeney looked no better and was caught window shopping by Verlander as well. Different hitter, same pitch, same result. Verlander is just that good. No one in the game does it better—period.
The last guy to have such a wicked combination of fastball/curveball shares his name on the same short list as Verlander, only he's thrown five more career no-hitters—Nolan Ryan. That's some rich company to share when you consider that Ryan was the most dominant pitcher of his time and amassed 5,714 career strikeouts.
The 29-year-old's 2011 stat line left little question about why he racked up so many postseason awards, including the American League MVP and Cy Young awards. Somewhat lost in the luster of the aforementioned hardware was the fact that Verlander also achieved the AL Triple Crown for pitching, no easy task. 
Verlander's 24 wins, 2.40 ERA and 250 strikeouts topped all competition on the rubber across the American League, and was one of many factors that led to his being named the very best among his peers.
It seems he is set to defend that title in 2012. Good luck to anyone seeking to knock him off his path.