Real Madrid: The Ideal Starting Lineup to Take Down Bayern Munich
April 10, 2012

Manuel Queimadelos Alonso/Getty Images
Bayern Munich vs. Real Madrid is where the Champions League really gets interesting for Jose Mourinho's team; it's their first real heavyweight opponent in the competition, and one for which Mourinho will need to get the lineup absolutely perfect.
During the entire group stages of the Champions League, Real Madrid had the best record for total points and the best defensive record of all teams competing. They brushed aside their opponents in the knock-out stages in CSKA Moscow and Apoel.
But is that reflective of Madrid's dominance or their oppositions' significant weakness?
Interestingly, it is only now in the semifinal of the competition that Madrid really come up against a team that could knock them out over both legs—a team that plays a role in one of football's great rivalries.
In many ways, Real Madrid have had to deal with the "David vs. Goliath" headline for almost all their previous encounters; even the history of Ajax and their tradition of success in European competition did little in the modern era of football.
But in the semifinal and with the prospect of a final at home in the Allianz Arena for the Bavarians, Bayern Munich are very much Madrid's equal.
Unquestionably, this is a tie that could serve as the final for Europe's top competition, and a hugely glamorous tie at that. It's two of football's most elite, well-supported and decorated clubs in the world.
Arguably a rivalry that comes close to the clashes of Real Madrid and Barcelona, Bayern and Real absolutely hate each other.
Real Madrid's defence has been praised for much of the competition thus far: Iker Casillas failed to see a shot on his goal in the first leg against Apoel and only conceded twice in the group stages.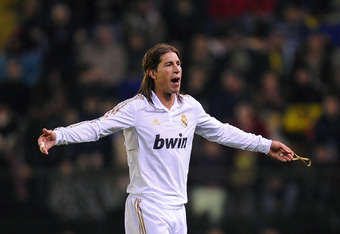 David Ramos/Getty Images
Meanwhile, a particular talking point with regard to Madrid's back four is who should line up at left-back.
Should Marcelo be preferred over Fabio Coentrao due to has natural attacking instincts? In the case of this tie against Bayern Munich, there can be little argument against Coentrao's importance in both legs.
The Portuguese is a natural defender; he doesn't expose such large gaps in the final third as Marcelo does, and his defensive discipline will be a big factor against Bayern—a team whose primary threats come from both flanks in Arjen Robben and Franck Ribery.
Madrid have a number of excellent players in their defensive ranks, but as a unit, there will always be question marks as to whether they can shut out an opponent.
The partnership of Sergio Ramos and Pepe is undoubtedly Mourinho's first-choice pairing, and even though Pepe has an ugly side to his game, the Valencia game on the weekend proved why he can be such a valuable asset for footballing reasons.
But ultimately, if CSKA and Apoel can grab goals against this defence, then the firepower Bayern possess should be enough to break Madrid's defensive resistance. Mario Gomez is currently one of the hottest strikers in European football, and Bayern have goals in them from a number of different areas of the pitch.
The conversion from possessions into goals should be Madrid's "go-to" tactic in this tie. They have outstanding individuals in defence, as has been noted, but through their attackers and midfielders is where the team will come out on top over two legs.
Nuri Sahin may have played a pivotal role against Bayern Munich while at Borussia Dortmund, but this is a tie very much made for a midfield pairing of Xabi Alonso and Sami Khedira.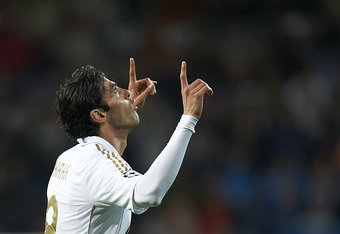 Manuel Queimadelos Alonso/Getty Images
The two midfielders need to win the ball back early from Bayern's danger men and recycle possession into attacking threats.
Moreover, at this stage, I see little point in building a defensive barrier with three midfielders, because Bayern have goals in them and will score. Instead, attack will be Madrid's best form of defence against this opposition.
This will be a tie of who can score more, rather than who can hold a clean sheet.
Jose Mourinho has experimented with playing both Karim Benzema and Gonzalo Higuain in the starting XI, with both rotating in and out of the striker's role and with varying effects. But against Bayern, a solitary striker in Karim Benzema with Cristiano Ronaldo and the returning Angel Di Maria on either flank and Kaka replacing Mesut Ozil should bring the most rewards.
Kaka has shown his worth in the last round against Apoel but was again unable to find a starting place against Valencia. Madrid's problem in recent games has been a combination of failure to unlock defences and convert chances.
Kaka's introduction will add another dimension to the attack, one which could prove vital.
Again, with the pace of the front four and the ability of Ronaldo and Di Maria in wide areas, it will be down to Xabi Alonso to provide from the quarterback role for the team. This Bayern Munich side are weak in defence, and utilising Madrid's counterattacking ability will bring goals.
It has been well-documented in recent weeks just how important and significant this tie is. Even before Madrid entertain the prospect of a Clasico in the final, there was always going to be a threat from Germany's biggest club.
A timeless classic of a tie awaits, and Jose Mourinho will need to make his lineup and tactics absolutely perfect if Real Madrid are going to come out unscathed.
Real Madrid may have the most powerful squad in Europe and one of their best in the history of the club, but they have yet to face a team of Bayern Munich's calibre and quality in the competition.
Starting lineup
Iker Casillas
Alvaro Arbeloa
Pepe
Sergio Ramos
Fabio Coentrao
Sami Khedira
Xabi Alonso
Kaka
Angel Di Maria
Cristiano Ronaldo
Karim Benzema