Ranking the NFC North RBs, Pre-NFL Draft Edition
April 10, 2012

Jonathan Daniel/Getty Images
Yesterday we ranked the quarterbacks in the NFC North, and today we'll move to the backfield to talk about running backs.
The overall value of running backs has decreased over the last few years. Joe Fortenbaugh has an outstanding post on the 'Death of the Workhorse Running Back' over at the National Football Post. If you don't have a minute now, bookmark it and go back later. It's a tremendous look at the shifting landscape of the backfield.
Though Adrian Peterson was already an rare and extraordinary talent, he's even more rare in that now teams aren't even concerned with having a back like him in their backfield.
Sure, Trent Richardson is an elite talent, but as Fortenbaugh mentions, don't be surprised if he's the only back taken in round one later this month.
That said, there are plenty of good backs in the NFC North, and plenty of question marks as well.
These days, the question marks aren't as big a deal as they used to be, as there's always another man up next.
1) Adrian Peterson
The only hesitation I have in putting Peterson at the top of the list is his injury. Many backs struggle to come back from an ACL injury, much less an ACL and a MCL. Still, Peterson is running and all signs point to him returning. Even at just 75% Peterson is twice the back many other running backs are.
2) Matt Forte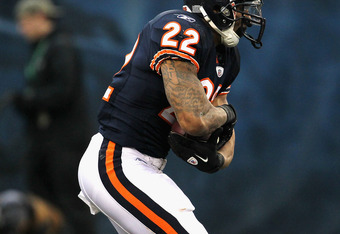 Jonathan Daniel/Getty Images
The uncertainty of his contract situation, the possibility of a hold out and his own injury keep Forte from overtaking a banged up AP. If he hadn't been hurt he might have made an argument for the top spot. Instead, not only was he hurt but the Bears have brought in a back who will definitely steal his carries and quite possibly replace him if things don't go well contract-wise.
Forte could be an excellent example of Fortenbaugh's article at work.
3) James Starks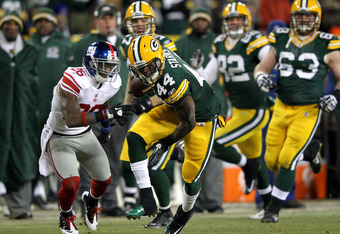 Jamie Squire/Getty Images
Starks has had a schizophrenic career so far. One year he is tremendous during a playoff run, the next he's hurt again and not playing half as well as in those prior. He's pretty far behind the first two and might have been ranked behind Best if not for Best's problems. Starks has shown the ability to perform at a high level, now he must show he can do so consistently.
4) Jahvid Best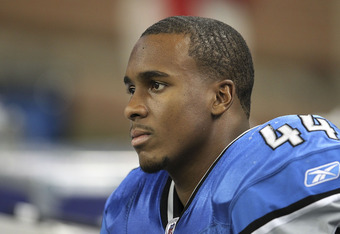 Leon Halip/Getty Images
Best is a tremendously talented back who is likely to see his career shortened considerably due to concussions. He's had three in two years, two in the space of three months this past fall. As I spoke about in this piece, each concussion makes him prone to more in an exponential fashion.
He will probably remain the starter for the Lions to begin the season, especially as Mikel LeShoure might be suspended for a few games. However, I have little hope he is able to get through the year healthy at one of the most abused positions on the field.
5) Michael Bush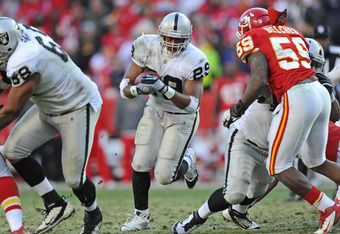 Peter Aiken/Getty Images
The addition of Bush to the Bears' backfield makes life interesting. With the general displeasure of Forte, the Bears wisely made a run at a back who has the potential to take over if need be. If Forte holds out or holds out and then gets hurt (pretty common from what I've seen with long holdouts), Bush should be very effective stepping in. Then it's not a huge leap to thinking he could steal the job and Forte could end up elsewhere next year.
At the very least he'll cut into Forte's carries, give the Bears a potent backfield and likely an even more unhappy Forte.
6) Toby Gerhart
With Adrian Peterson down last season, Gerhart had a chance to really make an impression. He wasn't incredible, but showed himself to be an able runner as the year went on. He tore his MCL but didn't need surgery and may even get some extra work early in 2012 as the team looks to ease Peterson back into things. On the other hand, they were at the Senior Bowl looking at backs so who knows how his role will fill out.
7) Kevin Smith
Smith filled in ably for Best last year but is an injury prone back who came into the NFL with lots of mileage on his tires already. If need be, Smith will do just fine as a filler but we're talking about a guy who hasn't finished a season healthy since his rookie year.
8) Mikel LeShoure
We aren't sure what we'll get from LeShoure this season, coming off of an Achilles injury which can be very difficult to overcome. Few backs come back from it at all, and none 100%. Add to that his recent arrests for marijuana possession and LeShoure could also be facing suspension and not be available to start the year.
9) Alex Green
Green is a talented back out of Hawaii whose season was cut short by injury last year. As of now he's the number two back in Green Bay but needs to prove he is durable enough to see the field on a consistent basis.
10) Brandon Saine
Saine is a talented back whom the coaching staff appears to have a soft spot for, but we're not sure where he tops out at. Will he overcome Green in the backfield? Will the Packers run enough for it to make a difference? We won't really know until Training Camps start up.