Philadelphia Eagles 2012 Draft: Narrowing Down the 1st-Round Prospects
April 10, 2012

Butch Dill/Getty Images
With the NFL draft getting closer, it's time to start narrowing down the first-round prospects for the Philadelphia Eagles. Recently, I wrote about the Eagles' draft patterns and listed out some criterion to go by in an effort to rule in or rule out potential players.
Therefore, this article is a continuation of my last article and based on the patterns discussed there. Here is a quick recap of the criteria discussed previously:
1. The Eagles do not hold a private workout or pre-draft visit for their true first-round target
2. Andy Reid has a strong history of selecting players who participated in the Senior Bowl
3. 63% of Reid's 11 first round picks have been linemen (two OL, five DL)
4. They are not linked publicly to, or only as having vague interest in, their true target
5. They will not draft the player who the majority of mock drafts predict
6. They prefer players with high character, high motors and team leader qualities
Of course, this is highly subjective and based some on research and some on observation. None of this means the they won't do something out of the ordinary because if there is one other thing to note about the Eagles' draft habits, it's that they're always good for a surprise.
Nonetheless, let's try to narrow down the potential first-round candidate list by using the aforementioned criteria. Also, please note that some of the following candidates may be part of a trade up or trade-down scenario.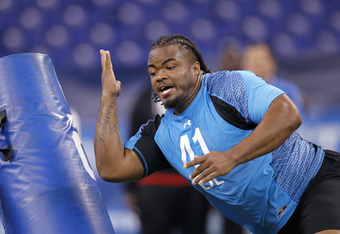 Joe Robbins/Getty Images
First off, we can already rule out some prospects when going by rule No. 1 above. These players are DT Michael Brockers, DT Dontari Poe, WR Michael Floyd and QB Ryan Tannehill.
They are all first-round prospects that have either visited or had a private workout with the Eagles. Therefore, let's scratch them off the list.
Next, after perusing the Senior Bowl rosters, here is a list of potential first-round candidates who participated in the Senior Bowl:
DE Vinny Curry
DE Quinton Coples
DE Melvin Ingram
OT Cordy Glenn
OLB/DE Courtney Upshaw
OLB/DE Shea McClellin
Finally, we have to look at the Eagles' needs and match them up with some potential prospects. Their needs, in no specific order, are as follows: LB, DT, RB, CB, DE, S, OL and QB. However, the only position they need a true starter is at linebacker, while the rest would be depth or rotational players.
Outside of the Senior Bowl players, the rest of the first-round prospects that match their needs are: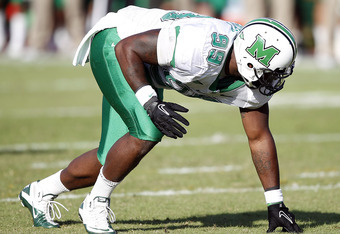 Bob Levey/Getty Images
OT Jonathan Martin
G David DeCastro
OT Mike Adams
G Kevin Zeitler
OT Riley Reiff
C Peter Konz
DT Fletcher Cox
DT Devon Still
LB Luke Kuechly
LB Dont'a Hightower
OLB/DE Whitney Mercilus
OLB/DE Nick Perry
WR Kendall Wright
WR Stephen Hill
CB Stephon Gilmore
CB Dre Kirkpatrick
S Mark Barron
TE Coby Fleener (throwing him in even though TE is not a need)
OK, now that we have our list—and it's rather large—let's trim it down by using some form of logic as it relates to team needs, scheme fit and first-round value as it relates to their needs.
Players like Nick Perry, Courtney Upshaw and Shea McClellin project mostly to outside linebacker in a 3-4 defense. Dont'a Hightower projects mainly as either a middle linebacker in a 4-3 or an inside linebacker in a 3-4.
We have Demeco Ryans to man the middle, and none of those players fit the mold of SAM in the Eagles defense.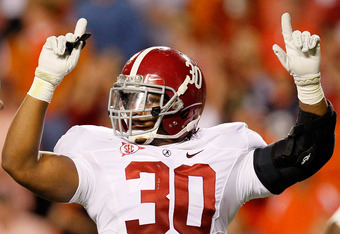 Kevin C. Cox/Getty Images
Even though Andy Reid loves linemen, he's only drafted two on the offensive side in the first round, including last year's pick, Danny Watkins. With Evan Mathis re-signed and Demetress Bell signed to fill in for Jason Peters, it is highly unlikely the Eagles will spend a first-round pick on a player destined to be a backup all season.
Therefore, cross out all of the offensive linemen. The list is now widdled down to the following 13 players:
DE Vinny Curry
DE Quinton Coples
DE Melvin Ingram
OLB/DE Whitney Mercilus
DT Fletcher Cox
DT Devon Still
LB Luke Kuechly
WR Kendall Wright
WR Stephen Hill
CB Stephon Gilmore
CB Dre Kirkpatrick
S Mark Barron
TE Coby Fleener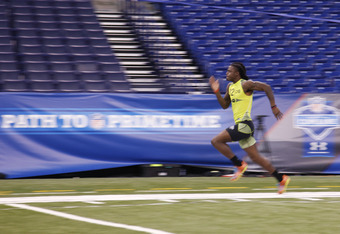 Joe Robbins/Getty Images
These are the players I cannot absolutely rule out, most of which are within the Eagles' grasp by either trading up or down. I didn't include WR Justin Blackmon because there is no way he's getting past the Rams at No. 6.
Now that we have the list of players the Eagles will likely choose from, let's see if we can narrow it down some more.
For this, we have to start getting a little obscure regarding the Eagles' behavior prior to the draft. This is where we start to try and read the tea leaves when it comes to pre-draft visits and private workouts.
To set the landscape, here is what happened the past two years:
In 2010, the Eagles traded up to pick No.13 to select DE Brandon Graham. There was nothing connecting him to the Eagles; no pre-draft visit, no private workout and they were not even noted as interviewing or talking to him at the Senior Bowl or combine.
However, the Eagles did bring in two defensive ends for private visits and/or workouts who were thought to be first-round prospects: Jerry Hughes and Jaron Worilds. Then-defensive coordinator Sean McDermott was also seen very openly showing specific interest in Worilds at his pro day.
The infamous "smoke screen," perhaps?
Then, in 2011, the Eagles stayed put and selected OT Danny Watkins. The only thing that remotely linked him to the Eagles was that they talked to him at the Senior Bowl.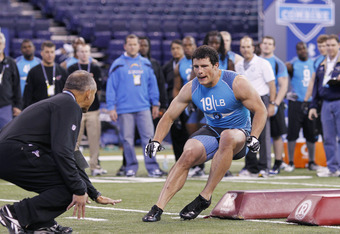 Joe Robbins/Getty Images
He was one of several offensive linemen the Eagles were noted as speaking to at last year's Senior Bowl. However, they showed a more specific interest in OT/G Ben Ijalana leading up to the draft.
When it comes to pre-draft visits and private workouts, the Eagles do tend to take many of these players in the middle rounds with some second and third-rounders sprinkled in. However, the higher the pick in the draft, the less likely you'll see any noted interest other than a vague reference to a Senior Bowl chat or combine interview.
Therefore, let's look at some players this year whom the Eagles may have either no links to, or just a vague interest (Senior Bowl or combine chat).
The Eagles have been noted to have interviewed (or "chatted" with) at either the Senior Bowl or combine with Melvin Ingram, Quinton Coples, Vinny Curry, Devon Still and Luke Kuechly.
There is nothing tying the Eagles to the other eight players from my list of 13 possibilities.
If we go by position and relate it to first-round prospects, the Eagles have been showing the most interest in defensive linemen so far this year. They have brought in two DTs, which we've already ruled out, but have not brought any DEs in for a visit.
However, Jim Washburn was seen as taking a "special interest" in Vinny Curry at his pro day. This kind of reminds me of the Jason Worilds example as noted above.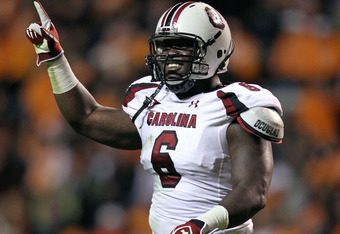 Andy Lyons/Getty Images
The Eagles linebacker coach ran Boston College's pro day workouts for the linebackers. Therefore, he was noted as taking an interest in Luke Kuechly. Kuechly, as I'm sure you remember, was also everyone's favorite mock draft target prior to the trade for Demeco Ryans.
This leads me to believe that we can scratch Curry and Kuechly (unfortunately) off the list.
Now, to narrow down even further, let's look at the remaining players and their respective positions. We have WR, DT, DE, TE, CB and S left.
I have to think wide receiver will not be the pick, mainly because we just re-signed DeSean Jackson and still have Jeremy Maclin as the starters. I'll have to remove safety as well because we just used two second-round picks the past two years on that position.
If you've been following the bouncing ball, that now leaves eight possible players: Fleener, Ingram, Mercilus, Cox, Still, Gilmore, Kirkpatrick and Coples.
I'm now going to remove Fleener because tight end is just not a big enough need, and Coples because he doesn't fit the profile that the Eagles usually like in their DEs. I'm going to scratch off Still because his stock has fallen a little bit and his value is more of a late first-rounder.
Now we're at the final five.
I could say that since Asante Samuel is likely to be traded, the Eagles could very well go after a cornerback. However, the starters are set at this position, and the Eagles just drafted Curtis Marsh last year and have other options for their nickel CB spot.
If the Eagles truly want the best impact from their first-round pick, it will not be at cornerback. Therefore, I'm eliminating Gilmore and Kirkpatrick.
Now we're down to Cox, Mercilus and Ingram.
Out of those three, Mercilus is the only one who will likely be there at pick No. 15. However, even though he is thought to be able to play DE in a 4-3, I see him more as an OLB in a 3-4.
Okay, we finally made it to the final two. Time to cue the drum roll...
And the winner is...
Melvin Ingram!
Yes, Melvin Ingram. He of top-10 status in the draft by most pundits. However, my logic is this: I think the Eagles will be trading up in this draft just because they don't have many glaring needs.
He fits the mold of what they like in their defensive ends. He's a great pass-rusher and would be a good fit in Jim Washburn's scheme. He fits the criteria that I've outlined here in this article and plays a position the Eagles covet.
Don't forget Howie Roseman's comment about the Giants pass-rush as being a key part of their success. Ingram gives them another weapon at their disposal in that regard.
Furthermore, defensive tackle is deeper in this draft than defensive end. The Eagles could easily pick up a good one in the second or third round without a dramatic drop off from the first-round tackles.
The last thing I'd like to note is that, to be clear, this is not what I want to happen. This is just me using some deductive logic and reasoning based on what the Eagles' tendencies are when it comes to the draft.
Personally, I wouldn't be thrilled if this is how it plays out. But, when it comes to the Eagles and the draft, they rarely ever do what I think they should do in the first round.