Boston Celtics Crush LeBron, Wade and the Miami Heat, but It Doesn't Matter
April 11, 2012

Let's just get it out of the way: The Boston Celtics made the Miami Heat look bad last night.
Yesterday, I said that Boston would need to beat the Heat with sharp offensive execution.
And that's exactly what the Celtics did.
Boston's shooting last night was savage. They lit Miami up for 115 points on 61 percent shooting. Rajon Rondo ran a masterpiece of an offense, pouring in 19 points and dishing out 15 assists.
The Celtics' new starting center, Kevin Garnett, burned the Heat all night from the perimeter. He pulled down nine rebounds while scoring 24 points. The scary thing was that he scored those points on 79 percent shooting. In addition, he thoroughly outplayed Chris Bosh, who managed only 13 points on 5-13 shooting.
The rest of the team played well too.
Paul Pierce shot 50 percent, ending the game with 27 points. Ray Allen added a few 3-point buckets. Even Avery Bradley and Brandon Bass combined for 23 points.
The Celtics' biggest success was that they won the rebounding battle 40-34 -- no small feat when you're the worst rebounding team in the NBA.
When your offense is cooking like Boston's was last night, it's hard to lose.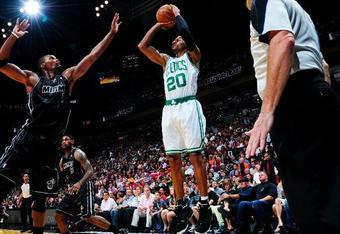 But, last night's performance doesn't mean a thing.
Boston and Miami will judge the success of their season by the championship standard. If they win a title, they'll have a sense of accomplishment, and rightfully so. If they lose, however, we can expect that trades will be made. (Chris Bosh, we're looking at you.)
In a playoff series, you have to win four times in seven chances. So what Boston did last night is not going to cut it.
Look, Miami did not play badly. LeBron was LeBron. He scored a game-high 36 points. He pulled down seven rebounds, set up his teammates for seven assists and came up with a block and a steal.
Dwyane Wade put up 20 points, five assists and three steals. Despite Bosh's weak showing, Mario Chalmers took his game to another level, racking up 18 points and only one turnover. Mike Miller and James Jones made four of their seven 3-point shots.
The way Boston played yesterday won't win them a playoff series against the Heat for a simple reason: Miami scored 52 points in the paint, Boston only scored 24.
The Heat did an admirable job of forcing Boston to shoot long, contested 2-pointers. That's the least efficient part of the floor, so that's a good thing. The Celtics shot 59 percent on long-twos and 64 percent from downtown -- a rare effort from any team.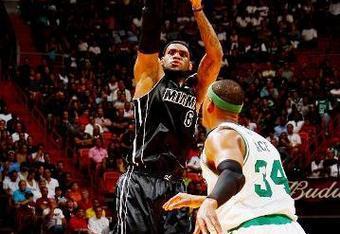 Going into the game, Boston shot only 47 percent in their seven prior performances. That's not bad at all. In fact, it's pretty good. However, 47 percent is more indicative of what we can expect from Boston than yesterday's ridiculous shooting display. 
Moreover, even Boston's rebound total could spell doom when you consider this: The Celtics took down more rebounds because their shooting was so hot. Since Boston was making so many shots, there were fewer rebounds available to Miami.
What Boston did last night ain't gonna happen over the course of a seven game series.
According to Chris Tomasson, LeBron said, "We left Boston feeling awful at our performance. I don't feel as bad tonight. Boy, those guys were locked in. Not only did they make all the open shots, they made all the contested shots."
"We're not in a period of concern,'' Wade insisted, also according to Tomasson. "The other team played well. They shot the ball very well.''
They're right. There's no reason to worry. Sometimes, the other team just plays better.
There's no denying it. Boston mopped the floor with the Heat.
But the Celtics shouldn't count on hot shooting nights to deliver this season's Eastern Conference title.