Brandon Belt: Can He Handle the SF Giants' Starting Job at First Base?
April 12, 2012

Christian Petersen/Getty Images
After watching Brandon Belt for the first three games of 2012, I must say that I was very disappointed. The same major flaw he had in 2011 was prevalent in the opening series against Arizona.
The hole in Belt's swing has to do with handling the inside fastball. This is the exact same problem he had last year and the Diamondbacks' pitching staff showed how this flaw has not been fixed. After ten at-bats in that first series, Belt had only one hit.
Belt looked totally over-matched against Arizona. When pitchers threw the hard fastball over the inside part of the plate, Belt repeatedly either fouled the ball off weakly to the left side, or completely swung through the pitch.
Belt hits out of a bit of a crouch and has a long, loopy swing. It takes him too much time to uncoil and get the bat squarely into the hitting zone. Will Clark, in an interview with the Giants' flagship radio station, KNBR, last season, stated the same thing.
Defensively, Belt is solid and fields the first base position well. He is an upgrade over Aubrey Huff or Brett Pill, both of whom are just adequate as defensive players.
Pill, who made the team as a right-handed bat off the bench, has shown a much greater ability to make adjustments at the plate. He may also start seeing more playing time, at the expense of Belt. 
I believe that Belt can definitely hit tier-two pitching, which is why he has had so much success in the minor leagues. However, his inability to hit strong pitchers who can consistently plant a good fastball in on his hands will limit Belt's success and his growth as a player.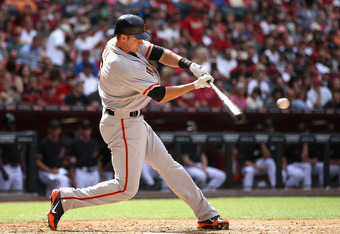 Christian Petersen/Getty Images
At this point, Belt needs to change his swing to get to the ball more quickly. If he cannot adequately do that, he must guess on that inside pitch and open up much earlier. This will make him very susceptible to off-speed pitches away, but Belt cannot continue to allow pitchers to pound him inside.
The additional thing that worries me is Belt's apparent lack of mental toughness. He is beginning to get a reputation as being mentally weak and unable to battle through these tough periods.
Belt has already told manager Bruce Bochy that he's been fighting himself. His body language makes him look like a player that has lost his confidence—a scary thought—after only a few games. Currently, Belt is hitting a mere .091.
If he does not make the adjustments and turn things around, he may find himself back on that bus to Fresno, the Giants' Triple-A affiliate. He found himself going back and forth from Fresno on multiple occasions in 2011. He better start hitting or he will be destined to repeat this in 2012.
Second baseman Freddy Sanchez is probably about three weeks away from returning off the disabled list. When Sanchez returns, if Belt has not stepped up his offense, he could be sent down to regain his confidence, yet again.
At this point, the jury is definitely still out on Brandon Belt.