Nerlens Noel to Kentucky: Why John Calipari Was Best Choice for Top Recruit
April 12, 2012

With their 2012 national championship barely a week old, the Kentucky Wildcats took a huge step Wednesday night towards defending their title in 2013. Center Nerlens Noel, the nation's No. 1-ranked recruit according to both Scout.com and ESPN, is heading to Lexington.
John Calipari continues to prove that he's the best recruiter in the game by landing Noel, who will step into the shoes of Anthony Davis, the presumptive No. 1 pick in June's draft and the No. 1 recruit of the 2011 class.
Of course, Calipari has more to offer Noel than just a polished sales pitch. Here are three key reasons that the Wildcats' coach made Kentucky the right fit for Noel:
NBA Preparation
No coach in the country has been turning out NBA talent with the consistency of Calipari. The coach's last six recruiting classes (split between Memphis and Kentucky) have included reigning NBA MVP Derrick Rose, 2009-10 NBA Rookie of the Year Tyreke Evans and 2010 No. 1 overall pick John Wall.
With as many as six Wildcats having a legitimate shot at being first-round picks this June (assuming all the expected underclassmen declare), Kentucky has become the premier production line for NBA talent. No program can put Noel in a better position to succeed in the eyes of the scouts.
Top-Quality Teammates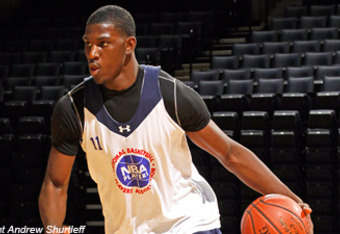 Noel's choice came down to Kentucky, Syracuse or Georgetown. All three finalists are expected to lose every key contributor from last season, meaning that the quality of the team around Noel will depend almost exclusively on the other freshmen in his own class.
That race, thanks once again to Calipari's recruiting pull, isn't even close. Both Syracuse and Georgetown have solid two-man classes (headlined by DaJuan Coleman and D'Vauntes Smith-Rivera, respectively), but Alex Poythress, Kentucky's second-best recruit before adding Noel, would be the top dog at either of those programs.
Wide-Open Style
At Georgetown, Noel would have faced a comparatively steep learning curve in John Thompson III's demanding variant of the Princeton offense. At Syracuse, meanwhile, Jim Boeheim's 2-3 zone would have muddled the crucial question of whether Noel's shot-blocking (his best asset at this stage) is NBA-ready in the way Anthony Davis' was.
Neither of those hindrances exist at Kentucky, where Calipari's attacking offense and man-to-man defense will both allow Noel to shine. He'll have a prime opportunity to match Davis' brilliant season in Lexington, and quite possibly to become the fourth Calipari recruit since 2008 to become a No. 1 overall pick in the NBA draft.