NBA Draft 2012: Sorting Through the Plethora of Wing Prospects
April 12, 2012

Andy Lyons/Getty Images
After Anthony Davis, the 2012 draft may be one of the most confusing drafts that we've ever seen.
Prospects like Harrison Barnes and Andre Drummond, who were once considered locks as first overall picks, could fall outside the top-5, players like Austin Rivers and Jeremy Lamb could conceivably fall out of the lottery completely (despite being highly ranked players coming into college), and players like Michael Kidd-Gilchrist, Bradley Beal and Thomas Robinson seem to have risen further up the draft boards than most could have realistically imagined at this time last year.
Alas, this is why private workouts are the great equalizer. When NBA teams get prospects in to get an up close look, the draft board will change dramatically.
From pre-draft measurements to private workouts, there are certainly some players who will help themselves more than others. Players like Andre Drummond and Perry Jones III, athletic dynamos whom scouts are currently bearish on due to their underwhelming play last year, are sure to wow some GM with their potential, while other players are sure to raise some eyebrows.
Two players who should certainly benefit from private workouts are Florida's Bradley Beal and North Carolina's Harrison Barnes. Outside of being dead eye shooters, both players have a considerable amount of maturity that should win some teams over in pre-draft interviews.
Beal, who some list as being 6'3", should probably come in at 6'5" in shoes with a decent wingspan and a solid combination of strength and quickness, which should help alleviate some concerns regarding his size going forward. His excellent shooting form and ability to create off-the-bounce and in transition will have at least a few GMs projecting him as an all-star prospect.
Barnes has been relatively disappointing in Chapel Hill for two seasons but should rise up the draft boards following private workouts. Being the leader of arguably the most talented team in college basketball, he's been over-scouted to some degree.
Often unfairly criticized for not being able to create his own offense off the bounce, many who once projected him to be a can't-miss superstar are now calling him a glorified role player at the next level.
A solid athlete, Barnes could still be an all-star due to his talent and work ethic. He suffers from being solid but unspectacular at just about every facet of the game from passing to defense. NBA teams looking for a player ready to start immediately will probably consider Barnes the safest pick outside of Anthony Davis in this draft. Many have projected him as a young Glen Rice or Luol Deng—a third banana on a great team.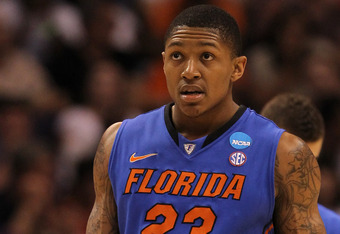 Jamie Squire/Getty Images
Well, if you can get a borderline all-star player with a rare combination of potential and NBA readiness outside of the top three in this draft, you take it and run.
One other player who's been sorely underrated has been UConn's Jeremy Lamb. Lamb has been projected to fall out of the lottery on many recent mock drafts, but he is likely to be the one player to shoot up the draft boards most once pre-draft workouts begin.
Like Barnes, Lamb suffers from not living up to expectations and having a solid but unspectacular skill-set. He's deceptively athletic, and if he can prove to teams that he's committed to getting stronger before the draft, he should be a lock for the top ten.
On the other end of the hype machine, we have Michael Kidd-Gilchrist. Much has been made of MKG's intangibles and the fact that he played with the savvy of a seasoned pro despite being the youngest player in the nation. However, scouts projecting him as the second best player in this draft class might want to reconsider that opinion in two months.
This is not to suggest that Gilchrist doesn't have the tools to be a solid NBA player—his motor and work ethic alone should make him a solid contributor on any team within a few seasons. However, those projecting him to be the next Scottie Pippen either never watched Pippen play, or are vastly underestimating just how great Anthony Davis is.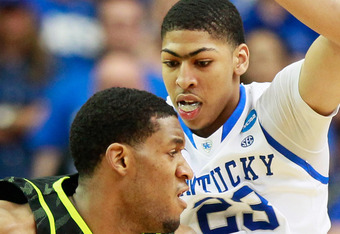 Kevin C. Cox/Getty Images
I made the point about Hedo Turkoglu a few seasons ago, before the Raptors signed him to a ridiculous contract as a free agent, after Orlando made a run to the NBA finals, that great big men—like great point guards, have the ability to make role players look like superstars.
Without an Anthony Davis anchoring the middle, defending the perimeter and finding spacing on offense become difficult.
I can only imagine what a Barnes-Davis tandem would have been able to do in the NCAA tournament. Gilchrist benefited from the situation he was in, and to his credit played a crucial role in Kentucky's national championship. If some team reaches to make him a top-3 pick in June, I think they'll be sorely disappointed five years down the line.
Every draft seems to have an enigma—a player some project as a lottery pick and others project as a late first rounder. Every draft also seems to have a player who, despite being widely considered a lottery pick, ends up slipping to the late-teens.
The player most likely to slip this year is undoubtedly Duke guard Austin Rivers. Questions over his size, selfishness and prima donna personality are likely to spook some scouts and GMs, but his shooting and ball handling ability will have many calling him a sleeper. The reality of the situation is that Rivers is a supremely confident swingman trapped in a point guard's body without elite athleticism or length to compensate for his lack of size. His seemingly well-documented disinterest in playing defense also makes him a tweener.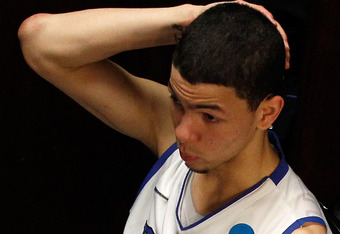 Streeter Lecka/Getty Images
Rivers would probably benefit most from another year of college ball and showing he can at least create plays for others as a part-time point guard, as right now no one seems to project him as a point guard at the next level.
He would seemingly mesh well with an elite swingman who can create shots, but he's shown to be less than spectacular without the ball in his hands. If not for the early hype and fame of being Doc's son, Rivers would probably be projected as a fringe first-rounder. However, some team could take a gamble on him as a spark plug off the bench. It's not looking like he'll do anything to change the vibe around him in private workouts, so for now, it'd be highly ambitious to project him as anything more than a mid-first rounder.
This year's enigma is Baylor prospect Perry Jones III. Showing very limited progress throughout his two seasons with Baylor, Jones has been criticized for being lazy, soft and overall is considered by many to have the highest bust potential of any prospect currently slated to be picked in the lottery.
While he's athletic, he's not very long. While he's big, he's been more than content launching jumpers than punishing athletically inferior defenders at the college level. It's bound to raise red flags when a player with Jones' athletic ability isn't able to absolutely dominate at the NCAA level, because his most glaring positive attribute—athleticism, is not likely to be as glaring on the NBA level.
Still, after private workouts and pre-draft measurements, Jones III is bound to settle in to the top-ten on potential alone. Any team taking him should be willing to really put in the resources to develop him. I would argue that based on his elite skill set and athleticism, he has as much potential as anyone in this draft. He's got a more NBA-ready body than Davis, and because he's not the beneficiary of a freakishly late growth spurt, there is probably less concern about him being injury-prone.
Jones may actually develop into a superstar talent capable of punishing small forwards and power forwards on the next level. The question most scouts have is regarding his piss-poor production these past two years and how invisible and disinterested he can look at times. But the talent and athleticism is there, and he's probably worth a gamble after the top seven selections are off the board. If he can show scouts that he can play on the wing occasionally, it may help alleviate some of the concerns over his rebounding and post defense.